About This Project
What are the egg-laying parameters of Golden Eagle nests throughout Arizona and does climate influence these parameters or nesting success? Do manmade and environmental factors, such as elevation or nest aspect, influence Golden Eagle nest site selection and nesting success in a desert ecosystem?
Until 2011, nearly nothing was known about this bird or its population status in Arizona.
Ask the Scientists
Join The Discussion
What is the context of this research?
Golden Eagles are large, long-lived raptors with vast nesting territories and low reproductive rates. Arizona's population has been essentially unstudied. This eagle has become a species of conservation concern in the western US due to the increase in wind and solar power project proposals as well as an increase in "take" permits by Native Nations. I will analyze nesting phenology of Golden Eagles in Arizona. Secondly, I will analyze the environmental and human influenced variables of nest sites selected by Golden Eagles as well as analyze environmental characteristics of active nesting territories in Arizona. Finally, I will analyze any environmental and human influenced variables that could be affecting nesting success among the nests monitored for productivity.
What is the significance of this project?
Arizona's Golden Eagles deploy distinctive survival strategies as well as face unique conservation concerns. Arizona is home to numerous elemental mining claims such as uranium and copper. In addition, the tourist industry and number of outdoor enthusiasts are likely to increase the number of unintentional disturbance for nesting pairs. Currently in Arizona, there are numerous proposals for the construction of wind and solar power projects within documented active Golden Eagle nesting territories. Over the last 50 years, some areas of Arizona have experienced a 5% to 40% decrease in precipitation, with the northwest corner showing an significant trend in increasing drought conditions. These issues lend themselves to land uses that potentially impact Golden Eagle habitat and survival.
What are the goals of the project?
This proposed research has been developed with the overarching goal of providing Arizona Game & Fish Department with sufficient knowledge to aid in taking conservation actions that preserve a stable Golden Eagle population. This work will be the foundation of research from which to build for the future. This research will utilize remote sensing such as GIS and statistical modeling in order to delineate appropriate approaches to further study and monitoring by pinpointing potential threats and identifying important habitat characteristics. The approach of this research is to cast a wide net and capture what is significant that will direct further data collection while preserving money and time.
Budget
The methods I am using to analyze these data require GIS and statistical software, both have annual licensing fees. These fees are expensive for a student and I cannot analyze this huge dataset without the software.
Meet the Team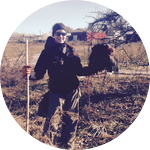 Michele Losee
PhD Student
Affiliates
BS - Biology -Texas Christian University MS - Environmental Policy and Management - American Military University PhD Student - Ornithology - Antioch University New England
View Profile
Team Bio
I went back to school after a career as a Pediatric Paramedic - I wanted to make a difference in the lives of wildlife. Very early into my undergraduate degree, I was exploring species in which I would focus my future research. The problem was I loved all animals, birds and marine mammals in particular. I went to a renaissance faire with my family and watched a falconry display that was really an education program using raptors; I was mesmerized. Afterwards, I was able to get up close to a female Red-tailed Hawk, I always loved them and they were my favorite raptor. It was at that moment, I made a very conscience decision to devote the rest of my life making the world a better place for them. I began working in raptor rehabilitation and became a falconer, all while obtaining my undergraduate degree, then Master's and now PhD. I devoured books about raptor natural history, medicine and falconry as well as attached myself to those that I admired in the field of raptor anything. This path has lead me to Arizona's Golden Eagles. It was only coincidence that the gap in the knowledge was a favorite bird in my home state of Arizona. I like to think they need me.
Outside of falconry, I love anything outdoors - hiking, birding and snowshoeing. I have recently completed a Wilderness Navigation course. I love, love to travel and have a special place in my heart for the UK.
Michele Losee
I am a raptor ecologist and falconer. Currently, I am a PhD Candidate at Antioch University New England with my research focus on Golden Eagles in Arizona.
Additional Information
My falconry partner, Coral is a 4 year-old female Harris Hawk.
Guinevere - my female Red-tailed Hawk
Fur de Lance is a female White-tailed Sea Eagle
Lyra - my female Ashy-faced Barn Owl that I hand-reared from 4 weeks old. She even delivered rings at a wedding!
---
Project Backers
4

Backers

2%

Funded

$29

Total Donations

$7.25

Average Donation