About This Project
We are studying pregnant women with hypertension. Hypertension is a cause of many dangerous outcomes in expectant mothers. We have designed a smartphone based platform to remotely monitor women in pregnancy. Our goal is to identify pregnancies with clinically dangerous blood pressures sooner to prevent poor pregnancy outcomes.
Ask the Scientists
Join The Discussion
What is the context of this research?
Standard prenatal care in the US involves a series of diagnostic testing and high-frequency clinic visits. High-risk pregnancies in particular (ie. chronic hypertension, gestational diabetes), require intensive physician-patient interaction.
Digital health technology has the potential to change the paradigm of how prenatal care is delivered. Therefore, we have developed a novel system to monitor pregnancies using modern digital tools. These have potential to not only enhance care provided to patients, but to also improve efficiency and communication.
We previously presented our feasibility study at the ACOG 2015 conference
What is the significance of this project?
Mobile health technology may be especially well-suited to provide value during the prenatal period. First, there appears to be an unmet demand for reliable information during pregnancy. Second, less than 4% of all obstetric websites were created by or sponsored by physicians or midwives. Third, mobile health technology has the potential to provide validated educational material in a more timely manner than current standard of care. Finally, mobile health technology may allow the provider to monitor weight and blood pressure remotely, thus eliminating some in-office visits. Ideally, remote monitoring may lead to early identification of abnormal gestational weight gain or elevated blood pressure leading to improved maternal and newborn health outcomes.
What are the goals of the project?
The main goal is to determine if it is feasibile to use a digital blood pressure cuff and weight scale to remotely monitor and augment prenatal care in a woman with chronic hypertension. Other goals will be to measure patient safety and clinical outcomes for prenatal care that is accompanied by digital health technology.
We plan on selecting 10-15 patients with chronic hypertension who start their pregnancy care at The George Washington University. The patients will receive a smartphone app and electronic blood pressure cuff and weight scale. We will ask the patients to use the devices regularly for the duration of their pregnancy.
Any abnormal values will be identified based on our algorithm that screens for problems like preeclampsia and excessive weight gain.
Budget
We are requesting funding to fund the electronic devices we will be using to give to patients. Our pilot study is 10 patients. Device cost is $200/patient. For 10 patients we require $2000.
Meet the Team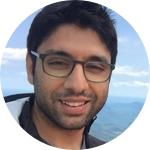 Nihar Ganju
Digital Health Fellow, Physician-Obstetrics and Gynecology
Affiliates
The George Washington University, GW-Medical Faculty Associates, THINKobgyn.org
View Profile
Team Bio
We are a group of obstetrics and gynecology physicians, maternal fetal medicine specialists, data scientists, and technologists working together to improve pregnancy care through digital and mobile technology.
Nihar Ganju
I am fascinated with how technology can make our life easier and improve the human condition. So, I studied computer science at The Johns Hopkins University, then learned about the human condition at Florida State University - College of Medicine. During my training in Obstetrics and Gynecology I learned how the emergence of mobile technology can transform how we care for our patients. Now I am passionately seeking how emerging technologies can serve as modern tools for physicians to optimally take care of their patients.


Jake Brown
James is a former researcher in the Lab of Nutritional Neuroscience at the National Institutes of Health. He is currently a medical assistant at the Spanish Catholic Center Medical Clinic and he is the research coordinator at Babyscripts, a digital healthcare start-up based in Washington, DC.
Homa
Homa K. Ahmadzia, MD/MPH is a Maternal-Fetal Medicine specialist and Assistant Professor in the Department of Obstetrics and Gynecology. Dr. Ahmadzia's clinical areas of interest include prenatal diagnosis, ultrasonography, management of high risk pregnancies, bleeding disorders and thrombophilias, preconception counseling and infectious diseases. She enjoys taking care of women during pregnancy and hopes to improve perinatal outcomes for women in the US and abroad through her clinical and research interests.
---
Project Backers
4

Backers

25%

Funded

$624

Total Donations

$156.00

Average Donation