About This Project
Our project aims to develop a food-grade, low-cost, bubble column bioreactor system for easy and sustainable cultivation of filamentous fungi, yeast, bacteria, and algae. The bioreactor system will be designed to cost less than $300, becoming accessible to anyone interested in sustainable agriculture, food security, and biotech. By sharing our project outcomes and resources, we aim to inspire others to build their own bioreactors and explore the potential of microbial cultivation.
Ask the Scientists
Join The Discussion
What is the context of this research?
Microbial cultivation is a promising field for sustainable food production, biofuels, and bioremediation. However, the traditional liquid-state fermentation (LSF) bioreactor systems usually employed at this regard are often expensive, complex, and require specialized knowledge to operate. Our project aims to address this challenge by developing a low-cost bubble column bioreactor system that is simple, effective, and accessible to a wider audience. By demonstrating the feasibility of our bioreactor system and comparing its efficiency vs. more expensive commercial options, we hope to promote cheaper, sustainable and decentralized approaches to microbial cultivation.
What is the significance of this project?
Our project has several potential impacts. First, a LSF bioreactor that costs less than $300 can contribute to the democratize and decentralize approaches to microbial cultivation, which can enhance food security, reduce waste, and promote local scientific and economic development, and for just a small fraction of the price of currently available commercial units. Second, a properly optimized design could facilitate the exploration of novel applications of microbial biomass, e.g. biofuels, bioplastics, and functional foods. Third, our open-source approach can inspire individuals and communities to engage with biotechnology and develop their own innovative solutions to societal and technological challenges.
What are the goals of the project?
Our project has four main goals. First, we aim to design and build a low-cost bioreactor system for sustainable microbial cultivation accessible to everyone, keeping its material costs under $300.
Second, we plan to evaluate the bioreactor system's efficacy and performance by growing microbial strains (e.g. fungi, yeast, bacteria and algae) and measuring its productivity, allowing us to compare its efficiency vs. commercial units.
We also want to develop open-source resources and guidelines for building and operating the bioreactor system.
Finally, we would like to share our project outcomes and resources with the wider public and promote the use of sustainable and decentralized approaches to microbial cultivation.
Budget
The budget for our project is mainly allocated to purchasing the necessary equipment, such as the bioreactor components, growth media, and other materials such as sensor-related technology. We have also allocated funds for custom 3D printing and CNC machining services as well as for conducting in vivo experiments and for data analysis. Additionally, we have included costs for sharing the results of our project with the wider community, such as website development, video-editing, and publication services in scientific journals. Overall, we believe that our budget is reasonable and necessary to achieve the goals of our project.
Endorsed by
I had the pleasure of collaborating with Antoni on the EU-funded FUNGAR project, where we published several papers. Antoni's project definition of developing a low-cost bubble column bioreactor system for sustainable microbial cultivation is innovative and impactful. His dedication to promoting cheaper, sustainable, and decentralized approaches to microbial cultivation is truly inspiring. I highly recommend Antoni for his expertise and commitment to advancing sustainable food production, biofuels, and bioremediation.
I have known Antoni since a bunch of years. What has impressed me is his neverending enthusiasm and approach to research. I definitely support his project and think that it could help a lot to diversify and democratise fermentation and growth around the world.
The project's goal is of great value for democratising scientific tools & the related emerging knowledge, allowing for the many to access usually expansive facilities while contributing to foster research-based developments exponentially, as well as the development of urgently needed & truly responsible (bio-)technologies, touching upon countless applicative fields and industries, from materials to food, from cosmetics to medicine, among many others. 100% trust to Mr. Gandia (both scientifically & creatively) for being able to achieve the goal!
This project will have a very positive impact to make biotechnology more accessible in non-laboratory setups. The idea of a reproducible and easy to DIY fermenter is highly valuable for the brewer's community. Additionally, Antoni is the most knowledgeable scientist I know in home made fermentation setups. Full support.
Very cool stuff, original and innovative. Antoni is an ideal person to lead such a project. Strong support
Project Timeline
We have set a realistic timeline for the development and testing of our low-cost bioreactor system that includes optimization experiments and comparative studies versus commercial units. Throughout the project, we will provide regular updates to our backers and supporters through our project page, social media channels, and email newsletters. We aim to complete the project on time and deliver a high-quality, low-cost bioreactor system that can support sustainable microbial cultivation.
Jun 16, 2023
Project Launched
Aug 31, 2023
Provide first bioreactor design and order materials
Sep 30, 2023
Construction of first units and in vivo testing
Dec 22, 2023
Optimization of bioreactor's design and productivity
Feb 29, 2024
Comparative testing with commercial systems
Meet the Team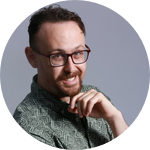 Antoni Gandia
Fungal Biotechnologist
Affiliates
Institute for Plant Molecular and Cell Biology, Polytechnic University of Valencia
View Profile
Antoni Gandia
M.Sc. Cellular and Molecular Biology of Plants by the Polytechnic University of Valencia (2011), Antoni is a consultant and prolific research scientist specialized in fermentation and fungal biotechnology. He worked as R&D scientist and CTO for several mycelium-based companies in the mycoprotein, mycoleather, and psychedelic sectors, including Ecovative Design (US), Mondo Mycologicals (NL), Tyroler Glückspilze (AT), Mogu (IT), and more recently Mimosa Therapeutics (NL). In parallel to his myco-industrial endeavors, Antoni actively collaborates with academic scientists exploring different fields of mycology, trying to bring to the public attention the multiple and fascinating applications of fungi.
Additional Information
While the bioreactor system described in this proposal will be specifically designed and optimized for the cultivation of microbial biomass, it is worth noting that similar liquid-state fermentation (LSF) bioreactors have been successfully used in various industries, including the production of fermented beverages such as beer, wine, and sake.
Our bioreactor design will utilize a glass cylinder containing liquid, and compressed air will be axenically injected through the bottom of this cylinder to create an air bubble column. The nutrient broth and the microbial biomass are mixed and oxygenated by having this air bubble column raising up through the liquid cylinder in a process known as sparging or gas flushing.
The ability to precisely control temperature, pH, and nutrient levels in a closed, sterile environment is highly desirable for many applications involving microbial cultures, and the bioreactor system proposed here could potentially be adapted and modified for use in these industries as well. However, it is important to note that the specific requirements for each application may vary, and further research and optimization would be necessary to ensure successful implementation in these contexts.
---
Project Backers
21

Backers

101%

Funded

$10,125

Total Donations

$482.14

Average Donation