About This Project
Cancers send signals to escape the immune system, making immunotherapy ineffective. These signals can be delivered in packages called exosomes, which are detected in blood. We hypothesize that the contents of exosomes may help to predict which patients will respond to immunotherapy. This project seeks to develop a blood test to determine immunotherapy response in patients with advanced melanoma and to learn more about how cancer evades the immune system.
Ask the Scientists
Join The Discussion
What is the context of this research?
While many patients with advanced melanoma have benefited from immunotherapy, most do not. There are no blood-based markers that predict responses to immunotherapy. Cancers send out signals that allow them to escape the immune system, making immunotherapy ineffective. These signals can be delivered in packages called exosomes, which can be detected in the blood of cancer patients. We have blood samples from melanoma patients receiving immunotherapy, collected under a clinical protocol, that are ready for analysis of exosomes. This project seeks to develop a blood-based marker of response to immunotherapy and gain insight into how melanoma can evade the immune system.
What is the significance of this project?
By analyzing these blood samples and comparing results between patients who respond to those who do not, we may be able to determine which signals cancer uses to resist immunotherapy. This offers a promising, non-invasive method of determining responses to immunotherapy in patients with advanced cancer, which has not been investigated before. Since most patients do not respond to immunotherapy, determining which patients will respond has the potential to both save the patients money and to spare them unnecessary treatment which may cause side effects. This research may be expanded beyond melanoma into other cancer types in the future. Ultimately, we want to develop new treatments targeting exosomes to improve immunotherapy responses and help patients live longer.
What are the goals of the project?
We hypothesize that the composition of exosomes will differ between patients who respond to immunotherapy and those who do not. To test this, our lab will use frozen blood samples that were obtained from melanoma patients on a clinical trial receiving immunotherapy, isolate exosomes, and perform Nanostring analysis. If this initial study is successful, we could use the data to apply for additional funding to perform these analyses in larger patient numbers and more cancer types in order to identify multiple markers of immunotherapy efficacy. We think this could lead to developing blood tests that can reduce the number of patients that receive costly treatments and help us to identify new treatment targets in the future.
Budget
The budget of this project includes $5000 for the Nanostring analysis, microRNA panel, and two master kits for 24 samples and $800 for a human exosome isolation kit. We have a Nanostring machine at Duke and samples on hand, as well as a post-doctoral researcher with an expertise in exosome biology in our lab. Any other materials will be provided by the Hanks laboratory. This makes our project highly feasible and able to rapidly generate the desired data once funding is acquired.
Endorsed by
This is a fantastic project, and I'm thrilled to see it launch. Dr. DeVito and his team are internationally-recognized leaders in the field of immuno-oncology. This project could change how we detect and monitor treatment of melanoma.
Immunotherapy has revolutionized the treatment of many types of cancer – however, many tumors do not respond to immunotherapy and tissue based biomarkers often require invasive procedures. A blood based predictive biomarker for immunotherapy could help oncologists make the right treatment decision at the right time, and help some patients avoid toxicity.
Immunotherapy has been an incredible advancement in cancer therapy across many tumor types and stages. Despite widespread use, we still do not know which patients are more likely to respond, experience side effects, or develop resistance to therapy. The development of a blood test to answer these questions would be a huge step forward for melanoma and other cancer types that may benefit from immunotherapy. The scientific team is passionate about helping patients and has a track record of success in this field. I give my highest endorsement.
Project Timeline
After initial chart review of our patients, we will obtain frozen patient derived plasma, isolate exosomes, and process it for exosome analysis. Exosome isolation will then be confirmed by Western Blot. Isolated exosomes will be processed per the Nanostring Exosomal miRNA protocol and samples will be run on a Nanostring machine at Duke. We will then analyze the data and compare differences between responders and nonresponders.
Apr 09, 2019
Project Launched
Jun 01, 2019
Process and Isolate Exosomes from Human Plasma
Jun 15, 2019
Confirm Exosome Isolation
Jul 30, 2019
Run Samples on Nanostring Machine
Aug 30, 2019
Nanostring Analysis
Meet the Team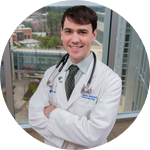 Nicholas DeVito
Instructor of Medicine
Affiliates
Duke University, Duke Cancer Institute
View Profile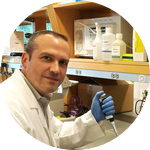 Brent Hanks
Assistant Professor
Affiliates
Duke University
View Profile
Team Bio
We are a team of researchers dedicated to using the immune system to treat cancer with immunotherapy. The Hanks Lab focuses on tumor immune evasion and immunotherapy resistance. Dr. Brent Hanks is the lab's principal investigator, and is an expert in the care and management of melanoma patients. Dr. Plebanek is a post-doctoral research who focuses on exosome biology.
Nicholas DeVito
Dr. DeVito is a physician-scientist at Duke University studying the interactions between cancer and the immune system. His research focuses on how cancer metastasizes and evades the immune system in the process, particularly dendritic cells. Dr. DeVito first became interested in tumor immunology and immunotherapy as an undergraduate at the University of South Florida, where he also completed medical school. He then went on to train in internal medicine and complete his fellowship in Hematology/Oncology at Duke University. Dr. DeVito is currently a member of the Brent Hanks' lab at Duke and is a Medical Instructor in the Division of Medical Oncology, treating patients with gastrointestinal cancers including colorectal cancer, pancreatic cancer, and esophageal cancer. The goals of his work are to translate laboratory findings into meaningful outcomes for patients, bring clinical research questions back to the laboratory, and to develop novel immunotherapies and immune biomarkers.
Michael Plebanek
Dr. Plebanek completed his PhD. At Northwestern University where he became interested in cancer immunology. In 2018, he joined the Hanks Laboratory at Duke University where his long term research interests are focused on better understanding the complex interplay of tumor cells with immune cells during tumor progression and metastasis. More specifically, he is studying the impact of 100 nm nanovesicles, called exosomes, released by tumor cells, at promoting the generation of immunosuppressive dendritic cells with the ultimate goal of developing novel strategies to make immunotherapies more effective.
Brent Hanks
Brent Hanks, M.D., Ph.D. is an Assistant Professor in the Departments of Medicine and Pharmacology and Cancer Biology at Duke University with a dual appointment with the Duke Cancer Institute. Dr. Hanks completed his medical degree along with a Ph.D. in tumor immunology while in the Medical Scientist Training Program at Baylor College of Medicine. Dr. Hanks went on to complete his internal medicine residency training and his hematology and oncology fellowship training at Duke University. He now manages a basic and translational research lab focusing on understanding biochemical mechanisms of tumor-mediated immune evasion and immunotherapy resistance in cancer. In addition to his research efforts, he is also a medical oncologist and manages patients with advanced skin cancers including melanoma and Merkel cell carcinoma. Using an array of experimental techniques, his labs' research goals are to develop novel strategies to enhance the efficacy of checkpoint inhibitor and vaccine immunotherapy while also developing predictive biomarkers to better guide the management of cancer patients with immunotherapeutic agents.
---
Project Backers
15

Backers

18%

Funded

$1,041

Total Donations

$69.40

Average Donation