About This Project
Unlike hard-shelled sea turtles, the leatherback's soft-shell changes shape relative to their nutritional condition and can be used as a visual indicator of their health. These gentle giants can weigh over 1000 lbs. when foraging, making them a challenge to study at sea. Aided with biotelemetry tags, our goal is to conduct the first study to validate drones as a new, noninvasive technique to analyze leatherback health by analyzing leatherback body condition on nesting and foraging grounds.
Ask the Scientists
Join The Discussion
What is the context of this research?
The population of northwestern Atlantic leatherbacks has decreased by 60% since 1990. Climate change may be primary driver of this decline, as warmer sea surface temperature could cause alterations to important food stocks. Nesting leatherbacks have to eat and store enough energy on foraging grounds to facilitate their migration, egg production, and survival between nesting events, and any changes in food availability and locations could affect their nutritional status as they reach nesting grounds. Therefore, there is a need to keep track of current foraging grounds of sea turtle populations, so researchers can assess the current state of their food stocks and understand how foraging and migration conditions influence their health once they arrive to nesting beaches.
What is the significance of this project?
This will be the first study to use aerial photography to estimate body condition on sea turtles. Drones have been used to assess sea turtle population size and location, mating behavior, and other morphological traits, but have not been used to evaluate body condition. Because leatherback body thickness fluctuates with nutritional condition, drone imagery could allow us to detect changes in body shape from their nesting grounds to foraging areas. By comparing measurements from aerial photographs to those taken by field researchers, we hope to create a novel, less invasive method to study leatherback body condition.
What are the goals of the project?
The goal of this project is to evaluate aerial photography as an appropriate method to measure leatherback body condition. The study will commence during the 2021 nesting season, where we will use a DJI Phantom 4 Pro drone to take aerial photos of nesting leatherbacks throughout the nesting season. These photos will be analyzed in ImageJ, and if successful, we will travel to foraging grounds and compare turtle body condition between these two habitats.
We will tag up to 20 turtles with satellite tags over the 2022–2023 nesting seasons to identify current foraging grounds. This will allow us to track individuals throughout their inter-nesting habitats and on their migration to foraging grounds and update the last report for this population, published in 2006.
Budget
The use of satellite tags is necessary to identify and update current foraging grounds for the leatherback nesting population in south Florida. Satellite tags are the most reliable method to track long distance movement patterns and can collect vital data such as sea surface temperature and dive behavior. We aim to deploy 10 tags during each of the 2022 and 2023 nesting seasons (20 total). To date, we have acquired five satellite tags, and we are currently seeking funds for 15 more. Each tag will help us gather critical environmental and movement data on the leatherback's inter-nesting habitats, migration route, and ultimately foraging grounds.
Endorsed by
This project has great potential to improve non-invasive health assessment techniques for the critically endangered leatherback sea turtle. Understanding leatherback movement, particularly during these years of global climate change, is an important component of effective leatherback conservation. These magnificent creatures deserve our support and care!
This project is new, innovative, and exciting and will allow the project lead to track turtle movements, examine any impacts of climate change on foraging locations, and utilize a new and less invasive methodology to understand body condition, reducing stress to the animals.
Project Timeline
This multi-year study will begin in May, 2021. Field work will take place between April and June in Juno Beach, Florida. Satellite tags will be deployed during the second (2022) and third (2023) year of the project, and excursions to foraging grounds will take place between August–November, 2023. Results will be finalized at the conclusion of each season, will be presented at conferences (ISTS, 2022), and will be prepared for publication in 2023.
May 24, 2021
Capture the first aerial photograph of a nesting leatherback
May 31, 2021
Project Launched
Apr 06, 2022
Deploy first satellite tag
Jun 18, 2023
Complete satellite tagging
Aug 21, 2023
Travel to Nova Scotia, CA, New England, and/or North Carolina to photograph foraging leatherbacks
Meet the Team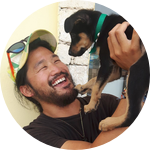 Derek Aoki
PhD Student
Affiliates
Florida Atlantic University, Loggerhead Marinelife Center
View Profile
Team Bio
This project is a collaborative effort between three institutions dedicated to advance sea turtle research: Florida Atlantic University Harbor Branch Oceanographic Institute, Loggerhead Marinelife Center, and Upwell Turtles.
Derek Aoki
My love for the natural world started at a very early age, and this fueled my desire to study the plants and animals that surrounded me as a child as well as the natural and anthropogenic processes that affect these organisms' survivorship.
After graduating from the University of Denver with two Bachelor of Art degrees in Environmental Science and Geography, I volunteered for ecological non-profits in the Galapagos Islands and Costa Rica to explore the world of terrestrial and marine conservation. These opportunities led to an internship with a Cape Verdean sea turtle conservation organization, Turtle Foundation, in 2013. I viewed this job simply as working vacation where I could legally touch sea turtles and experience a different culture. But over the course of that summer, I fell in love with the work. Being able to witness a sea turtle lay her eggs night after night is a sight very few people get to experience, and the prospect of doing this as a career was an opportunity I had to peruse.

After eight more seasons working with sea turtles in Cape Verde, Greece, Costa Rica, and Florida, USA and armed with an MSc in Environmental Science from the Albert-Ludwigs Universität Freiburg, I started a PhD program in Integrative Biology at FAU. The research I intend to conduct will focus on climate change and it's effect on the health and nesting ecology of the leatherback sea turtle. I will incorporate historical analyses along with novel ideas to dive into the climatic variables that are contributing to the decline in the northwestern Atlantic leatherback population.
---
Project Backers
37

Backers

112%

Funded

$3,825

Total Donations

$96.62

Average Donation