About This Project
Did you know that fungi in soil and roots can protect plants from pathogens? The most destructive pathogen of soybeans, worldwide, is the soybean cyst nematode (SCN), a microscopic worm that invades soybean roots. I plan to identify fungal biocontrol agents of SCN by isolating fungi from soybean roots and testing their ability to kill this nematode. Results of my research may be used to develop environmentally-friendly methods to control SCN and other plant pathogens.
Ask the Scientists
Join The Discussion
What is the context of this research?
Over long-term monoculture (single-crop cultivations), some soils develop a sort of immunity to plant pathogens. In these soils, called "suppressive soils," plants can survive and even thrive in spite of the continued presence of a plant pathogen [1]. Fungi are known to be involved in soils that are naturally suppressive to SCN [2]. However, exactly which fungi are important and how they help to control SCN is still a mystery. Some fungi that live inside plant roots, called "endophytes," produce compounds that are toxic to nematodes [3]. Plant roots are inhabited by not only one, but several, fungal endophytes at the same time, and interactions between these fungi may lead to even greater production of nematotoxic (nematode-killing) compounds [4].


What is the significance of this project?
Since the banning of chemical nematicides, efforts to control SCN have met with limited success. The U.S., alone, loses an estimated 120 million bushels of soybeans worth $1.5 billion each year to this pathogen [1]. With nearly all arable land currently being used for farming and a projection human population of 9 billion by 2050 [2], an environmentally friendly solution to this problem is urgently needed. Biocontrol, which relies on organisms isolated from the same ecosystem in which they are deployed, offers such a solution. Fungi, including root endophytes, should be investigated for their potential to protect soybeans and other crops from losses caused by plant pathogens.
What are the goals of the project?
The goals of this project are to identify fungal root endophytes that produce compounds toxic to SCN and to test the hypothesis that a community of endophytic fungi plays a greater role in SCN suppression than individual fungi. To achieve these goals, I plan to first isolate fungal endophytes from soy roots in fields suppressive to SCN and to identify these fungi based on DNA sequencing and appearance. In order to test if these fungi produce nematotoxic compounds, I will grow them in liquid culture and expose SCN worms to this liquid. To mimic endophyte communities, I will grow multiple different fungi together in the same liquid culture. I expect to find that more worms will stop moving when exposed to liquid from multi-member cultures than from single-member cultures.
Budget
The funds requested for this project will be used for culturing and identifying soybean root endophytes and for testing their ability to kill SCN. Culturing supplies include Petri dishes, agar, and antibiotics. Funding for DNA extraction, PCR, and sequencing will allow identification of fungal isolates. Potato dextrose broth is necessary for growing fungi in liquid culture. 24-well plates will be used for the nematode egg-hatching assay.
Endorsed by
Noah's project is critical in improving the yield of soybean. This project will address the importance of the endophytes which are not widely studies on soybean. I worked with Noah in the same lab, I already witnessed his great passion and hard work on endophyte research, I believe that he will do an excellent job on this project, and furthermore find some potential biological control agents that could be used in soybean cyst nematode control in the future.
Noah's project is timely and exciting as it aims to find an environmentally friendly solution to a devastating agricultural pest, the soybean cyst nematode. Many nematicides have been banned in recent decades and there are currently limited options for farmers to deploy. His project aims to test the untapped potential of endophytic fungi for sustainable biocontrol of nematodes. Noah is an exceptionally dedicated Phd student with a natural curiosity for discovery. I am confident his research will lead to important breakthroughs.
Meet the Team
Noah Strom
From an early age, I have been fascinated by the workings of the natural world. My interest in many aspects of biology has led me on a wide and varied academic career. As an undergraduate at the University of Minnesota, I studied ecology, evolution, and behavior. The zenith of my undergraduate education was my participation in an Arctic expedition to study the biocomplexity of frost-boil ecosystems in an island in the Canadian Archipelago. On this expedition I gathered baseline data on biodiversity that is being used to study the effects of global climate change on Arctic ecosystems. From there, my passion for understanding the function of the human body led me to chiropractic school. Shortly after beginning a private practice, I accepted a teaching position at a local college and taught Anatomy & Physiology and General Biology courses for the next six years. I was inspired by my colleagues to pursue graduate education, and I am currently working on a PhD in Plant Biology at the University of Minnesota. Through my graduate work, I hope to use knowledge gleaned from systems like suppressive soils to make agriculture a more sustainable and environmentally friendly endeavor.
Additional Information
These are soybeans. The middle row is infected by SCN. Note how short the plants are! This results in reduced yield.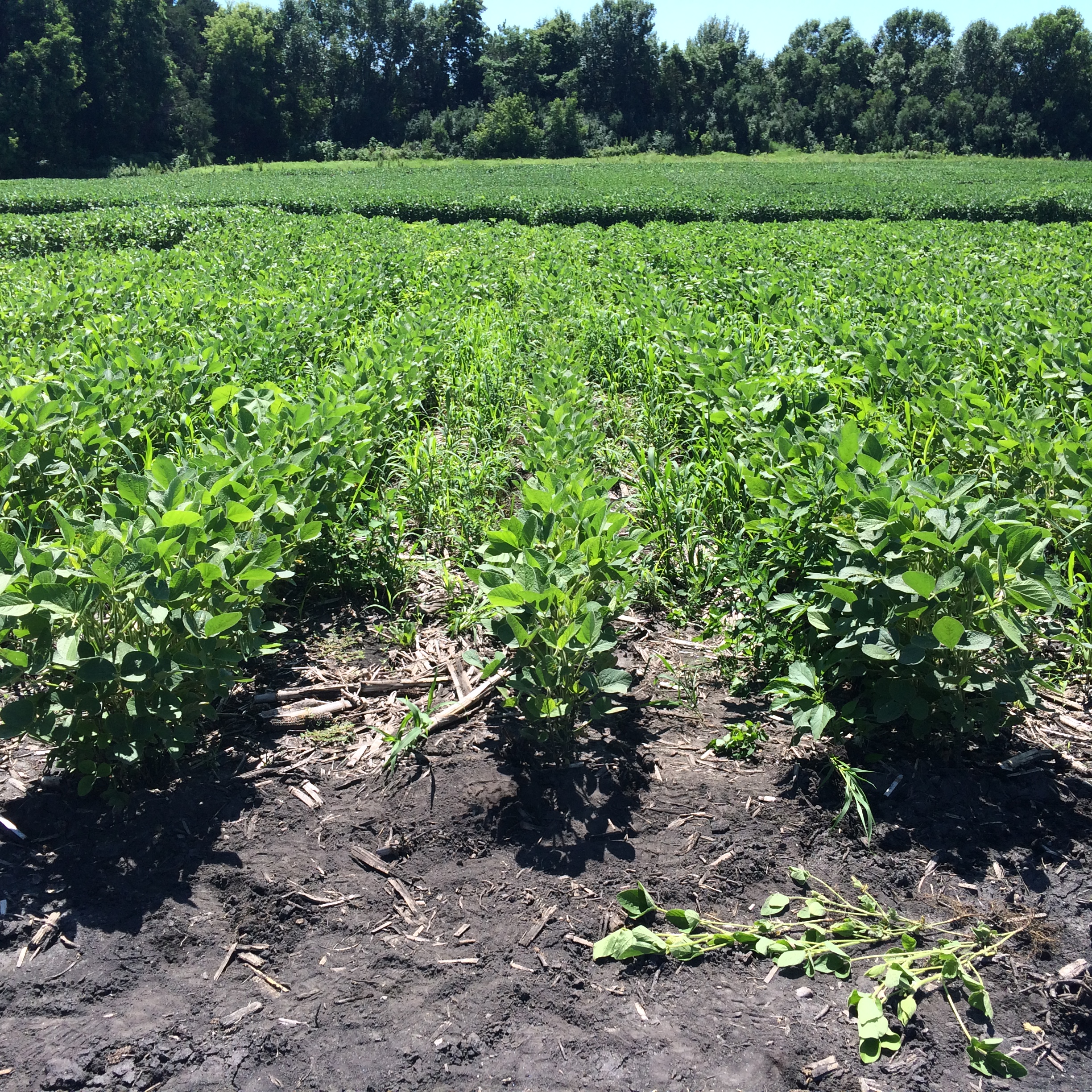 ---
Project Backers
22

Backers

76%

Funded

$2,278

Total Donations

$99.04

Average Donation