Project Results
The word biodiversity has gained popularity for more than 30 years, this term is used for all aspects of biological diversity, from the richness of taxa, genetic variation, and the complexity of ecosystems. Completely measuring biodiversity would be impractical due to a large number of existing species and the effort that their identification would represent. Therefore, adequate bioindicators or substitute taxa should be found, which can be monitored on the basis that they represent broader biodiversity; and with that help us in ecological monitoring or conservation program planning. The family and genera richness of spiders were tested to measure their ability to estimate total spider richness at a site with geothermal influence. Data from six locations with geothermal influence were used in the northern highlands of Puebla, Mexico. The genera richness of spider was a good substitute for the total species richness, the opposite happened with the family richness. Therefore, it is recommended to use this taxonomic level as a substitute to predict spider species richness or to evaluate and classify sites according to their importance for conservation.
About This Project
Geothermal stations cause emissions of pollutants into the environment and can cause damage to living organisms. We believe that spider communities can be used to measure the damage of pollutants in these areas. We hypothesize that the diversity and abundance of spiders near geothermal plants is less diverse and less abundant when compared to the spider diversity and abundance at non-exploited geothermal potential sites.
Ask the Scientists
Join The Discussion
What is the context of this research?
Geothermal energy is a source of renewable energy that results from the heat of the earth and is located in hydrothermal systems. The first geothermal plant in Mexico began operating in 1959; and there are now 38 geothermal plants in the country. Despite being a source of clean energy, geothermal causes emissions of pollutants into the environment. For this reason, the environmental impact caused by the production of this type of energy must be evaluated. We measure the biodiversity and richness in spider communities. By measuring the biodiversity and richness in spiders near geothermal energy sources and comparing that to spiders in non-geothermal energy source environments we can determine if spiders can be used as bioindicators for environmental pollution.
What is the significance of this project?
A good option to monitor the contamination levels of an area is the use of bioindicators. Spiders can become good bioindicators of contamination due to their resistance and regulation to heavy metals, are an important portion of species richness in the ecosystem, are cheap and easy to sample, and as predators can accumulate pollutants through biomagnification. For these reasons, we believe that they can become good bioindicators of environmental contamination and if we can successfully use spiders as bioindicators for geothermal sites, then this leads to to their application in the environmental impact studies of future geothermal energy projects.
What are the goals of the project?
Our hypothesis is that diversity and abundance of spiders near geothermal plants is less diverse and less abundant when compared to the spider diversity and abundance at non-exploited geothermal potential sites.
To test our hypothesis, 12 random points were selected in each study site where the spider samplings were carried out. With the data obtained, the abundance, richness and diversity will be calculated, also a t-test will be carried out to determine differences in the diversity of species between the two sites.
To verify the difference between the environmental variables of the sites and the relationship between the species with these variables, an ANOVA test, a similarity analysis and a canonical correspondence analysis will be carried out.
Budget
Currently a first and second trip to the study site was made, this was possible with external and own resources.
Only the 50% of field samplings of spiders were done because the resource was not available to buy the necessary materials.
With the resources obtained it is planned to make this third trip and buy materials to carry out spider samplings in the two study sites for which twelve sampling points were chosen distributed in the four environmental units that are pine forest, grassland, agricultural area and scrub, as well as laboratory tests that will be carried out once we return to the university.
Stretch Goals:
With the extra money collected, it is planned to buy accessories for macro photography. Professional lenses are very expensive so we want to buy accessories for a smartphone and thus be able to use it as a camera for the creation of a photographic catalog of the spiders of the Sierra de Puebla, México
Endorsed by
I am excited for the project, I am sure that the results will be very interesting and will contribute to the knowledge of spiders as bioindicators in the health of ecosystems.
Project Timeline
The trip to Puebla, Mexico will aim to conduct a field sampling at the 12 sampling points of the four environmental units of each site and then return to the University of Baja California in Ensenada, Mexico to perform chemical analysis, taxonomic identification and analysis. statistical data to complete the work.
Then I will publish this research in a scientific journal and defend my thesis to obtain a master's degree in ecosystem management.
Oct 26, 2018
Project Launched
Nov 18, 2018
Start the third sampling trip
Dec 07, 2018
End of sampling trip
Dec 10, 2018
Taxonomic identification of the samples
Jan 07, 2019
Chemical analysis of the samples
Meet the Team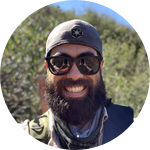 Luis Hernandez
Phd Student, Centro de Investigación Científica y de Educación Superior de Ensenada
Affiliates
Centro de Investigación Científica y de Educación Superior de Ensenada
View Profile
Guillermo Romero-Figueroa
Professor - Research
Affiliates
Universidad Autónoma de Baja California, Facultad de Ciencias
View Profile
Team Bio
The team is formed by Guillermo Romero who has a PhD in wildlife management, by Jesus Rodriguez biologist from the University of Guadalajara who has extensive fieldwork experience, by Kristal Gonzalez who has a experience work with flora and by Luis Carlos Hernandez biologist from the Autonomous University of Baja California, who is an expert in spiders, together we make a great team to achieve the objectives of the project both in the field and in the laboratory.
Luis Hernandez
I graduated from the Autonomous University of Baja California in 2016 with a BSc in Biology. Later, I started to study an MSc in ecosystem management in the same institution. I am currently studying a PhD in Centro de Investigación Científica y de Educación Superior de Ensenada.
My research topic focuses on the use of spiders as bioindicators, although I have also worked on issues of arachnid biodiversity and public health impact issues, especially in the area of science dissemination in the city where i was born, Ensenada, Baja California, Mexico.
Guillermo Romero-Figueroa
I obtained my first PhD in natural resource management in the center of Biological research of the northwest (CIBNOR) and in 2013 I got my second PhD in wildlife at the Universidad Autónoma Agraria Antonio Narro.
From 2012 to 2013 I worked as an associate researcher at the Institute for Conservation Research of the San Diego Zoo, and since 2014 I work as a professor and researcher at the Autonomous University of Baja California, Mexico in the science department.
I work mainly with topics on wildlife management, ethology and conservation biology.
---
Project Backers
22

Backers

100%

Funded

$602

Total Donations

$27.36

Average Donation