About This Project
Yellow tang are vital to Hawaii's reef ecosystems, but wild populations have been drastically declining due to the aquarium trade. Aquaculture is a sustainable alternative to removing fish from the wild, but only a fraction of cultured yellow tang survive to adulthood. We suspect investigating the microbiome will provide key insights to this problem. Our goal is to increase the success of the Oceanic Institute's aquaculture program and reduce impact on wild yellow tang populations.
Ask the Scientists
Join The Discussion
What is the context of this research?
Yellow tang (YT) are one of the most desired species in the growing aquarium trade with 300,000 to 400,000 being removed from the wild annually. This has caused a dramatic decline in their populations so much so that Hawaii has temporarily banned the removal of YT from the wild. Researchers at the Oceanic Institute set out to try and culture YT with the goal of being a sustainable alternative to the aquarium demands and reduce impact on wild populations. This has proved difficult as only a fraction of YT reach adulthood preventing commercial scale production. The reason for such high mortality is unknown but the gut microbiome, which is key to vertebrate's development, is suspected to play a key role.
What is the significance of this project?
Coral reefs serve as one of the foundational components of our ocean's ecosystems and reef fish like yellow tang play a vital role in the health and functioning of these reefs. This makes protecting wild populations incredibly important. We hypothesize high mortality in aquaculture is linked to both the absence of positive interactions with microbes encountered by wild yellow tang and the increase in negative interactions with pathogenic microbes that may be present in aquaculture. If we can determine this is true, the Oceanic Institute can use this information to adjust rearing techniques. Improving our knowledge of how to culture yellow tang will directly benefit wild populations and the coral reef ecosystems they are apart of.
What are the goals of the project?
Using the yellow tang as a model, the overarching goal of this study is to understand how the microbiome of reef fishes affects survivorship in cultured populations, and to manipulate it for more successful aquaculture programs. We will do this by first extracting DNA from the guts of larval yellow tang following the first feeding when mortality is at its peak. We will take samples from individuals who die following the first feeding and from those who survive. We will then sequence and amplify this DNA from both respective sample groups to identify the types of bacteria present in their gut. Finally, we will compare the microbial communities from larval surviving and deceased fish, as well as adult yellow tang identify patterns between microbial communities and survivorship.
Budget
The Omega Bio-Tek Soil DNA kit are an essential component to this research project as this is what will be used to extract DNA from our tissue samples. The dissection equipment will be used to remove the gut from the yellow tang to be sampled and to extract DNA. One of the most costly parts of this experiment, but also one of the most important components, is sending the samples off to be sequenced and amplified. This is what will ultimately allow us to identify what microbes are present within the gut of the yellow tang. Contamination will be one of the most challenging aspects to the study and can decrease accuracy of results so consumables including gloves, tips, and tubes will all be necessary. Yellow tang culture supplies encompass the materials needed to support culturing the yellow tang we will use as samples. Finally, the graduate student stipend will go to supporting the research conducted throughout the duration of the masters program.
Endorsed by
This is a potentially transformative project with a great team who Iʻm excited to endorse! Olivia and I are close colleagues at Hawaiʻi Pacific University, and I am a member of Annie's Master's Thesis committee. Chad's Oceanic Institute group is on the cutting edge raising yellow tang from larvae to adults, and Annie has a novel, creative idea to increase survival of these fish at a critical life stage. If successful, this project could revolutionize aquaculture practice, and Annie has the talent, tenacity, and team to make it happen!
Project Timeline
My goal will be to complete this project and graduate in 2 years. By the end of my first semester I am hoping to have secured necessary funding that will allow me to begin my project. Once funding is secured I plan to begin research immediately. Data collection involving primarily the collection of DNA and sequencing it will makeup the majority of the timeline. My last semester of the program will be dedicated to writing and publishing the project.
Oct 21, 2021
Project Launched
Dec 29, 2021
Project begins
Jan 28, 2022
Purchase DNA extraction kits and all other materials, develop protocol/methodology
Jan 31, 2022
Begin data collection (DNA extraction and sequencing)
Feb 20, 2022
DNA sequence analysis
Meet the Team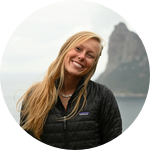 Annie Deck
Marine Science Graduate Student
Affiliates
Hawaii Pacific University
View Profile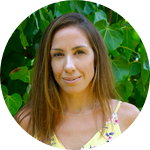 Olivia Nigro
Assistant Professor of Biology
Affiliates
Hawaii Pacific University
View Profile
Team Bio
Annie Deck is the lead on this project and is teamed with advisor Dr. Olivia Nigro who will provide guidance and expertise. This team is apart of the Molecular Ecology Group at HPU with a lab setup within the Oceanic Learning Center Annex. Access to the Oceanic Institute's state of the art aquaculture facilities, a preeminent center for marine biological research, makes this partnership uniquely poised to do this project successfully.
Annie Deck
I am from Austin, Texas and I completed my undergraduate degree in environmental science and sustainability at Texas Christian University. Here I took part in undergraduate research and worked on a variety of projects studying how anthropogenic activity was impacting local bat populations. Logging hundreds of hours during these years in the lab I gained an interest for the scientific research process and developed both hands on and professional skills. During my junior year at TCU I had the opportunity to conduct research and study marine ecology in Panama and Costa Rica which was when I fell in love with marine science and knew I wanted to pursue this in my career moving forward. More specifically, my area of interest in the marine science field is microbiology and bioinformatics. I am currently beginning my Master of Science program at Hawaii Pacific University in marine science. During this program I will complete my thesis, which is the project I have outlined to be funded, and I plan for this to be my first scientific publication. With my prior experiences, course work, and guidance under my advisor Dr. Olivia Nigro, I feel equipped to carry out this project successfully. Following the completion of my master's program I plan to continue my academic career by pursuing a PhD in the marine science field. I hope this will give me the skill set necessary to pursue a career as a professor and researcher at a major university. I am passionate about scientific research and I hope through my career in this field I am better able to contribute to and inform conservation efforts of our vital marine ecosystems.
Olivia Nigro
Olivia Nigro is an Assistant Professor of Biology at Hawaii Pacific University. Dr. Nigro is a microbial ecologist focusing broadly on interactions between microbes and the environment, and viruses and their microbial hosts. Current projects involve microbiome studies of
Hawaiian ecosystems with a focus on pathogenic microbes, as well as viruses living in extreme environments including the oceanic deep
subsurface.
---
Project Backers
25

Backers

100%

Funded

$7,332

Total Donations

$293.28

Average Donation