About This Project
The most common form of epilepsy in adults is temporal lobe epilepsy. In one-third of the patients, available drugs have no effect on preventing seizures. We have used cell transplantation in mice to replace neurons damaged by seizures and showed that neuronal transplants integrate into adult mouse brains and suppress seizures. Our next step is to fine tune seizure control by controlling neurons with light, a technique called optogenetics. We need to travel to learn this technique from experts.
Ask the Scientists
Join The Discussion
What is the context of this research?
To develop therapeutic treatments for controlling intractable seizures, we think that a combined approach that targets neuronal degeneration with stem cell transplants and delivers precise control of those transplants may be optimal for suppressing seizures and improving cognitive impairments in severe epilepsy. We now aim to link stem cell transplantation approaches with in vivo optogenetic stimulation of brain circuits in mice with epilepsy, to determine the ideal parameters for enduring seizure suppression. These pre-clinical studies are needed before this promising approach can be considered for clinical use.
What is the significance of this project?
About one-third of the affected individuals diagnosed with Temporal lobe epilepsy do not respond to the currently available anti-epileptic drugs. Another therapeutic option is surgery to remove the seizure focus, but in some individuals, surgical resections are not a viable option because they would involve removal of critical brain regions involved in memory and cognition. To meet the needs of approximately one-third of the epilepsy patients with intractable seizures and severe cognitive impairments, new and innovative therapies are needed.
What are the goals of the project?
The goal of the project is to obtain the training necessary to effectively use optogenetics to control seizures in alert mice. There are many variables and technical challenges involved in performing these experiments, including optimizing the intensity, pulse duration, and stimulation frequency of the laser, modifying programs to capture data, detect pre-seizure activity, and drive the laser and configuring equipment for reliable long-term recording and stimulation. This funding will support travel and training of two graduate students from the PhD program at Wesleyan University who will then provide training to advanced undergraduates in this cutting edge technology.
Budget
We have shown that neural transplants suppress seizures by integrating into adult brain, where they form connections with host brain neurons. Long-term studies (http://www.ncbi.nlm.nih.gov/pubmed/25274826) showed that over time, these effects wore off and seizures returned, despite survival of the transplants. We are now developing experimental approaches to fine tune seizure control using optogenetic system to deliver light pulses deep into the brain and stimulate transplanted neurons. We have already tested optogenetic control of transplanted neurons in brain slices but moving into the intact animal requires substantial training in engineering, laser technology, and programming. We are seeking funding to allow two graduate students to visit other laboratories using this technology, where they'll receive hands on training. We are requesting funds to cover airfare, housing and meals for travelling to 2 different laboratories in the US. We anticipate needing to spend 3 days in each lab
Meet the Team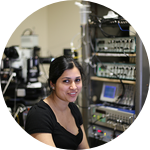 Jyoti Gupta
Graduate student
Affiliates
Wesleyan University
View Profile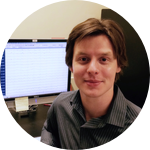 Daniel Lawrence
Graduate Student
Affiliates
Wesleyan University
View Profile
Team Bio
We are members of the Naegele Lab at Wesleyan University in Connecticut. We hope to use this knowledge gained from this training to further develop human stem cell therapies for controlling seizures and repairing damaged brain regions. We have contacted internationally recognized experts in the field of neuroscience, who have provided letters of invitation to come to their labs to receive training in optogenetic control of neural circuits.
Jyoti Gupta
I am a PhD student in the lab of Dr. Janice Naegele at Wesleyan University. I come from Northern India where patients with epilepsy are regarded with suspicion and fear because there is very little understanding of the medical basis for epilepsy. I came to United States to work with faculty who are studying epilepsy and developing novel stem-cell based treatments.


Daniel Lawrence
I am a Master's student in the Naegele lab at Wesleyan University. I completed my undergraduate studies in Neuroscience and Behavior at Wesleyan after transferring from Gateway Community College in New Haven. I am interested in exploring how new technologies can be used to understand and interface with the brain. After earning my Master's degree I intend to continue my studies, with a goal of using scientific advances to help treat people suffering from neurological disorders.

Additional Information
---
---
Project Backers
9

Backers

21%

Funded

$810

Total Donations

$90.00

Average Donation