About This Project
Koala retrovirus (KoRV) causes cancer in koalas with up to 40% of captive animals dying from lymphoma. To make things complicated, many koalas are born with the virus, making it really hard to control control. We plan to set up diagnostic testing for koalas in European zoos, so we can monitor their KoRV status. This will let us predict which koalas might get cancer, and help us improve population health and plan breeding programs."
Ask the Scientists
Join The Discussion
What is the context of this research?
All koalas in Northern Australia are infected with Koala Retrovirus (KoRV) which has become part of their genome. Retroviruses weaken the immune system, causing hosts to become more susceptible to cancer and chlamydia . Koalas in northern Australia have much higher rates of disease than those in southern Australia, where KoRV is lower. Eliminating and controlling KoRV in captive and wild populations is tricky as we can't just breed KoRV free animals from the south as they also have a number of genetic problems. We know that animals with high viral loads or certain types of virus are more likely to be diseased and we think that a good compromise is to select animals with low KoRV levels for breeding or release.
What is the significance of this project?
It is challenging to do long-term studies of wild populations to understand which animals will progress from merely having KoRV to having more significant disease. Therefore, we plan to monitor captive animals for KoRV viral loads, viral diversity, and disease rates. We suspect that animals with high viral loads to begin with, or those with the "B" variant of the virus, are more likely to go on and develop secondary diseases. This study will demonstrate whether that is true or not. Being able to predict which animals are more likely to get sick will let population managers (both captive and wild) focus resources, like treating sick koalas, on those most likely to stay healthy and contribute to the future population.
What are the goals of the project?
We plan to use qPCR tests to identify which variant of KoRV each koala carries, and link this to their long term health. We are going to design and set up qPCR tests for all the known envelope variants of KoRV (A, B, D and I) to complement the current qPCR test for the polymerase gene which does not tell us which strain they have. We will also set up qPCR tests for a different region of the virus (the LTR region) as we know that some variants of KoRV are missing parts of the other genes of the virus. These tests will then be used for long term studies of animals in European zoos. These animals are very closely monitored and we will have good health records to match with their virus tests to work out whether we can predict which animals go on to get lymphoma.
Budget
We've worked on this disease for a long time and by now are in a position where we have some idea of what might predict which animals get sick with koala retrovirus. In the longer term testing for KoRV viral load or KoRV subtype will be offered to zoos or research projects on a cost basis with most of the "person-power" provided by existing staff or students. We have the machines, control samples and set up to run these tests but what we have to do before we can offer it is to get all the reagents in and do all the quality checks to make sure it's working properly. That's where this project comes in to get us started.
Endorsed by
As Head Veterinarian of ZooParc de Beauval, France, Director of Research for Beauval Nature, France and vet advisor of the Koala EEP (EAZA European breeding program), I do believe this project is extremely important. KoRV is the major threat to koalas in zoos and in the wild and we need know more about the virus and to be able to have precise diagnosis to manage properly the remaining individuals. This project is fully supported by the zoo community!
Project Timeline
This project can be broken down into three main steps.
First, designing the PCR primers and probes, checking all the known sequences of KoRV to check that our tests match these.
Secondly, making the positive controls for the tests, PCR products "cloned" into E.coli plasmids which can be grown in the lab.
Thirdly, Quality control runs on the tests, checking they are specific and sensitive enough.

Jun 17, 2019
Project Launched
Aug 22, 2019
Project Launched
Oct 01, 2019
Project start
Dec 31, 2019
Design and order Primers and Probes
Apr 30, 2020
Create positive controls (endpoint PCR products cloned into E.coli plasmids) 
Meet the Team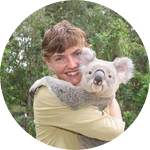 Rachael Tarlinton
Associate Professor
Affiliates
School of Veterinary Medicine, University of Nottingham, Sutton Bonington Campus
View Profile
Rachael Tarlinton
Growing up on a farm in southern Australia I wanted to fix all the animals and that (eventually) led to becoming a Veterinary Surgeon. My first job in a rural practice in SE QLD was a truly mixed practice with everything from cows to wildlife, and a crash course in tropical medicine. After a stint in locumming in the UK during the 2001 foot and mouth outbreak, I decided practice wasn't for me and was extremely lucky to land up at the University of QLD doing a PhD on koala retrovirus (which really was for me). I never went back to practice staying in research working on koala retrovirus along with a huge variety of other viral diseases. Currently this includes retroviruses in sheep, hantaviruses in wild rodents, tick borne diseases in Nigerian dogs and viruses that are involved in multiple sclerosis in people. I've also taught hundreds of vet students animal handling, internal medicine and surgery at Nottingham where I've been for the last 10 years as part of our "One Virology" research group.
---
Project Backers
11

Backers

10%

Funded

$386

Total Donations

$35.09

Average Donation