About This Project
Phages are hard-to-detect bacteria viruses, crucial for understanding microbial ecosystems. We aim to characterise phage presence and abundance by developing a portable, low-cost, open-source instrument for microfluidic droplet ddPCR based on a UC2 light sheet microscope. This tool will democratise access to phage quantification, advancing research in diagnostics, ecology, and phage therapy, transforming our understanding of viral infections.
Ask the Scientists
Join The Discussion
What is the context of this research?
Detecting the number of viruses in a sample, called "viral load", is crucial for understanding and fighting infections. Current methods, like quantitative PCR (qPCR / RT-PCR), are costly and don't directly reveal the exact amount of viruses in a sample, requiring complex calibrations. Digital droplet PCR (ddPCR) is more sensitive and solves this issue, but its use is limited by the large, expensive equipment - impractical for this task. We aim to develop an affordable, portable device combining a light-sheet microscope with ddPCR or droplet assays based on LAMP reactions or biosensors. We hypothesise that we can portably and cheaply detect phages and other viruses with such a setup, which we will build, test and share in this project.
What is the significance of this project?
Quantifying the viral load of phages in environmental and patient samples is crucial for understanding their role in microbial ecosystems, antibiotic resistance, and their potential as therapeutic agents. Accurate measurement of phage abundance can aid in diagnostics, inform targeted treatment strategies, and provide insights into ecological dynamics, ultimately improving public health and environmental management. Our project democratizes access to high-sensitivity phage detection, overcoming limitations of current techniques. By revolutionizing phage detection, our instrument will empower researchers to develop new strategies against antibiotic resistance and improve public health worldwide - especially in low and medium resource settings.
What are the goals of the project?
In our project, we aim to compare the robustness of droplet-based detection assays in quantifying the absolute abundance of phages in complex samples under lab conditions, with a sensitivity and dynamic range surpassing that of qPCR. For this means we design a prototype that marries a light-sheet microscopy and ddPCR, offering a portable solution for phage viral load detection. A key goal is to ensure this instrument is low-cost, promoting wide use. Collaboration with international partners to replicate and refine the design is integral, as we aim to optimize its open-source documentation. Given additional funding beyond our minimum goal, we hope to expand the student team and the range of components tested to develop and disseminate an improved design.
Budget
Our design proposal reduces the cost of essential equipment by 98%, making advanced detection tech accessible to researchers. Based on the $2k UC light-sheet prototype, our instrument components will cost around 2% of existing ($100k+) solutions. The budget covers essential components, reagents for testing, coding assistance, and a replication for a collaborator, fostering open-source documentation and continuous design improvement. There are currently no other funds available to advance this project idea. With this budget funded, we aim to create a cost-effective solution for phage viral load detection, transforming the field of open source hardware biological detection. Please note that this is a minimal budget and additional funding will allow us to explore more alternative components and student helpers, ultimately making a better design available.
Endorsed by
This is a really interesting project with high translational potential. It addresses an exciting topic in a clever way at the interface of one of the currently, in my view, most important challenges worldwide: safe and personalized phage therapy and phage production for multi-resistant and difficult to no longer treatable infectious diseases. I wish the team much success and the best for the approach.
What an exciting fusion of techniques, and a great application of light-sheet microscopy! I can´t wait to see how it develops and hope to try it out. Best of luck!!!
Project Timeline
Months 1-3: Coordination, and initial design of light-sheet microscope and ddPCR integration.
Months 4-6: Prototype development, assembly of components.
Months 7-9: Initial laboratory testing with phages and refinement of design based on test results.
Months 10-14: Validation of instrument sensitivity, and dynamic range. Coding of interface.
Months 13-18: Development of open-source documentation and sharing of refined design.
Months 16-18: Publication and dissemination of project results.
May 29, 2023
Project Launched
Jan 31, 2024
First prototype assembled and tested with samples.
Jun 30, 2024
Programmed interface &performance benchmarked.
Oct 31, 2024
Open documentation finalised and replication achieved.
Meet the Team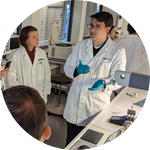 Tobias Wenzel
Group leader / Prof. Dr.
Affiliates
UC Chile, Institute for Biological and Medical Engineering
View Profile
Benedict Diederich
Groupleader of the OING (Open Instrumentation Group Jena)
Affiliates
Leibniz Institute of Photonic Technologies
View Profile
Team Bio
As part of the open hardware for laboratory instrumentation community, Tobias and Benedict have been in touch through various initiatives. They have identified this project as the highest impact application combining their expertise: Benedict is the inventor and main developer of the UC2 optical framework and designed their current low-cost light sheet instrument. Tobias is a microfluidic and single cell analysis expert and contributes the know-how for droplet applications.
Tobias Wenzel
Tobias Wenzel (@MakerTobey on Twitter) is an open source hardware advocate and bioengineering professor in Chile. His research group studies human microbiomes by developing microfluidic methods for high-throughput multi-omics screens. The research of his lab focuses on in-vitro and single cell analysis (interactions, genomics, cultivation, phenotyping) by drawing on open source hardware automation. Read about our open and appropriate development approach: https://doi.org/10.1371/journal.pbio.3001931
Benedict Diederich
After doing an apprenticeship as an electrician, Benedict Diederich started studying electrical engineering at the University for Applied Science Cologne. A specialization in optics and an internship at Nikon Microscopy Japan pointed him to the interdisciplinary field of microscopy. After working for Zeiss, he started his PhD in the Heintzmann Lab at the Leibniz IPHT Jena. He focuses on bringing cutting-edge research to everybody by relying on tailored image processing and low-cost optical setups. Part of his PhD program took place at the Photonics Centre at Boston University in the Tian Lab. A recent contribution was the open-source optical toolbox UC2 (You-See-Too) which tries to democratize science by making cutting-edge affordable and available to everyone, everywhere. He is co-founder of the open-hardware start-up "openUC2" which aims to scale up open microscopy to solve global problems and spend some time during his Post Doc in Manu Prakash's lab at Stanford University to promote "Frugal Optics" in marine biology communities.
Additional Information
The project leverages the expertise of our Chilean research group and German collaborators, who share a commitment to open-source innovation. Our diverse skills and resources will drive the instrument's development and optimisation. Upon successful completion, we envision further applications in detecting other biological agents, such as bacteria and viruses, expanding our instrument's impact and transforming the field of biological detection.
---
Project Backers
11

Backers

107%

Funded

$10,120

Total Donations

$920.00

Average Donation