About This Project
Multiple myeloma (MM) is a cancer of the bone marrow made up of plasma cells, which are a type of antibody-producing white blood cells. Low oxygen levels in the bone marrow increases gene expression in MM tumor cells, and acts as part of an adaptive survival response. We are targeting this response with an experimental drug that blocks expression of these genes and will ask how this affects myeloma biology in the bone marrow. This is a novel approach to treat and study this incurable disease.
Ask the Scientists
Join The Discussion
What is the context of this research?
Multiple myeloma (MM) is a type of blood cancer that migrates to and colonizes the bone marrow. We believe these cells gain critical survival advantages from aspects of the bone marrow and that this helps make them resistant to anti-cancer therapies. If this is true, then we believe that overcoming these bone marrow derived "pro-survival" effects will result in more effective treatments and longer survival times for patients with this disease. Because the interactions between the tumor cells and the bone marrow is complex and very difficult to study in the laboratory, we will use a powerful cutting-edge scientific technology, called positronic emission tomography/computational tomography (PET/CT) to study aspects of the biology and pathology of myeloma tumor cells in a mouse model.
What is the significance of this project?
Multiple myeloma is an incurable disease of with high rates of relapse and an average survival of only 5-6 years. Although MM is a relatively rare (~2% of all cancer deaths), it is the second most commonly diagnosed blood cancer. Other risk factors such as smoking, substance abuse, and exposure to radiation and toxic agents (i.e., Agent Orange), increase the risk of developing MM. In addition, Gulf War veterans were exposed to chemicals that have are associated with various neurological disorders and cancers, including MM. The VA medical system cares for ~10-12% of all cases of MM in the United States, thus research into new therapies for treating incurable disease is especially relevant to the VA healthcare mission as well as the general population.
What are the goals of the project?
The goal of this study is to test if an experimental synthetic DNA binding molecule can kill myeloma cells in the bone marrow. We will achieve these goals by using genetically modified, bioluminescent myeloma cells that can home to and engraft in the bone marrow of immunocompromised mice. The mice will then be treated with our experimental drugs and the effects on tumor growth and survival will be measured using PET/CT and a number of specially designed radioactive probes and tracers that allow us to study various biological effects on MM pathology in the bone marrow. One question we will ask is if our experimental drug can inhibit the development of painful bone lesions caused by tumor cells. We will also ask if our treatment strategy can block the ability of these cells to metastasize.
Budget
This is part of a Greater Los Angeles-Veterans Administration Healthcare System (GLA-VAHS) approved research project studying regulation of MM tumor growth in the bone marrow.
Donated funds will be administered by BBRI, a 501(c)(3) Public Benefit Corporation set up to support VA-approved research.
Funds will be used to purchase 20 mice with genetically modified immune system that is unable to recognize and reject human tumor cells. They are a perfect model to study anti-tumor effects in a living system ($100/mouse). The care and upkeep of the mice, called "per diems" costs ~$500/experiment.
We also want to support Gilberto Gastelum (our research lab helper) with a modest stipend. Young scientists are the face of future research and our laboratory is always striving to develop and support young scientists, especially minorities and women.
Funds above the target level will be applied to purchasing experimental reagents and supplies critical for running our laboratory.

Endorsed by
Dr. Frost has assembled an advanced imaging facility that he will use to successfully perform the outlined experiments. The data his research group has generated so far are quite compelling and justify further research into this new treatment to stop multiple myeloma.
The research undertaken to better understand multiple myeloma is a pivotal area within the study of blood borne cancers. Studies that helps elucidate the physiology and molecular biology of such tumor cells can lead to better approaches to therapy. This project fits precisely within that realm of research and can contribute to the field of knowledge required to better treat such malignancies.
Meet the Team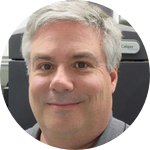 Patrick Frost, PhD
Adjunct Associate Professor
Affiliates
Education: UCLA (BS and PhD), California State University, Long Beach (MS). Fellowships: UCLA and GLA-VAHS. Current: GLA-VAHS Department of Oncology/Hematology
View Profile
Veena Mysore, PhD
Project Research Scientist
Affiliates
Greater Los Angeles VA Healthcare System and UCLA
View Profile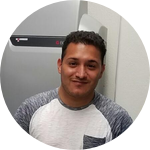 Gilberto Gastelum
Research Laboratory Assistant
Affiliates
Education: California State University, Long Beach
View Profile
Team Bio
Our laboratory is well established for using animal models of cancer and has developed cutting edge and highly innovative methods to study myeloma in the bone marrow. We are a diverse, well published and productive team, anchored by Dr. Frost and Dr Mysore as the leads.

Gilbert is a promising and highly motivated young scientist, just starting out in his career in research. He represents the next generation of researchers and we are excited to help him to prepare for a career in medicine.

Patrick Frost, PhD
I earned my BS and PhD at UCLA in the field of tumor biology. Over the last 15 years, I have been working at the Greater Los Angeles VA Healthcare System (GLA-VAHS). During that time, I was a recipient of the prestigious Howard Temin K01 mentored fellowship grant from the National Cancer Institute. This highly competitive award is given to outstanding junior scientists who are committed to developing research programs highly relevant to the understanding and treatment of cancer.
Since 2011, I have been the principle investigator on a VA MERIT grant investigating how targeting angiogenesis and the adaptive hypoxic response in multiple myeloma cells affects tumor growth and survival.
My early publications in the area of tumor resistance established that subtoxic concentrations of chemotherapeutic drugs could sensitize tumor cells to killing by the immune system. We were also one of the first groups to recognize that the sensitivity of myeloma cells to rapamycin (a drug that inhibits protein expression) was linked to the inhibition of angiogenesis and induction of hypoxia in the tumors. This suggested to us that targeting the "resistant" phenotype of tumor cells could form the basis of novel anti-cancer therapies.
Building upon the above studies, and by using mouse models, we have been able to directly show that the induction of hypoxia is correlated to the killing of myeloma tumor cells. The logical next step is to understand what role hypoxia plays in this killing tumor cells and if we can use experimental drugs to target these effects in myeloma cells engrafted in the bone marrow.
Veena Mysore, PhD
I have a broad background in cancer biology with more than 12 years of research experience. Currently my work focuses on the effect of hypoxia on multiple myeloma cells and studying the effect of inhibiting HIF (hypoxia inducible factor) in cell proliferation and apoptosis.

My previous research involved studies to understand the molecular mechanisms of tumor development and the effects of targeting these gene networks using therapeutic agents. Using a cervical cancer model, I was involved in characterizing the tumor suppressor gene, cystatin E/M, in cell lines and primary tumor samples. In addition, I have worked extensively on the effect of curcumin, a natural plant compound, and its role as a tumor suppressor in head and neck cancers.

I am well versed in cancer biology and have extensive experience in biochemical, molecular, and microscopic analyses of clinical samples.

My bibliography: http://www.ncbi.nlm.nih.gov/sites/myncbi/1HWY89bFsd85x/bibliography/48478908/public/?sort=date&direction=ascending
Gilberto Gastelum
I am the oldest of 5 siblings and a first generation Hispanic college student in my family. I attended Golden West community college where I earned my AA in Science before transferring to California State University, Long Beach and earned a BS in Molecular Biology and Physiology.
As an undergraduate I developed a passion for research after joining the virology laboratory of Dr. Eric Haas-Stapleton (2013-2105). During my time there, I independently designed experiments to help elucidate a mechanism of action by which an antimicrobial peptide (called gloverin) produced in insects, was known to regulate the inactivation of the baculovirus Autographa californica M. nucleopolyhedrovirus.
I also tested for gloverin's potential to have antifungal activity against the yeast, Candida albicans
Specifically, I studied the mode of action for the antifungal activities of gloverin, and demonstrated that the peptide interacts with the cell wall of the yeast form of C. albicans, which significantly delayed its transition to the virulent morphotype. This data supported our hypothesis that gloverin may have antifungal activities against this organism.
Throughout the course of my undergraduate research program, I became interested in oncogenesis research, as I myself was a patient of the malignancy. Earlier this year, I joined the lab of Dr. Patrick Frost, where I'm currently collaborating in several projects. One being the elucidation of the oxygen mechanism deregulation in multiple myeloma, with respect to epigenetic silencing of tumor suppressor genes, and how this affects multiple myeloma within the bone marrow.
My goal within the next two years is to attend an MD/PhD program to become a physician/scientists. In addition, as a minority, I am passionate in advocating for higher education among the Hispanic community, specifically among first generation college students.
Additional Information
Our laboratory has all the equipment (including optical imaging/X-ray and PET/CT technology) to perform these experiments.
---
Project Backers
3

Backers

1%

Funded

$39

Total Donations

$13.00

Average Donation