About This Project
The vast majority of invertebrates remain undiscovered and understudied. This is especially true for Singapore's ants (Hymenoptera: Formicidae). Since the last published inventory in 1915, native ants have received very little study, despite the country's placement within a geographic hotspot for biodiversity.
My goal is to discover and document the ants of Singapore. Current work (see below) suggests that new species are waiting to be described, and I am thrilled to share this journey with you!
Ask the Scientists
Join The Discussion
What is the context of this research?
Many of our planet's ants remain undiscovered and understudied. Singapore is no exception, and research on native ants is very scarce despite the likely occurrence of over 200 species in the metropolitan city's dwindling forest remnants. For example, over a hundred years have passed since the last published native ant inventory by Viehmeyer (1915). This is surprising because Singapore is often considered to support some of the world's best-studied, long-term small tropical rainforest fragments (Turner & Collett 1996). In hopes of reconciling the outstanding knowledge gap on native ant diversity, the goal of this simple project is to discover and document ant species in Singapore.
What is the significance of this project?
The relative absence of rigorous sampling since Viehmeyer (1915) presents an opportunity for discovering new records for Singapore and the wider Sundaic region, and even new species to science – see Leptanilla hypodracos below.
The ongoing project will contribute significantly towards building an updated species inventory for native ants. This will be a vital resource not only for future ant research, but conservation too, such as the monitoring of ecosystem health across space and time. In the long term, the data collected will also serve to further our understanding of native ant ecology, such as the stratification of ant communities within Singapore's rainforests, and potential changes in species composition across different habitats.
What are the goals of the project?
The immediate goal, and purpose of this campaign, is to discover and describe new ant species and species records for Singapore.
Separately, some long-term objectives in the wider context of this research include producing the first updated native species inventory since Viehmeyer (1915) as well as exploring ecological patterns in native and regional ant diversity.
Budget
Despite my present lack of affiliation to an academic institution, I've been very fortunate to have covered the cost of basic equipment with some small grants. However these funding sources often do not cover publication fees. Publication fees do vary across different journals, but on average they are substantial (>US$400). The funds collected here will therefore play a crucial role in safeguarding the recognition and documentation of new species and species records in the most relevant and preferably open-access scientific literature.
In addition to publication fees, funds will be used for the purchase of essential consumables such as many many specimen vials, entomological pins, preservation fluid and storage boxes, which run out very quickly with the large samples that ant research usually entails.
If funding permits, I would also like to purchase a macro lens to improve the quality of my ant images and expand their potential for education and outreach.
Endorsed by
Despite its megalopolis status, Singapore still has many secrets and astonishing creatures to reveal. While few people could achieve such task, I have no doubt that Mark will succeed in this exciting endeavor to collect, identify and describe new ant species! Just a few weeks ago, his first species was described and he is now working on several more with an incredible energy and motivation. If like me, you believe that biodiversity exploration and species description are keys to protect nature, then support Mark and his project!
Meet the Team
Mark K L Wong
As a young researcher I am keen to learn from a broad range of fields, with a primary interest in the diversity and ecology of terrestrial invertebrates. My previous work at The Australian National University's Rowell Lab investigated the evolutionary divergence, biogeography and physiology of the notoriously deadly funnel-web spiders. A subsequent attachment under Benoit Guénard's mentorship at The University of Hong Kong saw me develop a specific curiosity for ants. I am presently studying the ant communities of Singapore.

Instagram: @ants_of_singapore
Additional Information
Leptanilla hypodracos Wong & Guenard 2016

The first ant described from the project – and a significant one too! This tiny (1.7 mm) beauty was discovered from a low-lying secondary forest in Singapore's central catchment area. As they have small colony sizes and are restricted to subterranean habitats, these ants seldom show up in collections and very little is known about their biology.
Full article doi: 10.3897/zookeys.551.6686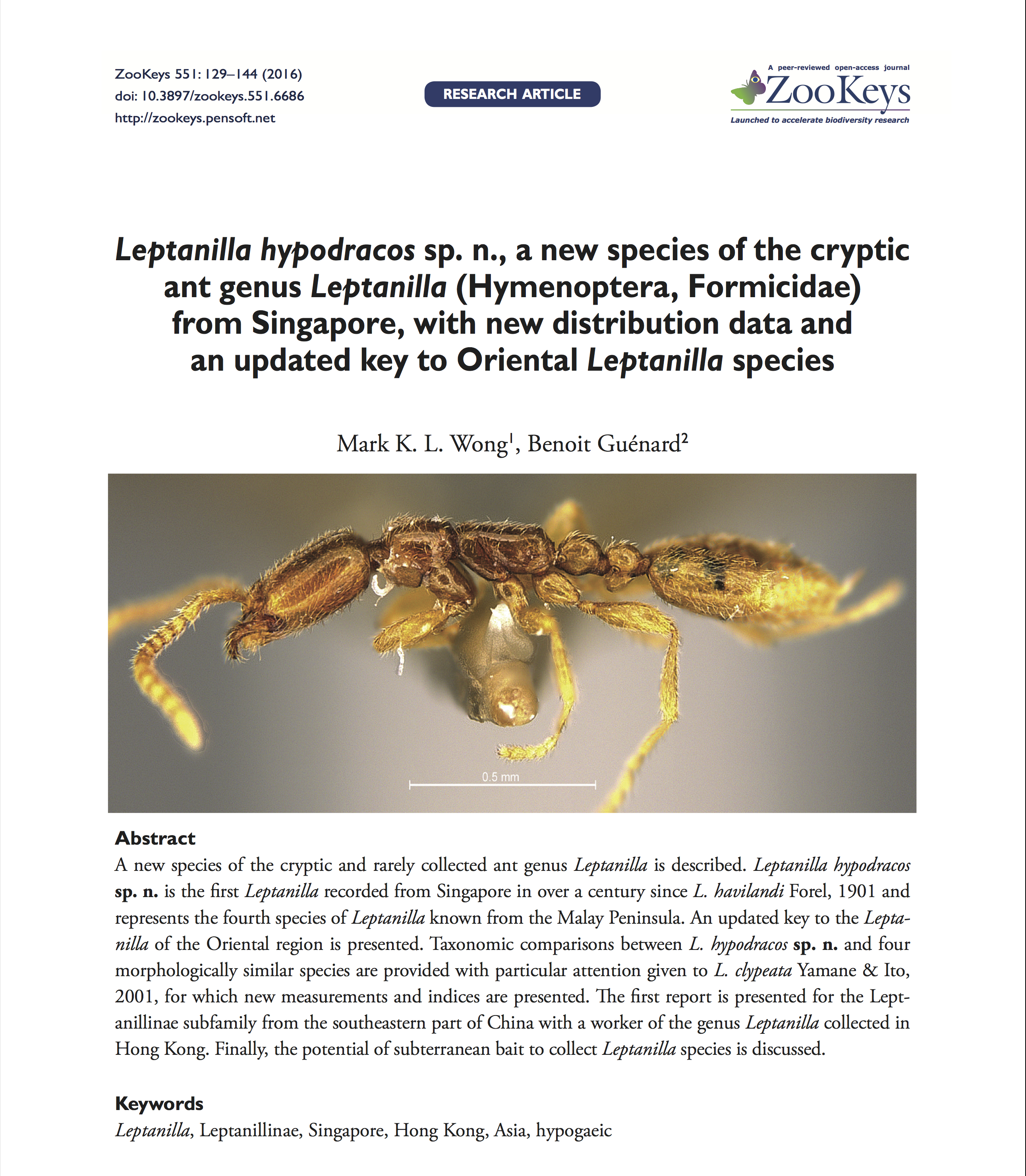 ---
Project Backers
35

Backers

104%

Funded

$3,133

Total Donations

$89.51

Average Donation