About This Project
Wildlife deaths due to vehicular collisions are a global concern. Physical barriers to reduce speeding are not always possible in conservation areas, so a rapid and reliable speed enforcement system is essential when speed bumps and fences cannot be used. Some vehicles travel at twice the posted speed limit in the KAZA study area: endangering wildlife and community members. This project to monitor and reduce speeding is the first step in deploying a larger regional and intercountry wide system.
Ask the Scientists
Join The Discussion
What is the context of this research?
Vehicular collisions cause death and injury to humans and wildlife. This is particularly concerning in conservation areas where large carnivores and herbivores, such as lions and elephants, roam freely. Speeding vehicles impose additional dangers, so rapid and reliable enforcement is essential. Cost and access to technology can be prohibitive, and this pilot project will provide a simple system that allows law enforcement and wildlife agencies to monitor speeding vehicles in areas with high rates of wildlife deaths. In addition to monitoring speed, this system will also allow law enforcement to detect vehicles that may be engaged in illegal activities such as wood harvesting and wildlife poaching, benefiting conservation and the local communities in multiple ways.
What is the significance of this project?
This important pilot study is the first step to a larger project that has implications for the Kavango-Zambezi Transfrontier Conservation Area (KAZA TFCA), which extends across five countries. KAZA contains a rich diversity of ecosystems, landscapes, and wildlife. Unfortunately, hundreds of vertebrates are killed annually on the roadways. One example of how detrimental speeding is to wildlife is the local painted dog population. Many adults, subadults, and pups are killed by vehicles, crippling the ability of packs to survive in this area. A simple system such as the one proposed here can be quickly implemented and expanded as needed. This would allow for high risk areas to be monitored, speed limits enforced, and ultimately, a reduction in illegal activities and wildlife deaths.
What are the goals of the project?
The database has been designed, and once the equipment is ready, law enforcement officers will be trained on the system. One officer will be stationed at each of the designated start and stop points, and each will maintain a tablet for data collection. Speed will be instantly calculated, allowing officers to issue warnings and speeding tickets to drivers. In addition to officers interacting with drivers, a community campaign offering additional information about local wildlife, roadways, and speeding will be offered. This may include signs, posters, informal gatherings, etc. Data will be used to reduce speeding and wildlife deaths, but can also provide additional beneficial information including traffic volume and average speeds over various time periods such as high/low tourist seasons.



Budget
The budget items will allow for a simple, but effective, speed monitoring system to be tested in a pilot study area. A start and stop point for a predetermined distance (e.g., 70 km) will be selected on a conservation road with a high road kill rate. Filemaker and license plate recognition software on each of the tablets will capture necessary data (i.e., date, time, vehicle) at the start and stop points. Average speed, which provides the most reliable tool and maximum accuracy, will be calculated. License plate numbers can be manually recorded, however, the automatic license plate recognition software increases data collection efficiency and decreases human error. This collaboration between law enforcement and a conservation and education organization will provide a speed monitoring system and database that can be used to highlight areas of concern. The system can then be adapted and implemented in communities throughout the Kavango Zambezi Transfrontier Conservation Area (KAZA TFCA).
Endorsed by
I collaborated with Dr. Rasmussen on painted dog research and am inspired by his passion and commitment to conservation and communities. I am excited to see this project move forward in the study area, as well as expand into neighboring regions. It will be beneficial to people and animals alike!
Project Timeline
Officer training and preliminary testing of data collection (one month)
Data collection, issuance of warnings and speeding tickets, and system improvements will be ongoing in the study area.
Data analysis to review traffic trends and road kill rates will be conducted periodically to determine effectiveness of the speed enforcement system.
Speed enforcement system will be introduced to and/or deployed in surrounding regions and/or neighboring countries after approximately 3-4 months.
Jan 12, 2021
Project Launched
Jan 31, 2022
Complete officer training
Feb 28, 2022
Education campaign (signs, community meetings, etc.)
Jun 30, 2022
Implement speed enforcement system in 1 - 3 additional communities
Meet the Team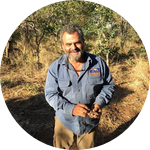 Dr. Greg Rasmussen
Doctor
Affiliates
University of Zimbabwe
View Profile
Dr. Greg Rasmussen
Dr. Gregory Rasmussen has been working exclusively with the highly endangered painted dog since 1989. He established the Painted Dog Conservation project in 2002, and more recently, founded the Painted Dog Research Trust (PDRT) in Zimbabwe.
PDRT's mission is to conserve painted dogs using data and research as the guiding tool. In addition, PDRT is constructing a field based conservation ecology center that will encourage ecological and socioeconomic studies. This will allow for the mentoring of Zimbabwean graduate students and the collaboration of international students and researchers to inspire and train the next generation of motivated, field competent, and passionate conservation biologists.
http://www.painteddogresearch.org

Chris
With over 20 years in the telecommunications industry, Chris is excited to apply his technological knowledge to assist in wildlife and conservation efforts.
---
Project Backers
27

Backers

116%

Funded

$3,616

Total Donations

$133.93

Average Donation