About This Project
Producing cultivated meat is difficult and expensive because the cells need enough surface to grow. Bioreactors, where the cells are cultured, have limited space for the cells to stick to. This research aims to solve this problem by creating tiny particles (microcarriers) made from natural materials that can be used in the bioreactors. These microcarriers will provide more surface area for the muscle cells to adhere and grow on, which will improve the meat production efficiency.
Ask the Scientists
Join The Discussion
What is the context of this research?
The project aims to address the challenge of meeting the rising demand for protein in the increasing world population by producing meat sustainably. The traditional ways of meat production are unsustainable due to high resource consumption, including extensive water and land use, and animal suffering. One solution is to cultivate meat in labs using tissue engineering techniques that utilize animal biopsy-derived cells grown in large bioreactors. However, scaling up the technology poses significant challenges, particularly the cost of bioreactors required for high-density cell culture. This research aims to develop a technology that overcomes the challenges of scaling up lab-grown meat production, making it a viable and sustainable alternative to traditional meat production.
What is the significance of this project?
In bioreactors, cells require a surface to attach to in order to proliferate and develop into muscle tissue. However, bioreactors often have limited surfaces available for cell adherence. This presents a challenge when attempting to produce cultivated meat on a large scale because a significant amount of cells need enough surface area to grow and form muscle tissue. Microcarriers, tiny bead-like structures engineered with a high surface area-to-volume ratio, provide more cell attachment space when suspended in large numbers in bioreactors. The use of microcarriers with microencapsulated nutrients can help accelerate cell growth, development, and improve nutrient availability, which can overcome some of the challenges associated with conventional cell culture techniques.
What are the goals of the project?
Firstly, we aim to synthesize food-grade microcarriers using emulsion-based technique for facilitation of cell attachment and growth in bioreactors.

Next, we will incorporate microencapsulated nutrients & growth factors into the microcarriers to improve nutrient availability and accelerate cell growth and development.

Further, we will investigate how different microcarrier properties, such as size, surface charge, porosity, and stiffness, affect cell density and the overall effectiveness of a 3D cell culture system.
Finally, we aim to optimize the microcarrier properties and nutrient encapsulation to achieve the highest cell growth and viability.
Budget
The following budgeted items are required to carry out preliminary experiments to generate data and proof of concept that can be used to apply for larger grants:

Lab Supplies and Cell Culture Consumables: This category covers the costs of purchasing serum-free cell culture media, cell culture flasks, serological pipettes, petri dishes, gloves, etc. for cell culture work.
Cell Lines: The cost of purchasing skeletal muscle satellite cell lines can vary depending on the source and species, such as bovine, porcine or others.
Chemicals and Materials: This category includes the cost of purchasing plant-derived polymers, chemical reagents, proteins, and other materials required for the project.
Shared Equipment Usage Fees: Shared equipment at the Biomedical Engineering Department will be used, and there will be associated hourly usage charges for equipment usage.
Personnel Time: This category covers the cost of personnel time required to carry out the research project.

Endorsed by
Scaling up of cultivated meat production poses several challenges that need to be addressed. However, the integration of microcarriers holds significant promise as a valuable strategy for overcoming these obstacles and achieving large-scale production. Nidhi's determination to undertake this project assures me that she will see it through to completion, driven by her passion and dedicated efforts.
Project Timeline
The expected timeline for the project is one year, with the first half dedicated to microcarrier fabrication with varying parameters, nutrient encapsulation, and their characterization. The second half is focused on evaluating cell culture efficiency and optimizing process parameters to develop a successful prototype for a bioreactor system.
I plan to share the updates with the backers after achieving each milestone and finally publish a paper in an open access journal post completion.
Jun 02, 2023
Project Launched
Sep 15, 2023
First milestone of the project is the successful synthesis and characterization of edible microcarriers.
Nov 15, 2023
Optimizing the same technique for microencapsulation and nutrient release study of nutrients and growth factors.
Dec 01, 2023
Determination of optimal process parameters based on cytocompatibility of the microcarriers, as well as studying cell growth and differentiation rates.
Dec 15, 2023
Preparation of a prototype of the microcarrier-based cell culture system
Meet the Team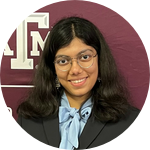 Nidhi Gupta
Graduate Student Researcher
Affiliates
Biomedical Engineering Department, Texas A&M University
View Profile
Nidhi Gupta
As a nature enthusiast, I have always been fascinated by the creatures that inhabit our planet, particularly non-human animals. It is truly amazing to contemplate their unique perspectives and the different ways in which they perceive the world around them. However, my fascination turned to concern after learning about the current practices that exploit many non-human species to obtain our food. The urgent need to address the devastating impact of industrial animal agriculture on our planet's health and the well-being of all its inhabitants, including ourselves, has moved me.
I am passionate about utilizing the principles of tissue engineering to create healthier, cost-effective alternatives to traditional methods of producing animal-derived products, all without the use of animals. I am particularly interested in the development of cultivated meat, which has the potential to revolutionize the food industry by providing a sustainable and ethical source of protein. I believe that this research can make a meaningful contribution to addressing the urgent challenges facing our global food system.
Additional Information
Aim 1: Fabrication of Edible Microcarriers Using naturally derived Polysaccharides.
1A: The first aim of the project is to synthesize and fabricate encapsulated microcarriers. This approach is simple, cost-effective, and scalable. To obtain microcarriers with varying stiffness, we will modify the composition of the polysaccharide precursor solution.
1B: The second aim is to study the encapsulation efficiency and release profile of nutrients from the microcarriers. We will also investigate the relationship between microcarrier porosity and nutrient release kinetics to achieve a sustained and controlled release of nutrients.
Aim 2: Evaluation of Cytocompatibility, Cell Growth, Proliferation, and Differentiation Rates
The second aim of the project is to evaluate the cytocompatibility of the microcarriers using the Alamar Blue assay. We will also monitor cell growth, proliferation, and differentiation rates using qPCR to assess the effectiveness of the microcarriers in promoting cell growth and differentiation.
---
Project Backers
8

Backers

101%

Funded

$10,613

Total Donations

$1,326.63

Average Donation