About This Project
The direct and indirect effects of typhoons on the biodiversity of the Philippines are still unknown, and the country is experiencing 20 typhoons annually. My research aims to understand its effect on the diversity and population biology of butterflies on Negros Island, Philippines. Butterflies play a significant role in the typical terrestrial ecosystem as agents of pollination, larval, pupal, and adult food sources for insectivorous birds and lizards.
Ask the Scientists
Join The Discussion
What is the context of this research?
For over 200 years of records, the country has been experiencing typhoons annually, which have caused devastating winds, salt water surges, and heavy rains leading to extensive flooding. The proposed research is also a follow-up of my M.S. fieldwork in 2012 wherein I studied the effects of anthropogenic land use on the distribution of butterflies in Negros Oriental, a province in Negros Island. I was able to document the distribution of 131 species of butterflies, and I also noticed during my fieldwork that some species of butterflies were listed only after a major storm had passed the island. That observation triggered me to further investigate the occurrence of typhoons in the country and how they would affect the diversity and population biology of butterflies on Negros Island.
What is the significance of this project?
The results will contribute to biodiversity assessment projects in the Philippines and also suggest factors affecting watershed and primary/secondary forested areas, which may need sustainable conservation efforts. Understanding the roles of typhoons on forested areas in the Philippines is crucial to the flora and fauna. The analyses on the diversity and richness of butterflies will illuminate some important effects brought by the typhoons in that country. Since this will be the first time to do a research project incorporating typhoons with their measured impacts on animal populations, the data will be useful in long-term analysis in the Philippines, including the effects on the diversity and abundance of butterfly populations on different islands and other taxa.
What are the goals of the project?
The goals of the study are to compare the butterfly species diversity, population counts, species replacement and nestedness in pre- and post-typhoon analyses among three habitat types: montane forests, suburban areas, and urban areas in Negros Island. A 300-meter-long transect line will be established on each habitat type and used in sampling butterfly species and determining number of individuals present per species from June 2016 to January 2017. A secondary derivative goal of this study is to produce local butterfly field guides for future researches and also for ecotourism and educational purposes such as promoting butterfly sanctuaries for butterfly watchers and photographers.

Budget
I will be having 18 field assistants to be assigned to census different ecological landscapes such as forest, suburban, and urban. These local field assistants will be helping my research in collecting butterfly population data. I recently published butterfly field guides in the Philippines for use in training and teaching local field assistants on how to identify butterfly species during fieldwork days.
Meet the Team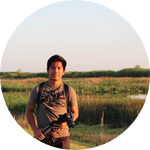 Jade Aster T. Badon
Graduate Assistant
Affiliates
McGuire Center for Lepidoptera and Biodiversity, University of Florida, Gainesville, Florida, U.S.A. Incoming President of Philippine Lepidoptera Butterflies and Moths, Inc. Philippines.
View Profile
Jade Aster T. Badon
I am currently a Ph.D. student studying in the Department of Entomology and Nematology at the University of Florida in Gainesville, Florida, U.S.A. I work as a graduate assistant at the McGuire Center for Lepidoptera and Biodiversity, where I assist in the curation of butterfly specimens collected from Asia, Australia, and Africa.
I co-founded the Philippine Lepidoptera Butterflies and Moths, Inc. to spread awareness on the conservation of butterflies and their host-plants.
---
Project Backers
4

Backers

1%

Funded

$34

Total Donations

$8.50

Average Donation