About This Project
The goal is to examine the effects of various environmental stimuli on Ceratophrys ornata, commonly known as the Pacman frog. We will be utilizing multiple methods including EEG monitoring, pulse, and weighing to monitor the stress levels. Examples of environmental stimuli are cycling of lights, temperature, humidity and tank sizes.
We will be purchasing the necessary supplies with the money provided. Oversight will be provided by a veterinarian and teachers.
Ask the Scientists
Join The Discussion
What is the context of this research?
We are high-school students looking to see how changes in living conditions effects frogs behavior and health. We are doing this as a "Flex Friday" project which allows us time during the week and Friday to work.
We started this project because the lack of responsibility some frog owners have for their animals. Amphibians are very sensitive animals, millions of exotic animals are killed each year due to poor care. We, of course, don't want our animals to experience conditions as poor as these so we will not expose them to anything that will cause them harm while still keeping half of them in a minimalist vivarium.
We are testing to see if the environment changes affect eating habits as well as overall happiness as shown by their ability to relax as shown by the EEG.
What is the significance of this project?
The significance of this project is to find out just how less than ideal living conditions change a frog's health. In big box stores, and by some owners, frogs are kept in less than ideal conditions such as small tanks with unregulated humidity. These conditions are not recommended by breeders, so we hypothesize the frogs will be more stressed. Depending on the results, this could show whether or not buying amphibians from large chain stores is ethical. This experiment is a preliminary investigation with a small sample size.
What are the goals of the project?
Our goals are to build 4 habitats, housing one frog each, 2 as ideal habitats for frogs and another 2 as budget habitats. The ideal habitat will have set light changes, larger tanks, an abundance of plants as well as live food. The other set will have smaller thanks, fewer plants, and dead food. We'll demonstrate the different effects these environments have on the frogs by recording weight, comparing behavior and EEG monitoring on experiment days every four hours.
Budget
Most of the budget is going towards building the naturalistic environment. One environment will be bare minimum, designed similar to what pet stores use and what is recommend. In addition we also need $30 to purchase electrodes that connects to the EEG machine. The sensor will be connected to a custom made harness to allow for comfort of the subject and accurate readings.
Endorsed by
I cannot WAIT to see what these young men do next ! This is an ambitious, amazing project, in a school that gives over every Friday to this work. So they have time to do this work and I have been amazed at these young mens' interest and dedication to this project. Well conceived and it will be well done. Best, Michele LaForge
Meet the Team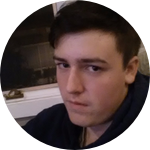 Team Bio
We are all sophomores at Baxter Academy, a science and technology charter school located in Maine. Through a program at Baxter, students are able to pursue personal projects during the school week. This allows us to dedicate a substantial amount of time and lets us follow our passions.
Gregory Ryder
I am a self-driven, hardworking, high school currently midway through my sophomore year at Baxter Academy in Portland, ME. Along with golfing and fishing animals have been a large part of my life. As far back as elementary school I remember spending the good part of the day catching frogs in the stream by my house. I have been around these animals my whole life, and to be able to work with them in school is an amazing opportunity.
Elliot Needham
I'm a student currently attending Baxter Academy. I'm interested in chemistry and ecology, so this project was obviously interesting to me. I mostly do research and planning. I do well independently, but I've also led groups when I have too. I hope to have a career related to biological sciences in the future, so this project is important to me.
Dominic Crowley
I am a student at Baxter Academy. I enjoy photography, videography, and medical science. I often tinker with electronics and surplus biomedical devices in my free time and I work as a busboy at a restaurant part time.
Additional Information
We will maintain humane living conditions during this project. Oversight will be provided by a licensed veterinarian and teachers at our school. We will ensure to take care and follow proper handling procedures to prevent harm. Emergency supplies will be on hand including antibacterial and anti fungal medication. In the event of a medical problem, the frog will be moved to quarantine and the experiment will end to ensure health and safety.
---
Project Backers
16

Backers

120%

Funded

$600

Total Donations

$37.50

Average Donation