About This Project
In a first for the island, a locally-led initiative will survey Montserrat's marine environment, to identify the presence/diversity of megafauna. While some monitoring of Montserrat's marine biodiversity has been carried out via fisheries landing surveys, information is limited, due to a lack of affordable tools and locally based scientific expertise. Using low-cost tools and cutting-edge analysis we aim to gather baseline data cost-effectively to inform ocean management.
Ask the Scientists
Join The Discussion
What is the context of this research?
The fundamental question to be tested is whether Montserrat can use a range of new technologies and cutting-edge analysis to gather baseline data in a cost-effective way to inform local ocean management. Timely research, as the UK Blue Belt Programme is currently working to improve scientific understanding of the marine environment and ensure management is sustainable and long-term (Cefas, UK). Yet, according to Mongabay, one of the top reasons that many conservation-focused projects fail is the lack of buy-in from local people. Engagement with the community is crucial to ensuring that our project has an impact and supports an equitable Caribbean Blue Economy.
What is the significance of this project?
This project aims to establish a collaborative, community-led, Marine Megafauna Monitoring project on Montserrat, harnessing the opportunities afforded by new ocean monitoring technologies. The project will work alongside other marine stakeholders to gather baseline data on the diversity and abundance of megafauna in Montserratian waters. The information collected will enable the Government of Montserrat to fulfill its commitments under international agreements and support the development of local plans and policies. Crucially, our project will help to empower Montserratians to take the lead in exploring and protecting their marine environment, ushering in an inclusive and equitable future for ocean exploration and research on Montserrat.
What are the goals of the project?
Our project's overarching goal is to assess how new technologies, deployed by local people, can improve our understanding of Montserrat's marine ecosystem, and share what we learn with our community. The project will use a combination of remote underwater video systems and environmental DNA ('eDNA') analysis to survey at least 16 sites in representative habitats surrounding the island and construct a baseline of megafauna diversity and abundance. As part of these surveys, we will trial the use of a new low-cost deep-water ocean monitoring camera (Maka Niu) which has the potential to greatly improve access to ocean monitoring technologies on islands like ours. There will be hands-on training, exhibitions, and events to showcase our results for sharing best practices.

Budget
The majority of our budget is for buying boat time and data analysis.
Boat time for 16 deployments is needed to run a robust study of 4 areas of ecological value (including the new seamount), considering deployment will vary from 6-14 hours during the day and overnight, involving chartering a small fishing boat and local marine surveillance vessel.

We are already in possession of a Maka Niu and 5 mid-water BRUVs on the island which decreases the overall costs. Maka Niu is not yet equipped with a built-in light and therefore we have budgeted for a deep-sea battery-operated light which will be essential at the planned deployment depths ranging from c.10-500m.
Two of our local fishers will be compensated as research assistants and 3 local youths will receive training in marine monitoring systems operation, collecting, data analysis, and communications. Additional funding will pay for analyzing 10 samples of eDNA.
Endorsed by
The Marine Conservation Society fully supports our Darwin Fellow Veta Wade in this ground-breaking research. Veta is a key ocean activist in the Caribbean region and we are delighted to be working alongside her. As a role model, Veta is leading the way, demonstrating that Caribbean youth and young adults have an important role to play in marine science and the management and protection of our ocean resources. Using cutting-edge technology to record marine wildlife in Montserrat's seas, Veta will help us understand how we can better protect it.
The natural environment has been identified as one of Montserrat's key pillars in its Tourism Strategy, as it forms the basis for almost any tourism experience on the island. The conservation of our marine heritage is therefore pivotal and must be understood by all. Therefore, The Montserrat Tourism Division welcomes this project as a critical first step to initiating long-term marine monitoring of our island's charismatic marine animals. I am confident that Veta's passion and drive for this research area will bear exceptional results.
I Hon. Paul Lewis leader of Opposition in the Parliament of Montserrat fully endorse Veta and Sheldon's project.  Local capacity to generate and analyze reliable marine data is critical to collaboratively managing fisheries and our marine environment for the future.  The project leader, Veta Wade, has worked tirelessly over several years to lead a pioneering effort to build an ocean conservation ethos on Montserrat. There is no one better to lead such a project!  Indeed a project worth your investment.
I, along with my colleagues in the Marine Ecology and Conservation Research Group at the University of Exeter are pleased to offer our support to this exciting and timely project. We will assist with research design and analyses and are confident that Veta, working with partners and stakeholders in Montserrat and overseas, will execute it very successfully. Knowledge of the diversity, distribution, and exploitation of marine megafauna in Montserrat's waters remains limited and this project will help to fill these gaps and engage the community.
Project Timeline
We expect deployment to occur April-July2023 when sea conditions are most favorable. Data Analysis will follow in July/August and in August discoveries are reported to key stakeholders and final outputs delivered in November 2022, on World Fisheries Day, by way of a Visual Art Exhibition in partnership with the Montserrat National Trust.
Nov 26, 2022
Project Launched
Mar 01, 2023
Begin stakeholder engagement - Preliminary Training
Mar 31, 2023
Start promotion campaign  planning
Apr 30, 2023
Project Launch - Field Training  ( Deployment)
Jun 30, 2023
Fieldwork / Deployment of BRUVs & Maka Niu
Meet the Team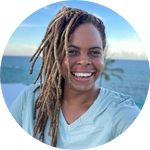 Veta Wade
Ocean Researcher
Affiliates
Fish 'N Fins Inc., University of Exeter
View Profile
Sheldon Carty
Affiliates
Montserrat Fishers & Boaters Association
View Profile
Veta Wade
Veta Wade is the Director and Founder of Fish 'N Fins and works with scientific and local communities toward sustainable ocean conservation. In 1995, following the island's volcanic eruptions, she was evacuated to the UK. Montserrat's marine ecosystems were also significantly affected, with over two-thirds of coral reefs smothered in ash. There has been some ecosystem recovery since, and the fishing communities and tourism industry still depend on the island's marine resources. Despite the link between the ocean and local livelihoods, there is very little understanding of marine conservation, and a prevalent fear of the sea (and sea swimming). Consequently, there is a lack of investment in marine resource management. Veta returned to Montserrat in 2011 to reconnect Montserratians with the ocean. Through Fish 'N Fins, Veta has founded multiple ocean awareness programs. Now a Darwin Fellow 2022-2024, and part of the 2022-2025 UN Deep Ocean Early Career Researchers Cohort ( DOERs). Veta is currently pursuing her MSc in Marine Vertebrates Ecology and Conservation at the University of Exeter. Veta is currently a member of the Government of Montserrat's Advisory Council on the island's Conservation and Environmental Management Act, (CEMA) and a finalist in the prestigious Global Ocean Awards - Local Hero Category. 2020.
Her studies are focused on the diversity, distribution, and abundance of megafauna on remote, data-limited small islands, and the study of low-cost ocean observation tools in marine management programs. Veta is also interested in identifying how fishers' perspectives and values interact with socioeconomic and ecological changes over time. Veta's work supports collaborative design and research that put equity at its core and improves governance and ocean management on islands.
Sheldon Carty
Sheldon is the President of the Montserrat Fishers & Boaters Association. He is well known for his work in promoting climate resilience in Fisheries. He was instrumental in using technology to make two existing deep fish aggregation devices (FADs) 'climate-smart' and the reduction of "ghost fishing."
---
Project Backers
31

Backers

107%

Funded

$15,025

Total Donations

$413.71

Average Donation