About This Project
Successful freshwater conservation efforts require an understanding of genetic diversity and how it changes over time, data we often lack. This study will revisit populations of the saw-combed fishfly (an environmentally sensitive aquatic insect) sampled ~20 years ago to see which populations survived, how genetic diversity has changed, and whether next-generation DNA sequencing gives us a better understanding of how this species recolonized North America after the last glacial retreat.
Ask the Scientists
Join The Discussion
What is the context of this research?
Little is known about long-term trends in population structure in aquatic organisms in eastern North America, due to the difficulty (cost, logistics, etc.) of sampling large geographies and the lack of appropriate historical samples. Furthermore, due to the rapid rate of change in genetic technologies, it is unclear how to put newer studies into the context of older works. If these data are to be available for freshwater conservation and management, projects such as this one are critical.
What is the significance of this project?
Ecological management is a long-term process with far-reaching impacts; however, we don't have a lot of long-term data on populations. Individual site visits, while important, are snapshots in time and as such our understanding of these populations is severely limited. The data from this project will help us reconcile older studies with more recent, allow us to evaluate sampling methods and their impact on our conclusions, and also illuminate the degree of genetic stability in populations over short (7-10 generation) periods.
What are the goals of the project?
This project will revisit the populations initially surveyed in Heilveil and Berlocher (2006), ~20 years since the initial survey, to answer three specific questions:
1) How have the patterns of genetic diversity changed for this important freshwater indicator species over the last two decades?
2) When trying to reconstruct migration pathways, do commonly-used DNA barcoding genes and recently-developed genome-wide sampling techniques yield comparable results?
3) Do we get different interpretations of population genetic structure from the traditional "blind grab" of individuals as compared to more time-intensive cohort-based sampling?

This project will let me bring next-gen DNA sequencing into my classes, giving students critical post-graduation skills.
Budget
The budgeted costs for this project cover two types of activities: car rental costs for sampling and consumable supplies for the genetic work in the laboratory.
A Faculty Research Grant awarded by the SUNY Oneonta Research Foundation, and faculty development funds, totaling $4,900 will cover: tips & tubes, DNA sequencing plates, and the flowcell & sequencing kit for the next generation sequencing. As funding has been secured for these supplies, they are not included on this budget.
Endorsed by
I wholeheartedly support this project. Jeff will be able to make the most out the planned field work and laboratory work during his sabbatical. This project will enable him to make connections between his earlier work and his current project. This work will benefit Jeff's students both in the research lab and in the classroom. I look forward to hearing about the results!
I think this is a great opportunity to follow up on some long-term questions, and I am glad to endorse it. Jeff's expertise and interest in nature's lesser known marvels gets student researchers excited and makes for great hands-on examples in classes.
Project Timeline
August 16 - September 17: Sample in Indiana, Illinois, Tennessee, Missouri, Wisconsin, & Michigan
September 21 – October 10: Sample in Ohio, Louisiana, Kentucky, Georgia, North Carolina, & Maryland
October 13 -22: Sample in New York, Pennsylvania & Ontario (if border opens)
October 23 – 26: Sample in Massachusetts, Connecticut, & Maine
October 27 – December 14: Sample processing, molecular benchwork, & data analyses.
December 14 – January 10: Preparation of manuscript(s)
Jul 09, 2021
Project Launched
Oct 26, 2021
Field sampling of populations with periodic livestreaming on Twitch (@nigronia)
Nov 02, 2021
DNA extractions and preparation for sequencing
Dec 14, 2021
DNA sequence Analyses
Jan 10, 2022
Manuscript Preparation
Meet the Team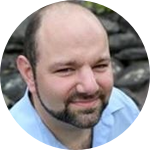 Jeffrey Heilveil
Professor
Affiliates
State University of New York (SUNY), College at Oneonta
View Profile
Jeffrey Heilveil
In high school, it really started to hit me how many amazing ecosystems there are in the world and how much damage we are doing to them by not taking ecosystem function into account when we create human development plans. As an undergraduate student at the University of Michigan majoring in Resource Ecology and Management, I took a stream ecology course and fell in love with the complexity of river systems. Year after year, the same populations are present in the same place in the river even though the flow is constantly pushing them downstream.
While I love the thrill (and frustration) of trying to answer scientific questions, I also find joy in seeing others learn new knowledge and skills. With my love of research and teaching, being a professor was an obvious combination of these two interests. After completing my Bachelor's degree, I went to the University of Illinois where I completed MS and PhD research in Entomology (performing the baseline study for this project for my dissertation). I then went on to a postdoc at North Dakota State University, where I worked on the conservation genetics of the White Sands pupfish, a desert fish that lives in NM. Currently, I am a Full Professor at SUNY College at Oneonta, having just finished my 14th year and served as Department Chair from the fall of 2014 to the spring of 2020.
Taking students out into the field to see how habitats work first-hand is, to me, the best way for students to learn. While I have taught a number of classes, from introductory courses for majors and non-scientists to genetics and entomology, my favorite courses are the project-based summer field courses, where students learn content and research skills by performing individual research projects in the field. In addition to its contribution to our understanding of aquatic population-level processes, the information gained from this proposed study will be worked into my classes and bring new lab skills to the students I mentor.
---
Project Backers
53

Backers

106%

Funded

$6,797

Total Donations

$128.25

Average Donation