Project Results
Together with the people of Ulithi, we successfully documented how indigenous storytelling communicates best practices for reef management on Ulithi Atoll. Through a series of interviews we captured voices emphasizing the need to document and understand traditional practices (most of which is preserved in stories) in order to support it with western scientific data. https://youtube.com/playlist?list=PLfruhp9vOg8tjVfLebAhM3FBP4oqIDVPS
Ask the Scientists
Join The Discussion
What is the context of this research?
On Ulithi Atoll there is growing concern for the loss of traditional resource management knowledge. Islanders helped create OPOR for support to revitalize & validate traditional practices rather than rely on (solely) western management plans. This collaboration with outer island communities resulted in a Best Practices Manual which outlines successful restoration of management practices, has led to enhanced fish biomass, and a deeper connection to traditional practice, including connection between youth and elders. Our goal now is to share this knowledge broadly by incorporating content from the Best Practices Manual into audio and video outputs that are accessible by a diverse group of local stakeholders who serve to protect coral reefs and their people who rely on and steward them.
What is the significance of this project?
Communities of the outer islands of FSM rely on the ecological resilience of coral reefs for food security & coastal protection. However, some reefs are struggling to provide sufficient resources, & communities are becoming increasingly reliant on imported foods. As a result, human health has declined drastically, leading to increasing societal disruption. The global COVID-19 Pandemic has amplified concerns among outer islanders for their food security & well-being. We envision the integration of indigenous knowledge & management practices with modern science & technology into a coral reef management multimedia kit based on the culmination of >10 years of partnerships, collaborative community meetings, successful cultural & ecosystem restoration efforts, & empowering youth programs.
What are the goals of the project?
This project will evaluate the affective & cognitive influence of audiovisual indigenous storytelling to describe best practices in coral reef conservation in Ulithi Atoll that will preserve cultural cohesion & ecosystem wellbeing in the face of global social & environmental change. We will co-develop 4 audiobooks & 4 videos & a best practices manual highlighting traditional management practices supported by western scientific data. Before & after distribution, we will evaluate understanding of each theme through user data in the form of answers to engagement surveys about (affective) feeling towards traditional management systems, state of the resource, & the future & (cognitive) to what extent these media convey issues surrounding reef health & management strategies to address them.
Budget
We will create a team of two indigenous youth representatives, one indigenous team lead, and two US-based video & audio producers, who will produce 4 audio & 4 video stories about ecological change & indigenous management strategies, & a 'best practices' manual, and assess the impact of the materials on users. Participants will weave together indigenous knowledge & practices with western content found in our existing documents, as well as our OnePeopleOneReefStorytellingProject.org, funded by National Geographic. Validation by Ulithian fishers, elders & community leaders will occur at a gathering in Kona, Hawaii, summer 2022. These funds will also support the distribution of 20 physical Best Practices handbooks broadly in Ulithi (FSM) and Kona, Hawaii. The project lead will conduct interviews and focus groups with stakeholders, with a focus on youth, to assess impact of the materials on how engagers feel about conservation and management, and the level of new understanding.
Endorsed by
This project is truly community built and led. They constantly inspire me by the energy and collaboration to restore and ensure sustainable, abundant ecosystems and communities enriched through the nexus of culture, traditional knowledge and innovative, mindful science.
Project Timeline
This timeline will allow us to assemble a team to create content for Ulithian community members & leaders living on Yap, Guam & Hawaii Big Island to converge for a community meeting in Kona, Hawaii, summer 2022. We will assemble our teams in spring, write the audio & video scripts in late spring, conduct assessments over summer & finalize audio & video products in summer/fall 2022. A final set of assessment interviews & focus groups will be conducted in the fall of 2022.
Feb 14, 2022
Project Launched
Mar 15, 2022
Assemble Teams & Write Questionnaire for First Interviews
Apr 15, 2022
Ulithian youth interview their peers about what they already know & what they would like to know about coral reefs & resource management
May 30, 2022
Compile Video Footage to accompany Video Stories
May 30, 2022
Write Audiobook Script & Video Stories, incorporating themes from interviews
Meet the Team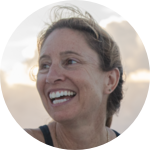 Nicole Crane
Executive Director
Affiliates
One People One Reef
View Profile
Team Bio
Our team consists of an indigenous leader, John Rulmal, a US based co-leader Nicole Crane and a team of youth leaders who will direct scripts and translations.


Slatelynna laiugmai Legalishyaro: Youth Representative - from Feshaiulap, Falalap Woleai (Yap), and island of Chuuk

Milo Tasopolu: Youth Representative - from Ulithi, living in Guam pursuing college degree


Chamonix Toledo: pursuing college degree in marine science in the US, from California.


Video Production: Kelsey Doyle
John Magul Rulmal Jr.
John Magul Rulmal Jr is the Co-Director & Community Organizer for One People One Reef & lives on Falalop Island in the Ulithi Atoll of the Federated States of Micronesia. He has a background in youth program development, community well-being research, & logistics planning, and has been working with One People One Reef as a Co-lead and Co-founder since 2011. He engages with Chiefs, Leaders, community members and government officials to facilitate the integration of sustainable models for community development in the outer islands of Micronesia. He will have primary responsibility for oversight of the social science work on Ulithi and will serve as the primary Liaison with the communities of Ulithi, as well as Yap state government officials. He will oversee on-site logistics, in country permitting and permissions, and education and outreach with communities.
Nicole Crane
My work focuses on the nexus between ecosystems, and the people who rely on and manage them. I co-lead, with John Rulmal, One People One Reef a collaboration with Micronesian outer island communities to support coral reef management and conservation by bridging traditional practices with modern science. Teaching and knowledge sharing are passions of mine. I am a faculty in the Natural and Applied Sciences Division at Cabrillo College, Senior Conservation Scientist, and associate at the California Academy of Sciences, a National Geographic Explorer and Fellow National at the Explorers Club
Additional Information
This project will be conducted using zoom technology to interface with Ulithian stakeholders living in Yap, Guam and Kona HI for participation and 'validation' of the material, as well as a large community meeting with Ulithian Chiefs and community members currently residing in Kona, Hawaii. This will allow for full participation of key stakeholders, while not relying on travel to Ulithi which is still uncertain. Our contacts in Yap will be able to get the products and send them via small plane (Pacific Missionary Airways) to the Atoll at the completion of the project. Residents of Ulithi will also be able to communicate back to our 'off island' teams. In this way we view these as iterative materials that will evolve as the users work with us to ensure the information is relevant.
---
Project Backers
12

Backers

101%

Funded

$10,175

Total Donations

$431.25

Average Donation