About This Project
Northern koala populations have declined rapidly in the last two decades and localised extinctions are predicted. Both habitat degradation and chlamydial disease are threats to koala conservation. Like humans and other animals, only some infected koalas develop chlamydial disease and we don't know why. We'll investigate whether habitat quality is a key factor in determining disease progression, and whether a synergistic interaction between these threats is exacerbating declines.
Ask the Scientists
Join The Discussion
What is the context of this research?
Northern koala populations have declined by up to 80% in recent years due to habitat loss and fragmentation from land clearing, disease and environmental factors like climate change1. In some declining koala populations disease (mostly chlamydial) is the largest single contributor to mortality2. Chlamydia, a significant global pathogen of humans and animals, causes inflammation and fibrosis at mucosal sites resulting in blindness, infertility and death in koalas in severe cases3. However, up to 80% of chlamydial infections don't progress to disease and the factors that determine disease progression are poorly understood4. Studies have suggested habitat quality plays a key role but the interaction between these threats is yet to be established5.
What is the significance of this project?
As continuing koala habitat degradation and high chlamydial disease prevalence in South East Queensland6 threaten localised extinctions, the link between habitat quality and chlamydial disease progression in koalas urgently requires further investigation. We hope that by comparing the prevalence of chlamydial infections and disease between populations we can establish whether habitat quality is a key factor in determining chlamydial disease progression and contribute to a larger body of work on koala chlamydial pathogenesis (as part of my PhD). A better understanding of the relationship between these major threats will improve their control by informing koala conservation management practices, and more broadly, advance chlamydial research across a range of hosts.
What are the goals of the project?
The aim of this project is to investigate the role of habitat quality in chlamydial disease progression in koalas in South East Queensland. The funds will be used to cover costs associated with the collection and analysis of samples from koalas for Chlamydia testing. We can then analyse these results with clinical records from chlamydial disease cases, and cross-reference them with habitat quality at four sites in South East Queensland where koala populations are undergoing longitudinal monitoring. Some samples have already been collected, but we need additional funds to complete this work. The overall aims of this research (and my PhD) are to improve conservation outcomes for this vulnerable, iconic species and further our understanding of chlamydial pathogenesis.
Budget
These budget items will allow us to analyse samples from 375 koalas to determine the prevalence of Chlamydia infections in koala populations undergoing longitudinal monitoring and intensive veterinary management at four sites in South East Queensland. Specifically, we will use the funds to purchase the swabs used to sample koalas at the ocular, urogenital and rectal sites and the laboratory consumables used in DNA extraction and real-time polymerase chain reaction to detect the presence of Chlamydia and level of infection at these sites. These results can then be analysed with clinical records from cases of chlamydial disease in koalas from these sites and cross-referenced with site-specific habitat quality to establish whether a causal relationship exists between these factors. Data from this analysis will also contribute to a larger PhD project investigating chlamydial pathogenesis and therapeutics in koalas.
Endorsed by
Why some koala populations experience serious disease and others don't is critical to managing koala populations successfully across Australia. What I like about this project is that, for a minimum of funding, it will maximise the outcomes from existing koala health studies to answer new questions about chlamydial disease. Amy is uniquely placed to do this through her extensive experience as a wildlife veterinarian directly involved in longitudinal field studies and her training in laboratory-based analysis of chlamydial infections in koalas.
While talking about the terrible plight of koalas is important, it is more important that we do something. Amy's project will address a really important question as to why koalas are sufferring from chlamydial disease. As a veterinarian and now a PhD student, Amy is ideally suited to do this work. She is highly motivated and I am very confident that she will achieve some important findings. Peter Timms Professor of Microbiology at University of Sunshine Coast
Project Timeline
The collection of swabs from koalas at all sites will be completed in June 2020. DNA extraction and real-time polymerase chain reaction experiments will be completed by July 2020. Data analysis and cross-referencing with habitat quality will be complete by September 2020. Reports will be finalised and papers submitted for publication by November 2020.
Aug 21, 2018
Project Launched
Jun 01, 2020
Finish swab collection from all koalas at all sites
Jul 01, 2020
Complete DNA extraction and quantitative PCR
Sep 01, 2020
Analysis of data and cross-referencing with habitat quality
Nov 01, 2020
Finalisation of reports and submission of papers for publication
Meet the Team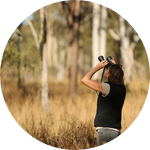 Amy Robbins
Dr Amy Robbins BVSc (Hons 1), BSc (Zoology)
Affiliates
University of the Sunshine Coast, Endeavour Veterinary Ecology, Brisbane Koala Science Institute
View Profile
Amy Robbins
I've always been passionate about animals and embarked on my career in wildlife conservation after completing a Bachelor of Science with a major in Zoology at the University of Queensland in 2000. During my final year of university I'd volunteered at the local Lone Pine Koala Sanctuary and I was lucky enough to be offered a position there when I graduated (the first time!). I spent the next five years working at zoos across the globe including London Zoo and Australia Zoo in the role of koala supervisor. I longed for an opportunity to make more of an impact at the 'front line' of conservation, so returned to the University of Queensland to study a Bachelor of Veterinary Science. I graduated as the dux of the school with first class honours and a university medal in 2009 and returned to London to work in small animal practice and earn my stripes as a veterinarian.
After 5 years as a clinician, home (Australia) was calling and I landed my dream job with Dr Jon Hanger at Endeavour Veterinary Ecology helping to manage a koala population in South East Queensland. Over the last 4 years I have treated many cases of chlamydial disease in this population, gradually accumulating a range of observations and questions about chlamydial pathogenesis. Last year I was given the opportunity to further develop a long-standing relationship with the highly respected Professor Peter Timms and answer some of my burning questions about this debilitating disease in my furry friends, and started a PhD at the University of the Sunshine Coast under his guidance. I have been a co-author on several submitted and published papers about koala Chlamydia and population management, presented at the 2017 Australian Chlamydia Conference, and recently started working as a Researcher at the Brisbane Koala Science Institute.
Additional Information
1 Rhodes J, Beyer H, Preece H, McAlpine C. South East Queensland koala population modelling study. Brisbane; UniQuest; 2015. Available from: https://espace.library.uq.edu.au/view/UQ:523031
2 Rhodes JR, Ng CF, de Villiers DL, Preece HJ, McAlpine CA, Possingham HP. Using integrated population modelling to quantify the implications of multiple threatening processes for a rapidly declining population. Biol Cons. 2011;144(3): 1081-1088.
3 Polkinghorne A, Hanger J, Timms P. Recent advances in understanding the biology, epidemiology and control of chlamydial infections in koalas. Vet Microbiol. 2013;165: 214-223.
4 Quigley BL, Ong VA, Hanger J, Timms P. Molecular dynamics and mode of transmission of koala retrovirus as it invades and spreads through a wild Queensland koala population. J Virol. 2018;92(5): e01871-17 doi:10.1128/JVI.01871-17CE: ysf.
5 McAlpine C, Brearley G, Rhodes J, Bradley A, Baxter G, Seabrook L, et al. Time-delayed influence of urban landscape change on the susceptibility of koalas to chlamydiosis. Landsc Ecol. 2017;32: 663-679. doi:10.1007/s10980-016-0479-2.
6 Hanger J, de Villiers D, Forbes N, Nottidge B, Beyer H, Loader J, et al. Moreton Bay Rail Koala Management Program: Final technical report for Queensland Department of Transport and Main Roads. Toorbul: Endeavour Veterinary Ecology; 2017.
---
Project Backers
36

Backers

103%

Funded

$5,037

Total Donations

$141.06

Average Donation