About This Project
Remote communities in Panamá commonly suffer from waterborne illness. The various sources and identity of point & non-point source pollution are unknown. Conservación Panamá (org) in cooperation with Public Schools, has created a 10-month long water monitoring program for 5th grade students which samples, tests, analyzes and maps the Rios Coclé del Norte & San Juan de Turbé to identify the pollutants and create solutions.
Ask the Scientists
Join The Discussion
What is the context of this research?
Waterborne illness is a serious medical problem in remote communities throughout Panama which leads to hospitalization, chronic illness and even death. The absence of any type of infrastructure (roads, plumbing, clean water, electricity and etc) exacerbates an already tenuous situation. Additionally, the government is largely absent in these same communities or unable to complete the necessary investigations to discover the sources of waterborne illness to contribute towards a solution. Conservación Panamá Inc in cooperation with Public School´s have together created an opportunity for hands-on education for public school students in these communities necessary to discover the problem with our water.
What is the significance of this project?
Public schools along the Rios Cocle del Norte & San Juan de Turbe do not have access to contemporary scientific equipment. Additionally, the absence of hands-on experience in science in the public schools disallows a general culture and understanding of science "as a tools" and how it can solve our problems. Conservación Panamá Inc created Water Guardians, in order to work with public schools. We provide hands-on applied science activities in school that supplement the national curriculum in science while also searching for the solution to waterborne illness and contamination in these same communities. Students are given an opportunity to learn concepts in ecology and conservation while answering our primary question: "is our water safe to drink?"
What are the goals of the project?
Our goals are very simple and multi-faceted. Utilize a cooperatively written supplemental science education lesson plan, which complements the national curriculum, to introduce core concepts of water quality, sampling, testing and analysis in public school classrooms over 10-months of the 2021 school year. Present data analysis and results at the end of the school year in communities along the Rios Cocle del Norte & San Juan de Turbe and discuss solutions. Cooperatively write a finalized action plan (under the oversight and professional guidance of CP science staff), using all data and individual community inputs, to bring attention to the problem of water quality and a framework to assist in implementing solutions.
Budget
The "Water Guardians" project, for 5th grade public school students, in the remote communities of Coclé & Colón Province along the Rios Cocle del Norte & San Juan de Turbe is already partially met by the Stephen A. Jakub Memorial Fund through Conservación Panamá Inc a U.S. registered 501(C)(3) non-profit. The remaining budget (seen here) is the matching amount required to complete the funding this program. The testing supplies and base water quality monitoring kit are integral to the testing and discovery of point and non-point source pollution causing the various waterborne illnesses throughout these communities.
Endorsed by
Melva founded Conservación Panamá Inc. which has magnified in importance by greatly significant strides, with efforts in remote communities that have no infrastructure. How do you impart a culture of conservation and create excitement about in these communities? "Water Guardians" is an example in remote communities using minimal funding to positively affect people and ecosystems. This project brings attention to human problems intertwined with conservation issues.
Project Timeline
School year 2021 (10-months). The program will start in April 2021 and end in January 2022.
Nov 30, 2020
Project Launched
Apr 01, 2021
Re-visit participating schools, organization with classroom teachers, delivery of materials
Apr 12, 2021
Classroom Lesson 1: Introduction to water quality (2 days, 4hrs): Temperature, Turbidity, BOD, DO, Nitrate, Phosphate, Fecal Coliform, micro-organism surveys.
May 03, 2021
Classroom Lesson 2: Sampling Techniques, Practicum (1 day, 2hrs) - Water Sampling (Chemistry) & Micro-organism surveys (Foldscope).
May 11, 2021
SAMPLING TO START
Meet the Team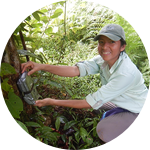 Melva Olmos
President, Conservacion Panama Inc.
Affiliates
Public Schools Coclesito & Along rivers Coclé Del Norte and San Juan de Turbé, Cooperativa, Lideres de comunidades
View Profile
Team Bio
Conservacion Panama Inc.: The principle funder and leader of the "Is our water safe to drink" project. Founded and registered as a 501(c)(3) in 2014, Conservación Panama Inc is dedicated to conservation projects in remote areas of Panama within and with the cooperation of communities.

Ministry of Education is the official government entity that is in charge of public schools, education and curriculum development. This will be our third project with public schools.
Melva Olmos
Melva H Olmos is the President of Conservación Panamá Inc a U.S./Panamanian registered 501(c)(3) non-profit organization. She has been working in the field of conservation since 1995. Melva specializes in feline conservation with a focus on Jaguars. Additionally, Melva is heavily invested in our community programs that include conservation projects combined with environmental education in remote areas of Panamá. She graduated from the University of Panamá with a Bachelors of Science/Biology and a Masters of Science/Wildlife Management and conservation from UNELLEZ Venezuela. Melva has over 20 years of experience working in remote areas of Panamá in the fields of mammalogy, ecology, conservation and education.
Ezekiel S. Jakub is the Executive Director and Director of Education at Conservación Panamá Inc. "Zeke" leads the ornithology & environmental education programs. A native of Massachusetts (USA) he graduated from Keene State College with a Bachelors in Geography/GIS and a Masters of Science in Resource Management and Conservation from Antioch University. Zeke also has over 30 credits in education and environmental education to complement our staff teachers who help write lesson plans and curriculum. Zeke has worked in the field of conservation and ornithology for over 20 years and for the last 10-years as a permanent resident of Panamá.
Additional Information
EXTRAS:

General Note: There is very little official data covering the region of Colón and Coclé Provinces along the rivers Cocle del Norte & San Juan de Turbe. This area is considered "remote" and has no modern infrastructure. The only access is via river travel over several hours to days to reach each community. Data is largely missing in this area and much data available is via personal communications with MINSA (Ministry of Health) personal communications or surveys done by colleagues (unpublished).

Overview Map: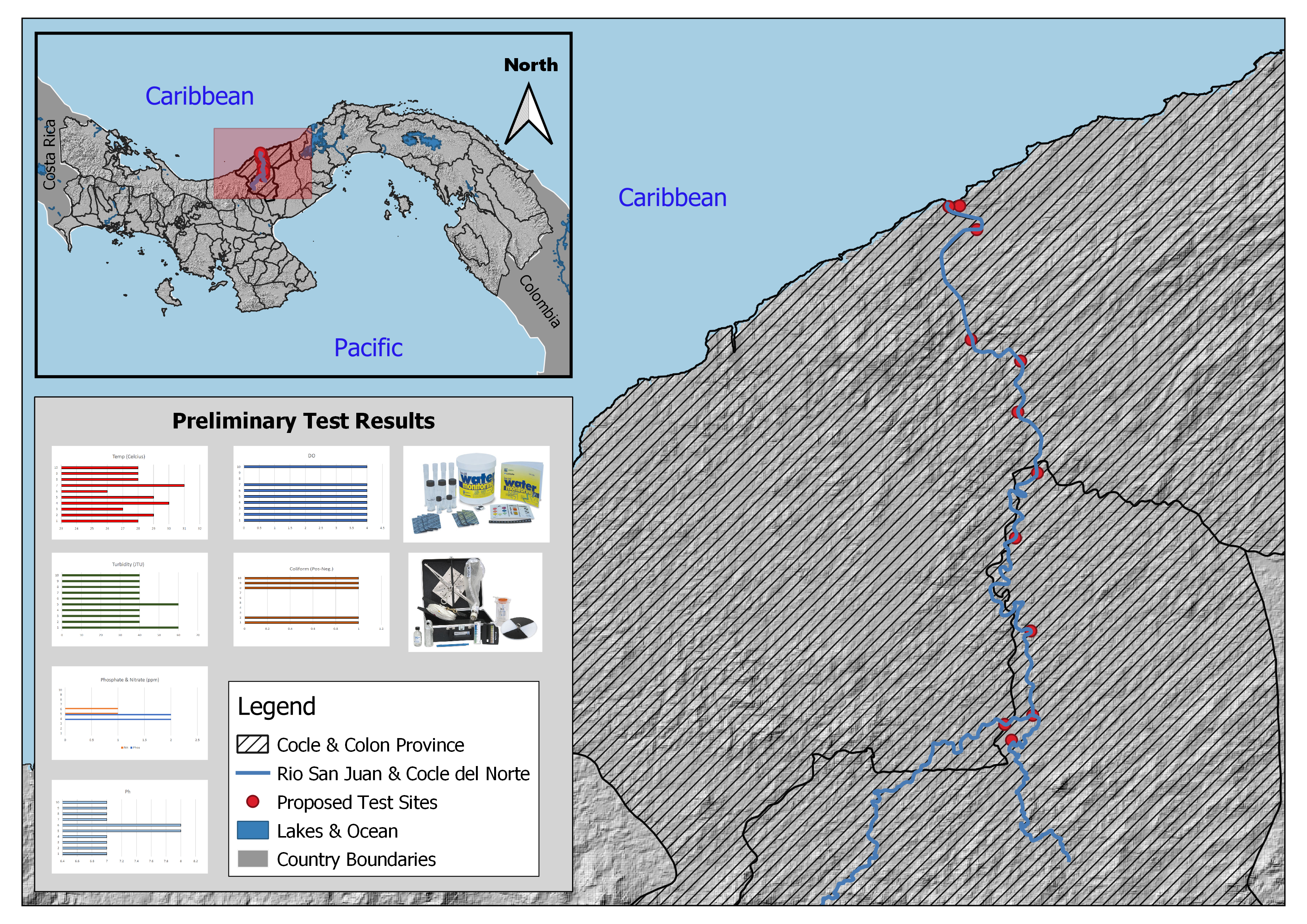 BACKGROUND:
Conservación Panama Inc: http://www.conservacionpanamac...

Related Project: Girls in STEM (Click for Video)
Our Education Program (Click Here)
====================================================================
Ministry of Health (Panamá) Reports on Health: http://www.minsa.gob.pa/inform...
Ministry of Social Development (Panamá) :https://www.mides.gob.pa/wp-co...
United Nations Development (Panamá) Plan: https://www.pa.undp.org/conten...
United Nations Development (Panamá) Water access plan: https://www.pa.undp.org/conten...
FOLDSCOPE (Origami Microscope used for Micro-organism Surveys)(Students get to keep the microscope!): https://www.foldscope.com/our-...
---
Project Backers
19

Backers

8%

Funded

$768

Total Donations

$40.42

Average Donation