About This Project
Lions exhibit impressive cooperative strategies, but recent studies suggest strategies may vary among populations. We are using citizen science to gain new insights into lion cooperation and identify factors fostering different strategies. We are establishing research in several South African reserves, using existing data from throughout Africa, and in collaboration with the citizen science program Zooinverse, aim to investigate lions' cooperative behavior on a previously impossible scale.
Ask the Scientists
Join The Discussion
What is the context of this research?
Historically, complex cooperative strategies were assumed to be widespread in group hunting species. Recent evidence suggests strategies vary among populations, with the most complex only occurring under a limited set of circumstances (Hubel et al. 2016), but detailed analyses of cooperative hunting remain scarce.
Lions cooperative hunting strategies have been compared to the complexity of a rugby game (Stander 1992). However, in most populations, lions show little sign of such complex strategies. Rather, even when hunting large dangerous prey like Cape buffalo, lions often employ a simple 'pile-on' strategy.
Our project aims to identify factors fostering different cooperative strategies and gain new insights into the precise tactics employed during cooperative hunts.
What is the significance of this project?
Previous investigations of cooperative hunting relied on behavioral observations that were often anecdotal or limited to small, single populations. The advent of citizen science platforms and video-analysis software can now allow for innovative analyses on previously impossible scales. We will engage large numbers of citizen scientists to conduct extensive analyses of group hunting behavior in lion populations throughout Africa. Our study will provide the most comprehensive analysis of lion behavior to date, clarify the evolutionary pressures that have led to different cooperative strategies, and inform our understanding of lion-prey dynamics.
What are the goals of the project?
During our pilot study, we travelled extensively throughout South Africa and begin found ten reserves amenable to KillerCam. We will revisit these reserves in July-August 2016 and set-up the research programs. We will provide reserve staff with cameras, so they can record hunting attempts by lions. Reserves will also provide informative posters for visitors to record hunting behavior and prompt visitors to either leave copies with reserve staff or upload them to the citizen science website. Given the wide geographic variation in hunting strategies, we will supplement South African footage with material throughout Africa. To achieve this goal, we will establish an online repository where anyone can upload personal footage of hunting behavior.
Budget
We are seeking funds to establish KillerCam in South African reserves. We recently received funding for a pilot study. We visited several reserves, collaborated with reserve managers, collected preliminary data on lions' hunting behavior, and identified ten South African reserves well suited to the goals of our research.
The reserves provide exceptional opportunities to research lions' cooperative behavior. They host volunteer wildlife monitoring programs and trained game rangers conduct frequent behavioral observations of lions, often spending entire days with the animals. In some cases, lions were observed hunting 4-7 times a day, thus, as many as a hundred hunts may be filmed in each reserve every month.
Our project uses citizen science to analyze video footage of lion behavior, as such we are seeking funds to provide wide-angle video cameras and hard drives for storing data to the ten reserves.

Meet the Team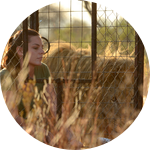 Natalia Borrego
Affiliates
University of Kwazulu Natal & Lion Research Center, University of Minnesota
View Profile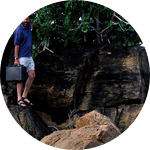 Craig Packer
Professor
Affiliates
University of Minnesota & University of KwaZulu-Natal
View Profile
Team Bio
N/A
Natalia Borrego
I am a research associate at the University of Minnesota's Lion Research Center and a post doctoral researcher at the University of Kwazulu-Natal, South Africa. My research focuses on the evolutionary links between social, ecological, and cognitive complexity.
Craig Packer
I have studied lions in Tanzania, Kenya and South Africa for nearly 40 years. My students and I have addressed many fundamental questions about lion behavior and ecology, but this is the first time we have been able to invite citizen scientists to contribute directly to our research.
---
Project Backers
5

Backers

7%

Funded

$235

Total Donations

$47.00

Average Donation