About This Project
Estimates indicate >80% of plastic sinks to the seafloor. Few surveys have been conducted to identify plastic hotspot volume, size, and density. What distribution of oceanic microplastic reservoirs are present off Honduras gyre? What impacts are plastics having on the benthic ecosystems and six-gill sharks (H. griseus)? We aim to survey via submarine and scuba dives using laser scanning and sediment collection. We will make spatial models for predictions of gyre-microplastic distribution.
Ask the Scientists
Join The Discussion
What is the context of this research?
H. Griseus and the benthic environment it inhabits remain two of the most ancient mysteries of our planet. This survey aims to provide local observations of H. griseus as well as the potential shark migratory, gyre-microplastic interaction and plastic ecosystem impact. Underwater laser scans could begin to piece together benthic ecosystem and microplastic interactions utilizing both spatial modeling and in situ sampling. This survey aims to identify locations for long-term plastic research and provide a foundation for critical environmental protections for H. griseus.
What is the significance of this project?
The results from this project will provide several data products. First, they will provide preliminary datasets on gyre-microplastic interaction and distribution. Second, these datasets will be used to develop spatial models to assess other gyres for potential locations of benthic plastic reservoirs. Third, the survey will provide in situ data on benthic microplastic reservoirs to assess ecosystem impact and H. griseus specifically. Finally, these datasets and observations can finally be used to make recommendations for Roatan's marine park, international organizations, and Honduras on how to protect their natural resources.
What are the goals of the project?
This project will add to Schmidt Ocean Institute deep-sea reef surface sonar scans with in situ data (NOAA & Schmidt 2013 ).This project will respond to knowledge gaps via four goals to improve understanding of H. griseus behaviors, plastic impacts on benthic ecology, and underwater laser scanning dynamics.
1st, deep-sea marine surveying off Roatan will assess microplastic distribution and potentially tag H. griseus. 2nd, micrometric underwater laser scans and sediment sampling will identify plastic reservoirs. 3rd, plastic sampling data, six-gill data, and Honduras gyre models will produce maps displaying plastic reservoirs. 4th, plastic removal strategies and protections for six-gills will be complied.
Budget
These funds will allow 1 team member to transport the underwater laser scanner to for the 21 person project team to utilize it for the surveys. Each member will be adding $1500-2000 into the project budget.
Grants have been submitted for the project, we received private donations for hotels, airfare, & shark tags. Roatan Institute of Deep Sea Exploration discounted the submarine access to $500. We are aiming to publish in Journal of Oceanography & Marine Research.
3 people can fit in the submarine at a time including the pilot, Karl. We will be cycling 4 people/day to do deep sea surveys. 2 in the morning, 2 in the afternoon to laser scan and sample soil.
As we cycle through the submarine, the remaining group members will conduct scientific scuba dives.

Education: Anthony's Key Resort & Roatan Institute of Deep Sea Exploration have the only museum on the Island. They have offered to let us renovate a deep sea section exhibit & hare our findings at the museum.
Endorsed by
I am enthusiastic about this project, and feel it will lead to new insights. I feel the principle investigator is qualified to carry out the proposed work.
Project Timeline
July 11th to 20th 2021. We will conduct training and briefing prior to setting out to Honduras. We will select new areas to survey each day. We will conduct initial scouting and surveying, tagging any sharks we identify along the way via submarine with 4 dive/day rotating teammates (10-20 people) in the morning and afternoon. We will also be scuba diving all day with upwards of 5 dives a day to laser scan and make 3D models of coral reefs with photogrammetry.
Jul 01, 2021
Project Launched
Jul 11, 2021
Travel to Roatan and arrive at submarine head quarters
Jul 12, 2021
Conduct first submarine and scuba dives
Jul 12, 2021
Complete first reef laser scans
Jul 13, 2021
Complete first shark tag
Meet the Team
Team Bio
Our team consists of a network of Explorer's club members, researchers, data analysts, and underwater scientists. Our team has a plethora of knowledge with 5-10 years of experience per member in geographic information systems, remote sensing, systems engineering, machine learning, underwater robotics, marine biology, vessel borne operations, underwater ecology, underwater science, scuba diving, and field research.
Stephen A. Daire
Stephen A. Daire holds an Evolutionary Anthropology BSc and Evolutionary Medicine Graduate Certificate from Rutgers University, a University of Southern California Geographic Information Science & Technology MSc, and is a Johns Hopkins MSc Systems Engineering Student. He has worked with Rutgers Paleoenvironmental Research Laboratory, National Geographic Society, International Institute of Astronautical Sciences, and international governments on remote sensing, geodatabase (GBD) programing, underwater surveying, and astronautics projects. He conducted analog astronautic underwater LiDAR and earth observation satellite cave surveys for his MSc thesis. He recently completed a Syracuse University engineering course for Unity AR/VR/XR Immersive Development & Design. Stephen founded Protean Industries to forward space exploration via cave diving and geospatial robotics. He is currently authoring chapters for the Handbook of Life Support Systems for Spacecraft and Extraterrestrial Habitats and studying virtual reality, augmented reality, and mixed reality design with Syracuse University.
Breezy Grenier
Breezy Grenier, hailing from Southern New England, 200 ton licensed captain, United States Coast Guard Veteran. Earned a BSc from the University of Rhode Island in Geology and Geological Oceanography, with minors in Marine Biology and Underwater Archaeology. Explorer, entrepreneur, owner of Breezy SEAS- Science, Exploration, and Academic Support, as well as South Coast AI. Founder of the projects, Scientists are Superheroes too and Eco-Elders. In process of starting a non-profit Farm-a-Sea. NAUI Scuba Instructor, technical diver, and AAUS scientific diver.
Colin Bettis
Colin Bettis is a former active duty Air Force officer, turned federal civilian for the U.S. Navy. In his short professional career, he has had the opportunity to develop large-sized unmanned aircraft for the U.S. Air Force and currently works as an engineer and project manager on the U.S. Navy's hypersonic missile program. He holds an undergraduate degree in mechanical engineering, is an avid scuba diver, and is passionate about how emerging technologies can benefit the fields of exploration and conservation across the world's oceans.
Alec Payne
Alec Payne is a Phillip Griffiths Assistant Research Professor of mathematics at Duke University. He receives funding from the Simons Foundation for collaborative work linking geometry, analysis, and physics. He received a PhD in mathematics from New York University and a BA in mathematics from Princeton University. Alec is a caver and scuba diver with a keen interest in biology and the complex dynamics of ecological systems.
Tyson Anderson
Tyson holds a BS in International Relations from Florida State University and a Masters in Intelligence Studies from American Military University. I served for five years in the Army as a cryptologic linguist with the 101st Airborne including a tour in Afghanistan. I currently work with the Defense Logistics Agency as a program analyst. I have been SCUBA certified for over a decade and will be certifying for my NAS Underwater Archaeology certs in June. I was last on expedition in 2018, a follow on to a EC flag expedition, returning to the Loita Forest in South west Kenya, conducting counterpoaching evaluations with the Mara Loita Community Rangers.
Rae Hanson
Rae Hanson is a Field Biologist with a B.S. in Cellular and Molecular Biology and a minor in Chemistry. She has experience as an undergraduate organic chemistry researcher in pharmaceutical oncology, and a focus in marine microbiology in benthic environments. For the past two years Rae has worked as a North Pacific Fisheries Observer with NOAA in Alaska conducting research on various cold water fisheries. Rae was introduced to Sixgill Shark research at the Seattle Aquarium in 2011, where she joined the Sixgill research and outreach program. She is an avid SCUBA diver and aspires to continue her research in marine molecular mechanisms in deep sea environments, hydrothermal vents, and methane seeps.

Additional Information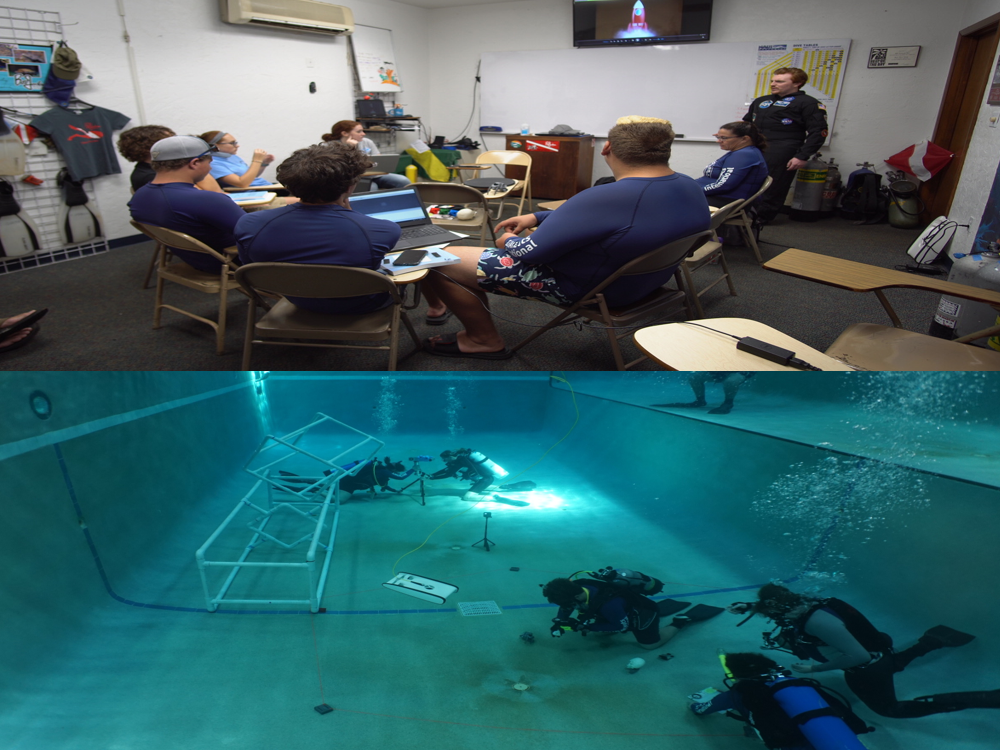 Underwater Laser Scanning & Robotics Class & Deployment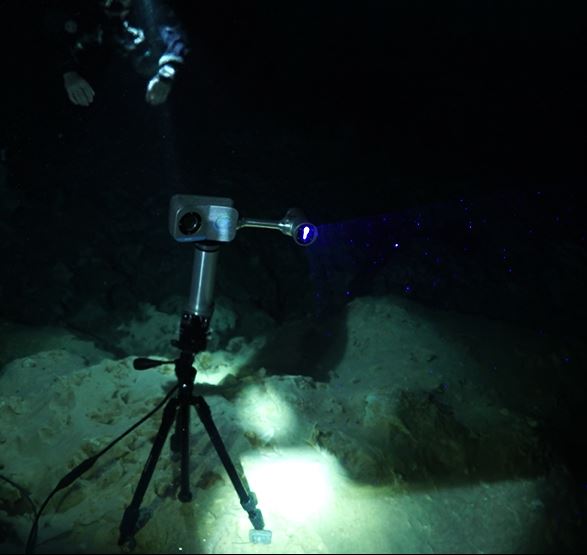 ---
Project Backers
2

Backers

2%

Funded

$22

Total Donations

$11.00

Average Donation