About This Project
Marine brown algae grow abundantly in the tidepools and surrounding kelp forests of San Diego. The brown algae, Dictyota flabellata, and Zonaria farlowii are notable producers of pachydictyol A, which is known to reduce the formation of blood clots. This work aims to sequence the genomes of D. flabellata and Z. farlowii to fill a gap in understanding of brown algal genomics and the underlying biochemistry of this important pharmaceutical drug.
Ask the Scientists
Join The Discussion
What is the context of this research?
Marine brown algae are prominent producers of many pharmacologically relevant chemicals. Despite the immense pharmaceutical and industrial potential of brown algae, few algal genomes have been sequenced and characterized to date. This is in part due to algal genome size and complexity, as well as previous limitations in sequencing technologies. The Moore lab has a history of successfully sequencing seaweeds and applying the resulting data towards the advancement of seaweed-based biotechnology and biomedicines. Cognizant of the value and challenges associated with sequencing algal genomes, we aim to build on previous success and translate our expertise to two new brown algal systems, Dictyota flabellata and Zonaria farlowii.
What is the significance of this project?
Considering the pharmaceutical and industrial value associated with marine brown algae, or seaweeds, relatively few brown algal genomes have been sequenced. This work aims to further our understanding of algal genomics and explore the untapped pharmaceutical potential of brown algae. The resulting data from sequencing these seaweeds will then be applied towards the development of greener seaweed-based biotechnologies. Importantly, the high-quality reference genomes generated by this project would be made publicly available. The genomes from this project would serve as a community resource, increase accessibility of brown algal genomics, and speed up the discovery process for other seaweed researchers.
What are the goals of the project?
Preliminary data has already been generated for these seaweeds, demonstrating the feasibility of sequencing Dictyota flabellata and Zonaria farlowii. Work is now poised to begin to generate the necessary sequencing data needed for a high-quality reference genome for each of these organisms. Samples were collected from local tide pools in La Jolla, CA, frozen in liquid nitrogen, and stored in ultracold freezers. The preserved samples will then be extracted for high-quality DNA. The DNA will be sequenced using multiple sequencing technologies, which when combined, produce a contiguous and complete genome. The resulting genome will then be annotated and 'mined' for algal genes to be applied towards seaweed-biotechnologies.
Budget
DNA needs to be chemically extracted from the frozen samples and then purified. Then libraries of the reads are prepared. The short reads and long reads will be sequenced separately using 2 distinct techinques (Illumina for short reads, Oxford Nanopore for long reads).
Endorsed by
I am thrilled about this new project to explore the biomedical potential of brown algae. So little is known about brown algal genomes and their capacity to carry genes responsible for the natural production of medically important molecules. This fantastic team of Taylor Steele, Immo Burkhardt, and Leah Bushin combines their talents in genomics, chemistry and biology to uniquely explore the genomic capacity of brown algae to be the next marine biotechnological frontier to provide natural products that improve human health.
Project Timeline
Samples have already been collected and preserved (11 March 2021). Pending funding, work can begin immediately to extract high-quality DNA (1 week). DNA samples will be sent for sequencing (2-3 weeks). Once sequencing data is returned to the Moore lab, genome assembly and annotation can be performed in-house (1-2 weeks).
Apr 12, 2021
Send samples for sequencing
Apr 22, 2021
Project Launched
May 03, 2021
Assemble and annotate genomes
May 10, 2021
Complete genome
Meet the Team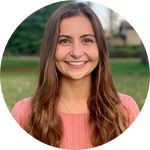 Taylor Steele
Ph.D Student
Affiliates
UC San Diego and the Scripps Institution of Oceanography
View Profile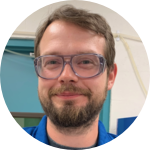 Immo Burkhardt, Ph.D.
Postdoctoral Scholar
Affiliates
UC San Diego and the Scripps Institution of Oceanography
View Profile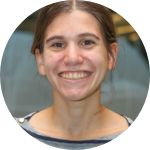 Leah Bushin, Ph.D.
Postdoctoral Scholar
Affiliates
UC San Diego and the Scripps Institution of Oceanography
View Profile
Team Bio
Research in the Moore lab centers around developing marine biomedicines and biotechnologies. We have expertise in genomics, metabolomics, and natural product drug discovery. This multidisciplinary approach enables us to connect genes to molecules, and over the years we have developed numerous genome mining techniques that are now standard in our field. We continue to seek out groundbreaking projects, and now look to seaweeds as a new frontier.
Taylor Steele
Taylor is a Ph.D. student in Chemistry and Biochemistry, at the University of California, San Diego. She is a researcher in the Moore lab at the Scripps Institution of Oceanography and a National Science Foundation Fellow. Her work centers around algal genomics and marine natural products chemistry.
Immo Burkhardt, Ph.D.
Immo is a postdoctoral scholar in the Moore lab at the Scripps Institution of Oceanography. Immo earned his Ph.D. under Prof. Jeroen Dickschat at the University of Bonn in Bonn, Germany. Currently he is interested in the unique diversity of algal biochemicals and the mechanisms by which they are produced.
Leah Bushin, Ph.D.
Leah is a postdoctoral researcher in the Moore lab at the Scripps Institution of Oceanography at UC San Diego. Leah earned her Ph.D. in chemistry under the guidance of Prof. Mohammad R. Seyedsayamdost at Princeton University. She looks forward to uncovering the ocean's chemical secrets and applying this knowledge towards biotechnology and biomedicine.
Additional Information
The Moore lab is especially well suited for taking on a research project exploring brown algal genomics. Situated at the Scripps Institution of Oceanography, we have the necessary expertise and facilities required to complete a project of this nature. Similarly, access to local tide pools enables easy collection of target seaweeds. We have also worked to build collaborations with neighboring labs to expand our capabilities and fully take advantage of being at an oceanographic institute.
---
Project Backers
6

Backers

6%

Funded

$241

Total Donations

$40.17

Average Donation