About This Project
Dubautia scabra is a native plant on the Hawaiian islands, and is the first flowering plant on new lava flows. I am investigating genetic and ecological patterns of colonization and succession of D. scabra on lava flows to understand mechanisms of plant colonization. I use leaf tissue as the DNA source to analyze evolutionary histories. This data helps us understand how plants colonize new habitats with direct implications for understanding responses to climate change.
Ask the Scientists
Join The Discussion
What is the context of this research?
The Hawaiian Silversword Alliance (Asteraceae) is a group of plants that are endemic to the Hawaiian islands. Each member of the Alliance has adapted to a unique habitat limited to one or more islands. One species in particular, Dubautia scabra, is the first angiosperm colonist of new lava flows. Colonization of these lava flows are crucial for the primary succession of the islands, and for other flora and fauna located in these habitats. Little research has been done on this species, and little is known about the mechanisms of plant colonization. Plants are faced with increasing pressures due to climate change, and many species will need to change distributions in order to survive. This system allows us to examine colonization of truly new habitat.
What is the significance of this project?
By studying colonizing organisms like D. scabra, we will be able to identify genetic patterns associated with colonization. For most plants we do not know how far seeds can travel, what the spatial dynamics of colonization are, or how old and young populations are connected. Plant responses to climate change will require passive or assisted dispersal so species can continue to track appropriate ecological conditions. This research serves as a model for understanding the basic properties of colonization with direct implications for species globally. Not only is D. scabra a fascinating plant, it is an ideal organism for understanding plant colonization and survival.
What are the goals of the project?
We seek to answer questions related to D. scabra to understand colonization patterns likely to be common in other plants, especially in response to climate change. First, how far do colonizing seeds travel? This information impacts the dynamics of seed dispersal and if human intervention is required for species survival. Second, how is colonization impacted by ecological factors (e.g. wind, precipitation, elevation)? If colonization is constrained by abiotic factors, land managers can plan accordingly. Finally, how much diversity is contained in newly established populations? If populations are diverse, multiple sources will have contributed to colonization. These questions will be addressed using modern genetic techniques (microsatellites and PCR) to trace ancestry and diversity.
Budget
Travel: Funds are requested to offset the costs of field based data collection for this project. We request $3,500 for sample collection and data analysis during the summer of 2017. The breakdown of travel expenses is: $2,000 for two plane tickets (round-trip) to Hawaii, $1,000 for lodging, and $500 for car rental.
Supplies and Materials: A total of $1,500 is requested for lab expenses and supplies. The lab expenses include: $300 for DNA extractions of 300 samples, $1,200 for fragment analysis.
Other: Any additional funds would help fund next generation genomic sequencing.
Endorsed by
Studies such as this are critical, especially as environmental pressures from climate change are impacting many species around the globe. The ability for Dubautia scabra to grow on lava flows will allow us to better understand the process of colonization and succession in isolated systems. The work Samantha has already completed on this project shows her passion for ecological and evolutionary research and it will be interesting to see what she finds out about these very strange plants.
Samantha is a student conducting research in my lab at the University of Northern Colorado. She has built on my existing experience with plants in the Hawaiian Silversword Alliance to ask questions with direct implications for understanding how plants colonize new habitats. Through this research, we will gain insight into how far seeds can travel unaided and how frequently that occurs, with is crucial to determining how involved humans should be in assisting native plant dispersal in response to climate change.
Project Timeline
Samples were collected from Hawaii during the Summer of 2016. Additional samples will be collected during the Fall of 2017. Genetic analysis (DNA extraction, microsatellite development, PCR, Fragment scoring, data analysis) will occur from January to August 2018.
Jun 27, 2017
Project Launched
Oct 01, 2017
Travel to Hawaii --> sample collection
Jan 31, 2018
Complete DNA extractions
Jan 31, 2018
Microsatellite development/ PCR
Jul 01, 2018
Fragment Scoring
Meet the Team
Samantha Naibauer
Master's Student
Affiliates
University of Northern Colorado, School of Biology
View Profile
Team Bio
Dr. Mitchell McGlaughlin - University of Northern Colorado - Plant Population Genetics
Samantha Naibauer
I am a native Coloradoan who enjoys nature and the outdoors. I am pursuing a Master's degree at the University of Northern Colorado in the Plant Population Genetics Lab. I also received her Bachelor's degree in Ecological and Evolutionary Biology from the University of Northern Colorado. I have always been interested in science, specifically biology. My interests in plants began when I took a field botany course as an undergraduate student with Dr. Mitchell McGlaughlin, who is now my Graduate mentor. As an undergraduate, I researched rattlesnake venom and proteomics, but snakes are dangerous, and plants are not as much, so I changed my research interests in an attempt to live longer. Little did I know, I would be scaling lava flows in Hawaii in search of my lava lover, Dubautia scabra. My current research encompasses my passion for ecology and evolution. I plan on using genetic tools to determine ecological and evolutionary trends at a fine scale. Concern for the environment, particularly related to climate change, is growing worldwide. My research is of great importance in order to understand how organisms might respond to the rapidly changing environment.
Additional Information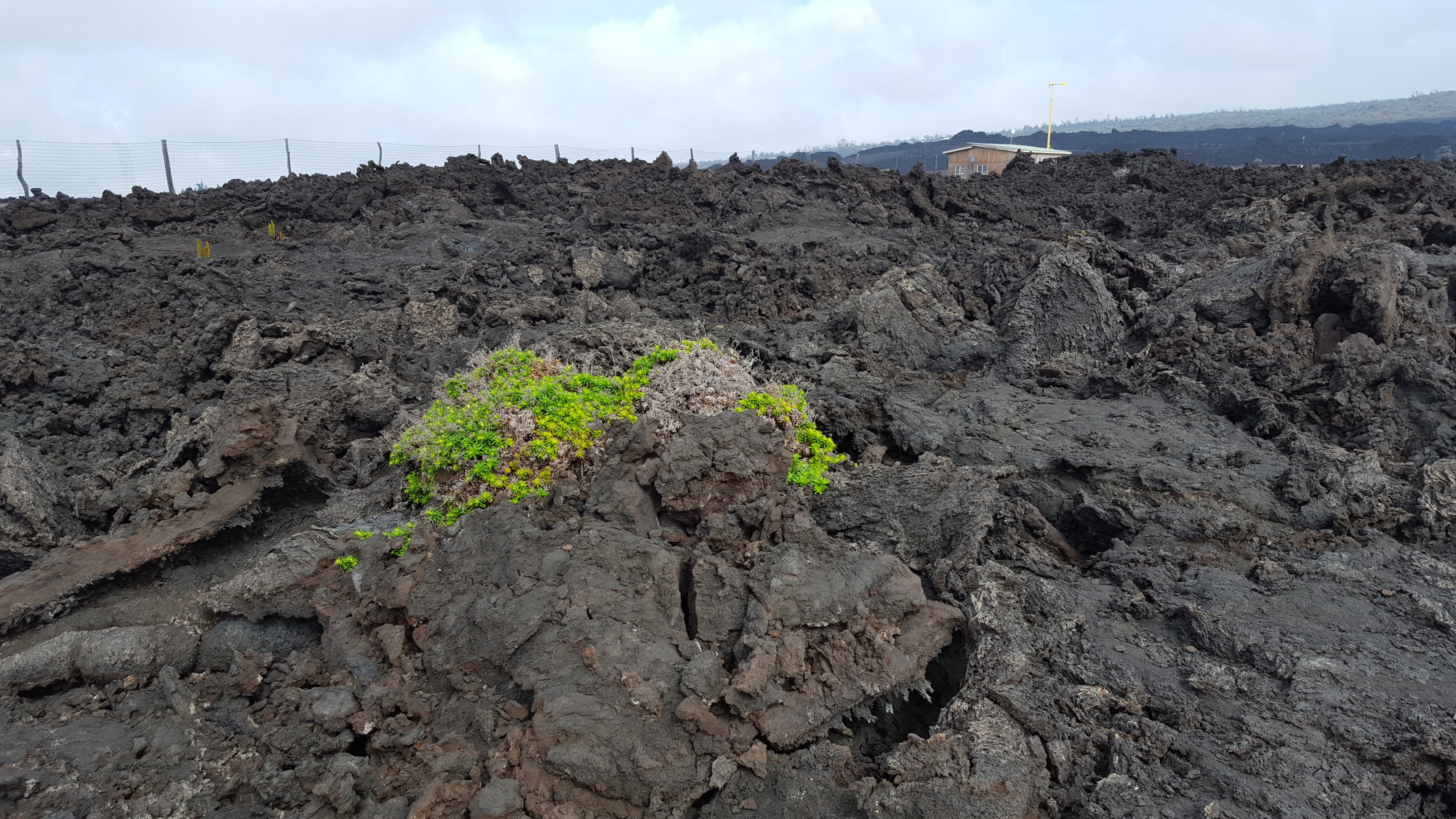 Dubautia scabra growing on rough A'a lava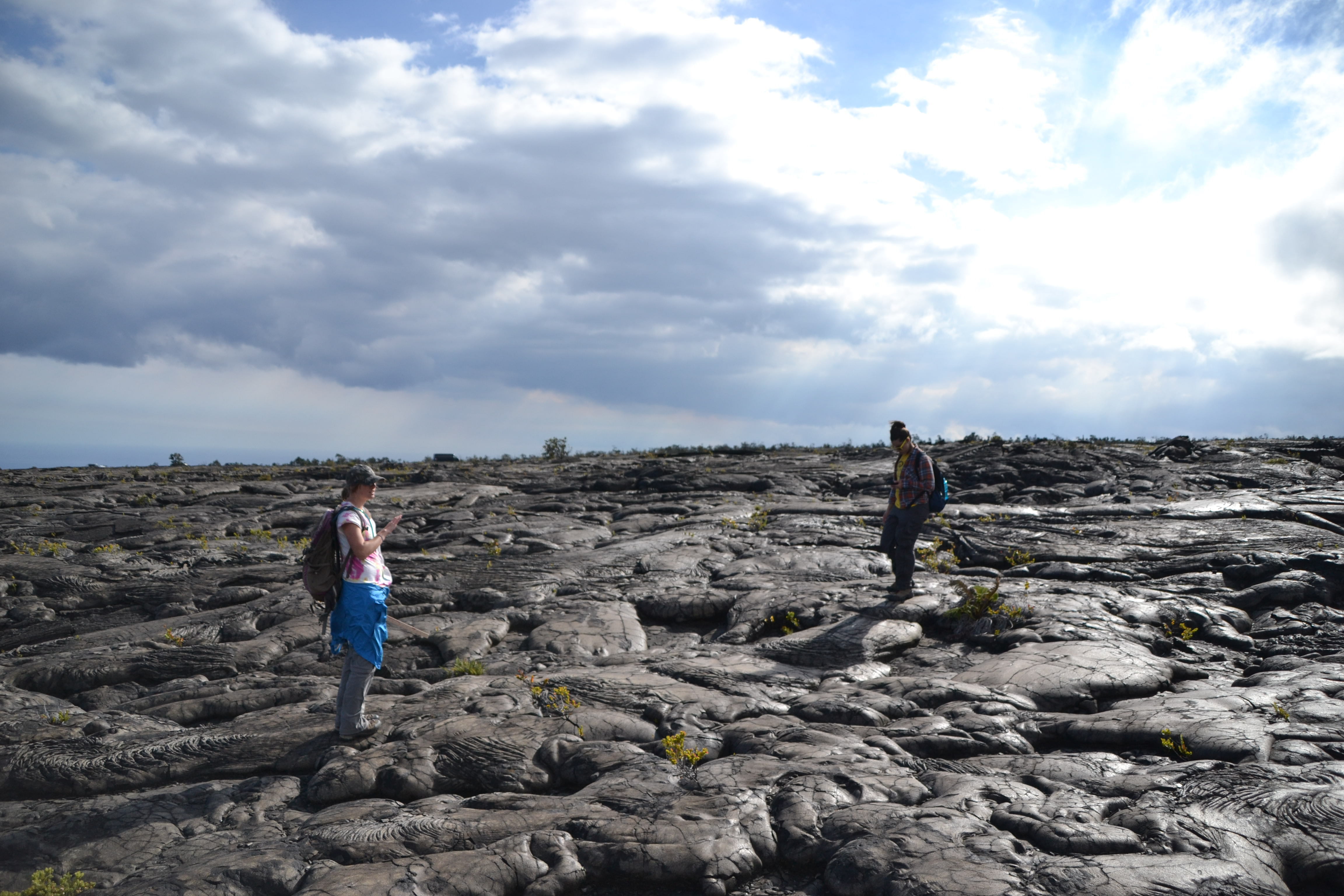 Dubautia scabra growing on smooth Pahoehoe lava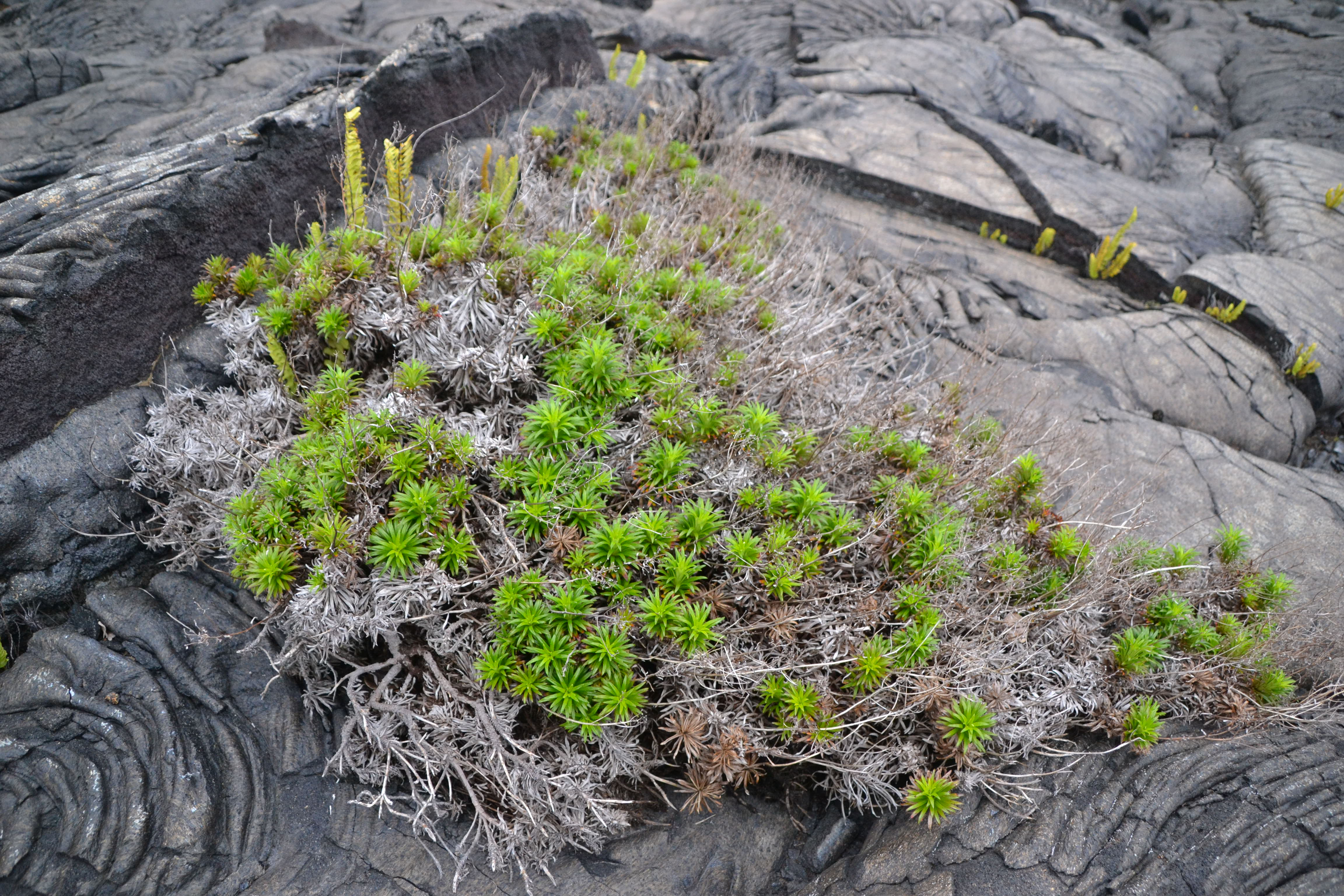 Dubautia scabra growing on smooth Pahoehoe lava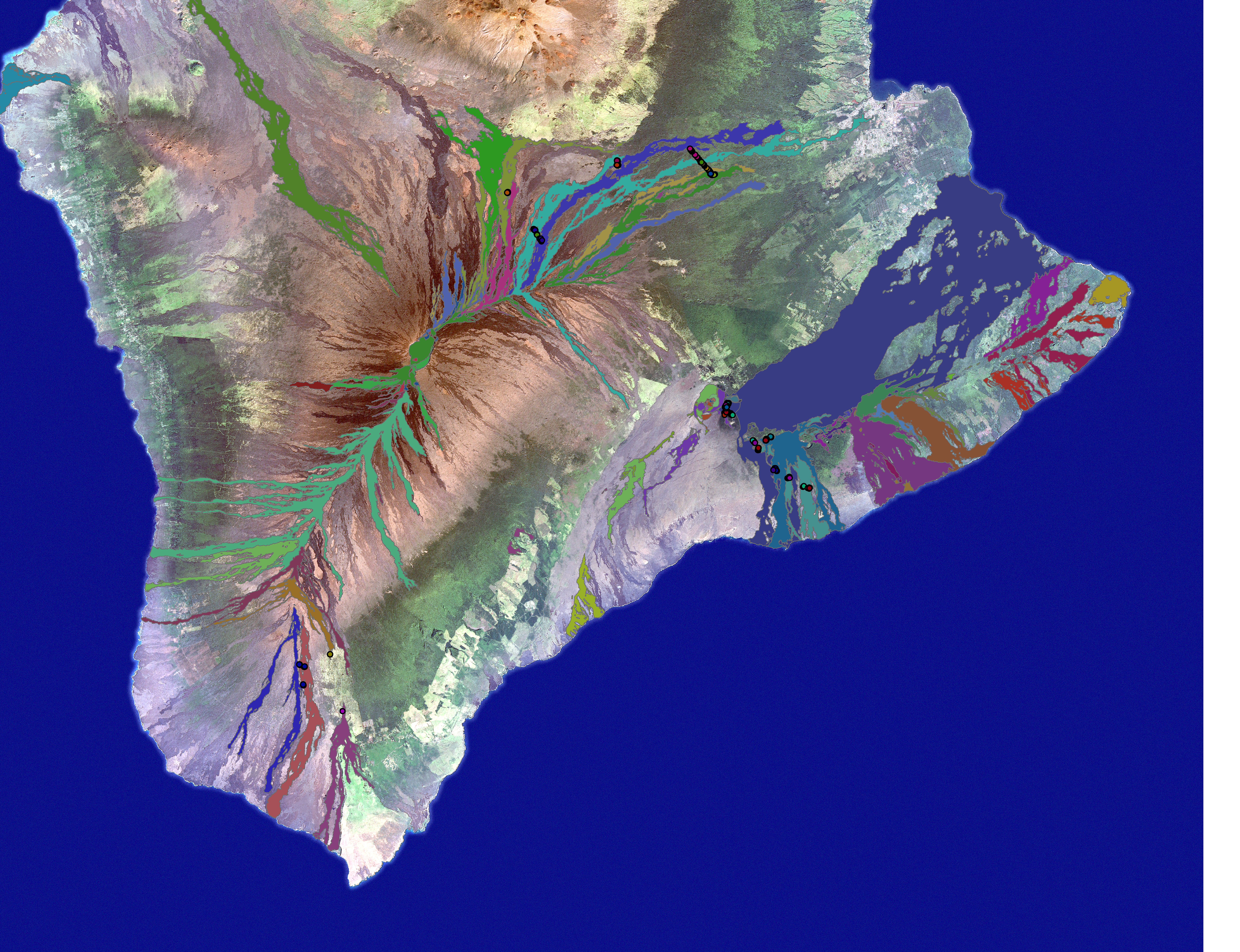 Map of the Big Island of Hawaii showing active lava flows since 1800.
---
Project Backers
22

Backers

21%

Funded

$1,042

Total Donations

$47.36

Average Donation