About This Project
Forests play a pivotal role in regulating the energy and mass exchange between terrestrial ecosystems and the atmosphere. However, invasive pathogens and insects have caused extensive tree mortality, which threatens the delivery of crucial ecological functions by forests. Over the past decade, disease and insect outbreaks occurred more frequently and severely in forest landscapes, which have contributed to the unprecedented extent of tree mortality in key biomes worldwide.
Ask the Scientists
Join The Discussion
What is the context of this research?
Sudden Oak Death is a representative example of emerging infectious disease that has received particular attention since being discovered in the mid-1990s. In California, SOD posed a substantial threat to forest health, killing millions of trees mainly in mixed oak woodland and redwood-tanoak. Widespread mortality of local oak and tanoak trees could reduce wildlife habitat and food resources, raise the risk of forest fires, increase water runoff and soil erosion, and alter the composition and structure of the natural plant, microbial, and aquatic communities. In the past decade, two major fires repeatedly occurred in California's SOD-impacted forests, including the recent Soberanes Fire, costing $236 million (most expensive in U.S. history) to suppress.
What is the significance of this project?
This project:
Is important because more research is needed to understand tree mortality caused by SOD and the evolution of the disease over time.
The project will fill significant knowledge gaps. Tree mortality is observed to be induced by both drought and infestation in the traditionally SOD-infected areas. This research will give a timely and accurate approach to distinguishing between the two types of disturbances using efficient remote sensing technology.
SOD has a high impact on the wildfire occurrence, where US federal and state governments spent a lot of money on. Best available science is needed to inform the best possible decisions.
After project completion, policy makers will have additional tools to make more informed decisions.
What are the goals of the project?
The goal of the study is to develop a forest disease mapping algorithm to produce disease infested extent maps capturing its heterogeneity in space over the decade. Firstly, we will analyze and process the field measurement data. Then we will integrate spectral, spatial and temporal properties from multi-source satellite and airborne images coupled with field data to develop a high-resolution (30m), long-term tree disease mapping technique for broad-scale forest management using SOD as a case study, because remote sensing technology supplies a relatively cheap and rapid method of acquiring up-to-date information over a large geographical area. Finally, an ecological niche model will be applied to eliminate the areas with low probability of infestation.
Budget
All of the equipment for this project has been funded, and field measurement data collection is complete. What remains to be done, and is not currently funded, is the time to perform data analysis and reporting. Actually, all of the process would take an entire year and two research assistants to complete, so all the budget will be on the assistance fees. The main goal of the study was to develop a forest disease mapping algorithm to effectively capture the spatial and temporal patterns of SOD-caused tree mortality in a coastal California ecoregion. Funding this project will support us to analyze the data and write an article for publication, more importantly, developing a Sudden Oak Death mortality mapping algorithm can also can be applied to other disease infested areas outside of the current case study.
Endorsed by
Over the past decades, invasive species (such as exotic pathogens) have significantly changed forest landscapes, ecosystem services, and property values. In the U.S. alone, invasive species have cost billions of dollars in damages. Yinan's algorithm for mapping disease-related tree mortality could become a crucial tool in managing CA's forest ecosystems. Compared to the traditional field survey, such remote sensing technology using satellite/airborne sensors significantly reduces data acquisition costs in ecosystem monitoring and conservation.
Forests matter a lot! They supply timber, shelter wildlife, sustain economy, and store carbon, to name a few. Consequences of forest loss are enormous, but we're still at infancy in tackling new disease-caused threats. This work is a necessary step to address this emerging issue and achieve sustainable forestry. The team has an established record of delivering novel mapping solutions to resource management. The goal and capability proposed are novel and achievable, representing a timely contribution to science communities & resource managers.
Meet the Team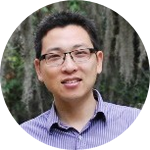 Gang Chen
Assistant Professor
Affiliates
University of North Carolina at Charlotte
View Profile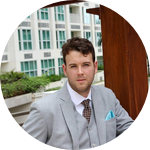 Donald J. Rees III
Research Assistant
Affiliates
The Laboratory for Remote Sensing and Environmental Change (LRSEC), Department of Geography and Earth Sciences, University of North Carolina at Charlotte
View Profile
Team Bio
Our team is from the Laboratory for Remote Sensing and Environmental Change at the University of North Carolina at Charlotte. We focus on the application of remote sensing and other geospatial sciences for natural and urban environmental management. We are especially interested in applying new tools and innovative techniques to monitor the change of terrestrial ecosystems and understand how natural and anthropogenic factors drive the change.
Gang Chen
Dr. Chen is currently an Assistant Professor in the Department of Geography and Earth Sciences, Secretary/Treasurer of the AAG Landscape Specialty Group, and Secretary/Treasurer of the ASPRS (American Society for Photogrammetry & Remote Sensing) Potomac Region. Dr. Chen is an environmental scientist and applies remote sensing (e.g., LiDAR, high-spatial resolution, and hyperspectral data), spatiotemporal analysis, and statistical modeling (classic statistics, and advanced machine learning) to monitor the change of our terrestrial ecosystems (e.g., forest carbon dynamics, and agricultural drought), and understand how natural (e.g., climate change, fire, and plant disease) and anthropogenic factors (e.g., urban development, and the construction of hydroelectric dams) drive the change.

He has been working on a variety of projects, across several regions/countries including Antarctica, Brazil, Canada, China, Turkey, and the United States. Dr. Chen serves on the editorial board of the ISPRS Journal of Photogrammetry and Remote Sensing, which is the official journal of the international largest remote sensing society – International Society for Photogrammetry and Remote Sensing (ISPRS). He won the 2016 Early Career Scholar in Remote Sensing Award from the American Association of Geographers (AAG), 2015 Junior Faculty Development Award from UNC Charlotte, 2014 North Carolina Space Grant New Investigators Program Award, 2011-2012 NSERC Visiting Fellowship from Natural Resources Canada, and 2011 National Best Ph.D. Thesis Award from the Canadian Remote Sensing Society.

Donald J. Rees III
I am currently pursuing a second bachelor's degree in Geography specializing in GIScience and Technology. Also, I have a B.S. in Neuroscience from the University of Minnesota-Twin Cities. I am currently working as an analytics specialist while moonlighting as a research assistant in the Laboratory for Remote Sensing and Environmental Change at the University of North Carolina at Charlotte. My passion is in data analysis, visualization, and monitoring environmental change.
---
Project Backers
4

Backers

2%

Funded

$35

Total Donations

$8.75

Average Donation