About This Project
Habituation of gorillas is an increasingly popular strategy to improve the conservation status of these critically endangered species and to create sustainable economic value for national parks through tourism. Yet, it is a high-risk strategy with increasing risks of pathogen spillover. The project aims to study the diseases in the Moukalaba Doudou NP, Gabon, and establish gorilla health protocols to prevent spillover either way with humans.
Ask the Scientists
Join The Discussion
What is the context of this research?
Moukalaba-DouDou National Park is a 450.000ha UNESCO World Heritage Site home to the highest density of gorillas and chimpanzees in Gabon [1]. Together with forest elephants, hundreds of unique species occupy this park, including humans. The village of Doussala is a mere 500 meters from the research station. Following recent research projects in the park [2], the habituation of gorillas, and the resulting ecotourism, this community have found gorilla monitoring and ecosystem conservation a sustainable way of living.
What is the significance of this project?
Along with habitat loss and poaching, infectious diseases are considered one of the top threats to most Great Apes. If this was not enough, pathogen spillover due to alteration of ecosystems, and pandemics are a real threat to gorillas [3,4,5]. Not only are zoonotic diseases threats to non-human primates but to humans as well. Numerous articles have proven that the zoonotic risk significantly increases following ecosystems alteration and biodiversity loss [6,7,8,9]. Our research project is of utmost importance for monitoring habituated gorilla health and prevent disease spillover in this protected area. Additionally, it will increase the scientific knowledge and eco-tourism in the area and create a suitable means of income of the conservation areas in Gabon.

What are the goals of the project?
This pilot project will increase the knowledge and expertise of local wildlife
veterinarians and researchers, by exploring potentially zoonotic pathogens in gorilla and human populations. We will collect 80 samples from 22 gorillas habituated to human presence by collecting their faeces. We will culture samples to collect nematodes. Parasite DNA will be extracted from larvae using DNAeasy Blood and Tissu kit, and from dried feces using QIAMP DNA Stool Kit to identify nematodes and one specific virus (Bocaparvovirus). Then we will compare sequences in gorilla samples to those available in the public database using BLAST to identify any possible exchange between gorillas and human. A future round of funding will identify the parasites present in human samples.

Budget
This project is the first part of a larger program that will integrate animal and human sampling and training and capacity building for local wildlife veterinarians and researchers in Gabon. This project is as well part of a short and long term sustainable initiative supporting the 200 people community of Doussala village through scientific and ecotourism.
For this first section, we will be exploring the parasites of 22 habituated gorillas at the MDNP. Our budget of $5270 will cover the first phase of sample collection and testing in a five-year project. This will help us to start with immediate effect on the monitoring of gorillas health and population; preventing not only diseases spillover but poaching attempts in the area.
Endorsed by
I wholeheartedly endorse Fabiola's project! Highly qualified and passionate, she has the initiative and stamina to study pathogens spilling over from humans to gorillas. More than ever we need to support scientists like her committed to conservation and working with local communities. As a founder of Wild Spirit, she totally understands the current pressure wild populations face during these challenging times. Fabiola and her team will deliver the first specific health and disease protocols for gorillas in the region
I feel really excited about enhancing this promising project. Fabiola is one of the most powerful personalities worldwide that passionately contributes to the protection and conservation of nature for sure. The present pioneer project she leads will contribute to an empirical identification of infectious hazards for gorillas in Gabon and which could be potentially transmitted to humans. We all are responsible to give a response to this call of action and help Fabiola achieve a better and more sustainable future for all.
Project Timeline
After fund received, the project will start with immediate effect*. Our team will travel from Libreville to the research station at MDNP. First days will be dedicated to locate the gorillas. Five days a week for three months, samples will be collected. Data analysis and writing of the protocols will be performed at headquarters in Libreville. After establishing results and conclusions, feedback will be given to the community and competent authority.
*Covid-19 health and safety protocols apply
Sep 08, 2020
Project Launched
Sep 15, 2020
Travel to Moukalaba Doudou National Park, Gabon
Sep 16, 2020
Gorilla tracking and monitoring
Dec 16, 2020
Three month samples collection at MDNP
Feb 28, 2021
Data analysis and protocols establishment
Meet the Team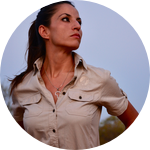 Dr Fabiola Quesada
Doctor of Veterinary Medicine (DVM, MsD)
Affiliates
Wildlife Conservation Medicine Foundation (trade as Wild Spirit Fund)
View Profile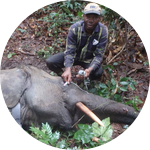 Makouloutou Nzassi Patrice
Doctor (Ph.D) of Veterinay Sciences
Affiliates
Research Institute in Tropical Ecology (IRET/CENAREST)
View Profile
Team Bio
In 2019, Wild Spirit Fund signed an MoU with IRET. In March 2020 Dr Fabiola Quesada did a field inspection to touch base. This preparatory field missions allowed us to meet the team personally, and together, develop the scientific project, establish logistics, understand the reality of the local community and create the prioritisation timeline.
Our collaborators at IRET have proven to be highly qualified, confident, and reliable professionals.
Dr Fabiola Quesada
Being the CEO of Wild Spirit, wildlife veterinary and conservation medicine programs in South Africa made me realized that there is a big gap not only in education but in many areas regarding wildlife conservation medicine. If we expect to have ultimate results on biodiversity protection efforts, it's critical to establish wildlife health projects and built capacities within this context. Here the reason why was developed Wildlife Conservation Medicine Foundation / Wild Spirit Fund. This NGO is a one of its kind, born in Africa, registered in Europe and led by a network of international wildlife professionals. We aim to expand and implement the science of wildlife conservation medicine at ground level, and by doing that, not only protect the health of Nature but of humankind. We understand that the future of wildlife conservation can only be sustainable by empowering and working side by side with the local professionals and the communities. After ten years of practical and scientific work on wildlife veterinary medicine and conservation in Africa, we notably acquired experience on One Health and wildlife population management programs. Within our advisory group are some of the top wildlife veterinarians in the world. Our focus and expertise are to build local capacities around the wildlife conservation medicine framework with motivated African scientists and professionals.
Makouloutou Nzassi Patrice
As a researcher, I'm interested on all related to Wildlife diseases specially zoonosis. Because zoonotic pathogens account for a large proportion of emerging infectious diseases and pose a serious threat to global human health.
Great apes (chimpanzees, bonobo and gorilla) are our closest living relatives in the animal kingdom and humans and great apes are susceptible to a very similar range of pathogens. Therefore, studying diseases of wild great apes allows for the discovery of pathogens of importance for human health, with great apes ultimately serving as sentinels for infectious diseases and disease outbreaks.
---
Project Backers
17

Backers

15%

Funded

$788

Total Donations

$46.35

Average Donation