About This Project
A fungal pathogen spread around the globe by human activities now threatens many amphibians, including boreal toads, a high elevation specialist in the Rocky Mountains. In the lab, we increased toad survival by 40% when we applied a native fungus-fighting bacteria as a probiotic treatment. We are moving this probiotic method from the lab out into the field to assist wild boreal toad populations currently undergoing an epidemic infection caused by the fungus.
Ask the Scientists
Join The Discussion
What is the context of this research?
Lethal fungal diseases are increasingly affecting wildlife ranging from amphibians to bats and snakes, and many are the result of accidental introductions stemming from human activity (Fisher et al. 2012, McKenzie & Peterson 2012). We have limited tools to mitigate these fungal pathogens because approaches such as vaccines or antifungal drugs are not feasible for wild populations. Probiotic treatments (the use of beneficial, pathogen-inhibiting, symbiotic microbes) offer an innovative approach that can be lower cost and non-toxic (McKenzie et al. 2018). The amphibian skin microbiome system is at the forefront of this research and we are in a unique position to translate success in the lab to wild populations that are currently under threat from disease.
What is the significance of this project?
The boreal toad lives at high elevation in the Rocky Mountains and is threatened in Colorado by the same chytrid fungus that is affecting amphibians around the world. Boreal toads live more than 20 years and were once abundant members of these alpine wetland systems. In the lab, we have used a bacteria native to the toads as a probiotic to boost their skin defenses and survive fungal infection (Kueneman et al. 2016). Animals that survive may develop stronger immune defenses over time. We propose to apply this probiotic to a wild population that is currently experiencing a fungal disease epidemic in Chaffee County Colorado. Using native bacteria to boost animals' defenses against disease in the wild represents a novel approach to conservation.
What are the goals of the project?
We are conducting a probiotic trial on wild boreal toads at a site in central Colorado. We are testing different probiotic application methods such as which life stage to target, treating their water versus soil, or bathing them directly in a probiotic solution. The goal is to determine which application method allows the most probiotic to establish on the skin and persist the longest, to provide better disease protection. In August 2018, we will enroll 200 tadpole toads (100 control and 100 treated) for two weeks. Each toad will be swab sampled before and after treatment, marked, released, and monitored. During Sept-May we will analyze samples in the lab. Next year we will survey and sample more individuals to examine persistence of treated versus control toads.
Budget
We are already underway to run a probiotic treatment experiment during summer 2018, but we still need funding to complete the lab work. Funding requested here would directly support the lab work to analyze the samples we will collect. Bacteria culturing supplies enables us to grow the probiotic used for the amphibian inoculations and test for unwanted contamination. We use the Qiagen DNeasy PowerSoil DNA extraction kits to isolate microbial DNA to test our samples (400 total) from toads and quantify the different types of bacteria on their skin as well as any fungal pathogen. After DNA extraction, we prepare samples for sequencing and this requires several reagents and consumable lab supplies such as pipette tips, gloves, gel PCR supplies, etc. To characterize the bacteria, we use DNA sequencing, specifically targeting a region of the 16S ribosomal gene that is a good biomarker to distinguish different bacterial species.
Endorsed by
A skin fungus is causing massive population declines of amphibians around the world. Dr. Val McKenzie's research in the lab has shown that beneficial anti-fungal bacteria can protect threatened boreal toads from the skin fungus. Val's experimental design is rock solid and will allow her to determine the best methods to deliver skin probiotics so that they persist and maintain their anti-fungal effectiveness in nature. She has the expertise in field work, experimental design, disease ecology and molecular ecology to make this project succeed.
Val McKenzie and her colleagues are on the front lines to try and mitigate one of the world's most pressing environmental issues. Fungal diseases are affecting a variety of organisms on an unprecedented scale, and amphibians have been particularly hard hit. If we can "manage" the disease in the tadpole stage, we might offer a way forward in this conservation crisis. Work by Dr. McKenzie will inspire others and these are the kinds of projects we need to discover solutions. This project will go a long way towards assisting amphibians—an ancient lineage on the brink of disaster.
Project Timeline
We aim to complete the field probiotic experiment and population monitoring by November, and then the lab work will begin. This involves DNA extraction (December), DNA sequencing (February), bioinformatic analyses (March) to determine whether our probiotic treatment persisted on toad at a high enough abundance and for a long enough period of time to confer protection from the fungal disease. Next summer (2019), we will resurvey the site for toads treated the previous year.
Aug 21, 2018
Project Launched
Nov 15, 2018
Complete field experiment and sampling toads post treatment
Dec 20, 2018
DNA extraction of samples
Feb 15, 2019
Sample preparation and DNA sequencing
Mar 30, 2019
Bioinformatic analyses and preliminary results of probiotic trial
Meet the Team
Valerie McKenzie
I love animals and I find disease fascinating. I have a particular interest in amphibians but I also love to study all kinds of diseases of vertebrate animals. I am an Associate Professor at the University of Colorado, where I teach courses in Parasitology and Conservation Biology, mentor student researchers, and facilitate our collective research interests. My own research interests combine the fields of parasitology, disease ecology, and wildlife conservation. I am interested in understanding the ways in which anthropogenic disturbances (e.g., land use, invasive species, aquaculture, wetland management) affect the parasites, pathogens, and symbiotic microbes of wildlife. In the realm of conservation biology, the goal of my research is to identify key factors that lead to shifts in the abundance and distribution of parasites and pathogens in order to offer ecologically informed solutions to mitigate disease threats to vulnerable wildlife. From a theoretical perspective, I am interested in the ways in which the host interacts with microbial symbionts and how those interactions can shape biological functions ranging from disease tolerance to evolution of new traits. In addition to being a scientist, I am also a mom to an amazing 8 year old who has her own passion for animals, fiction, and Colorado Palisade peaches.
Additional Information
We have approval to conduct this research from the CU Institutional Animal Care and Use Committee (IACUC), the Colorado Parks and Wildlife, and the US Forest Service.
Here is a link to the broad wildlife disease research in the McKenzie Lab.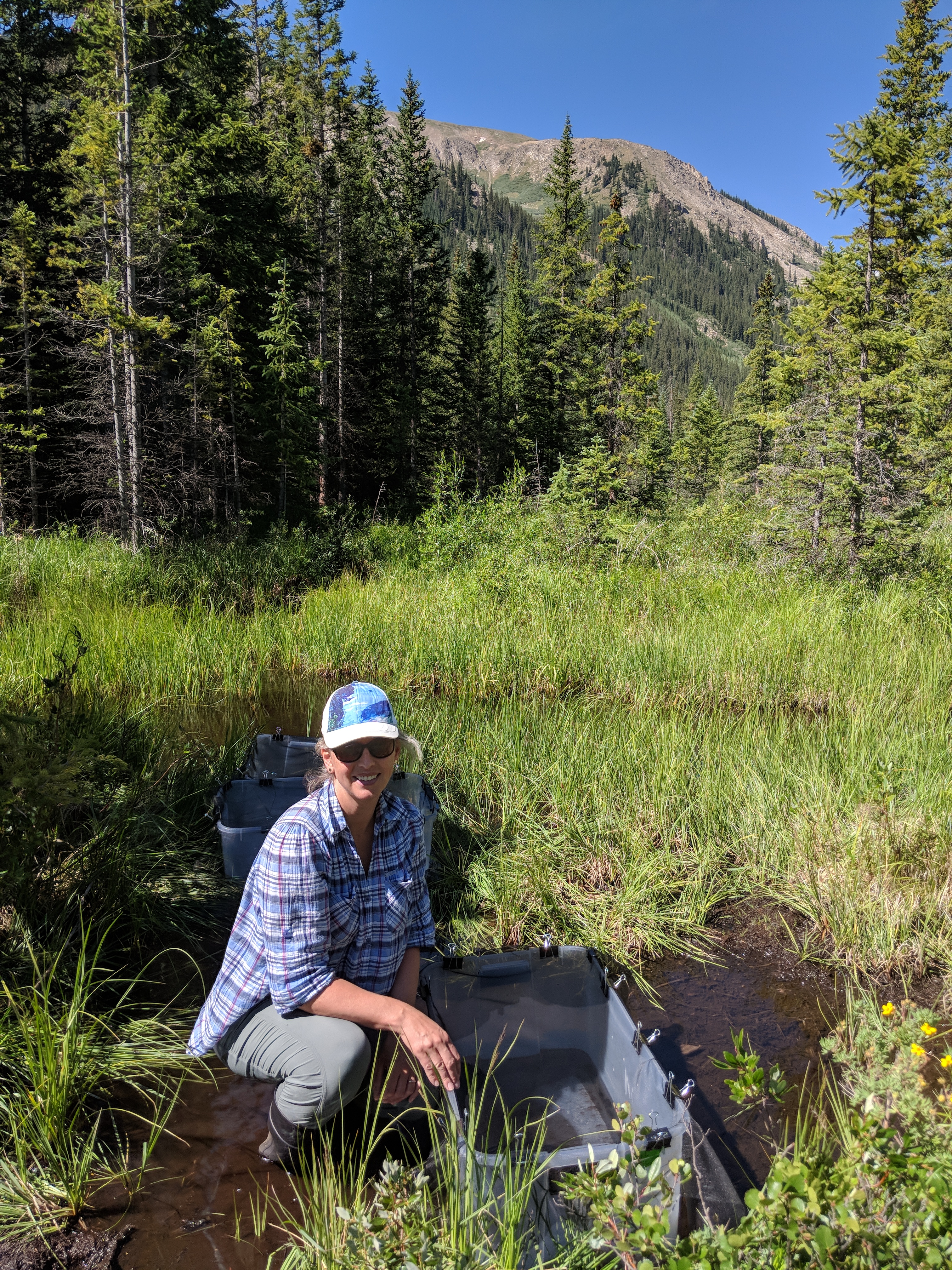 Dr. Valerie McKenzie checking on toads in the field. We build "toad hotels" to keep the toads in stylish comfort during probiotic treatment so that we can monitor them and collect samples (July 2018).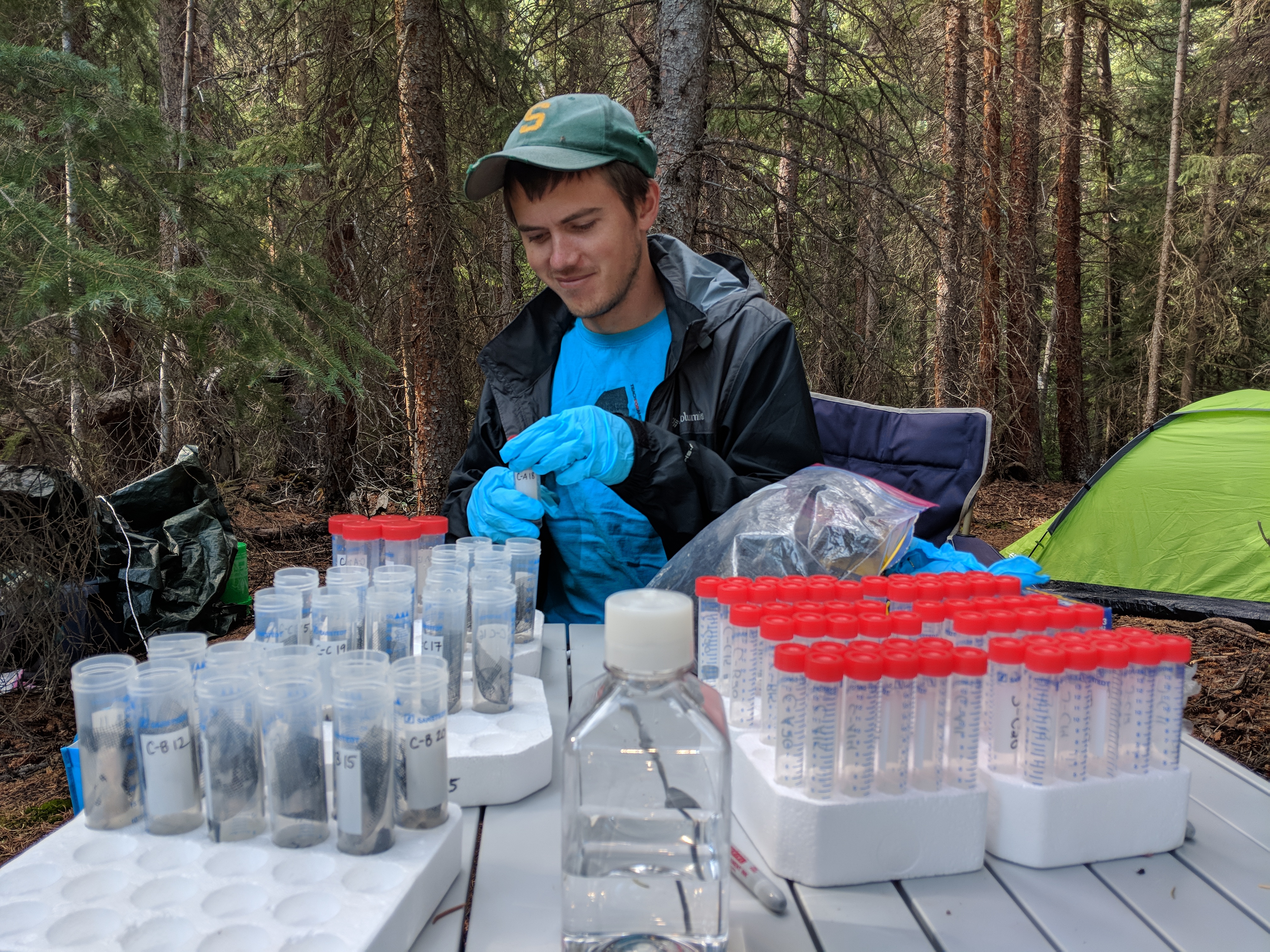 Tim Korpita, a PhD student in the McKenzie lab collecting samples in the field (July 2018).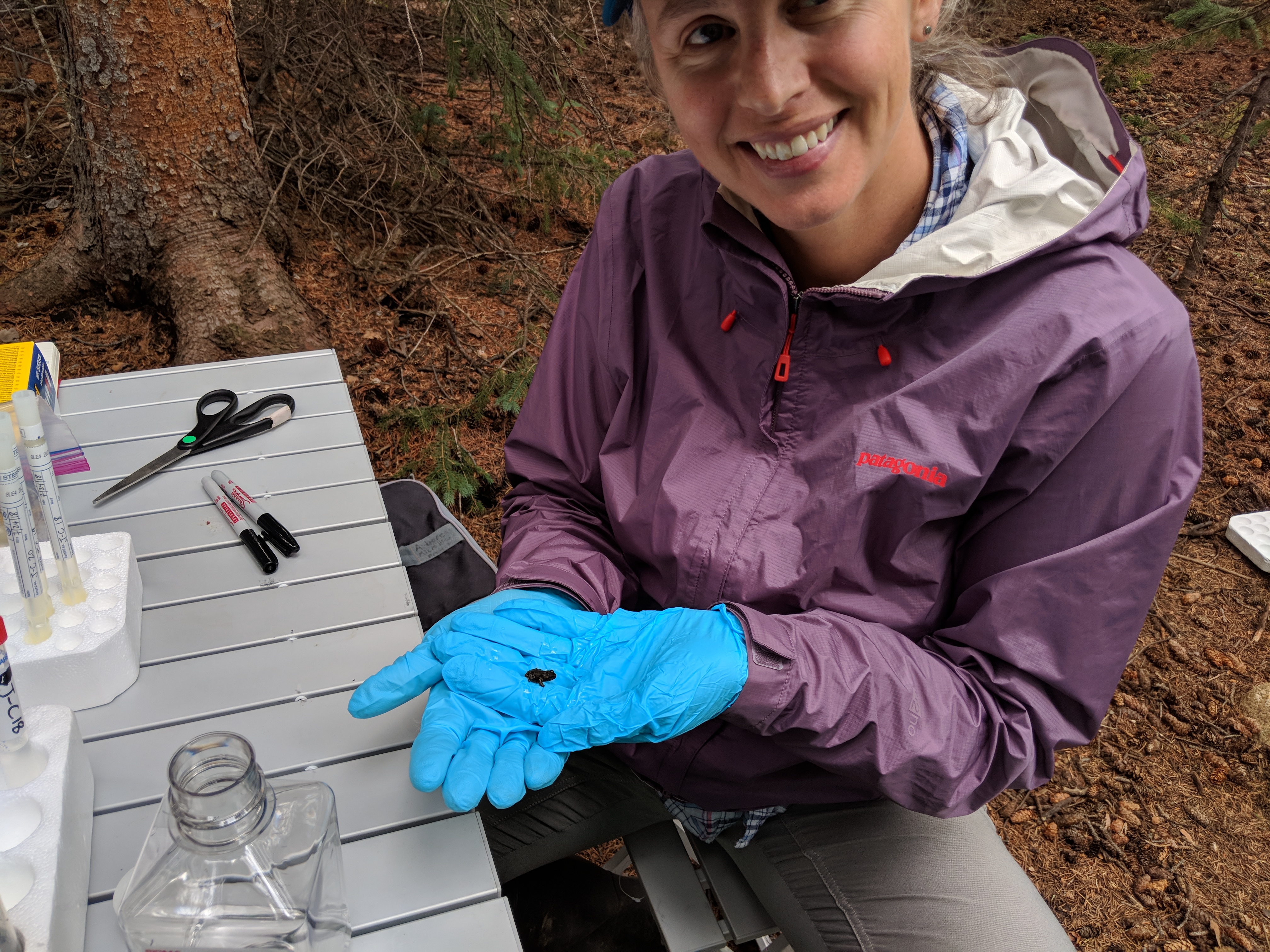 Val McKenzie holding a recently metamorphosed boreal toad. We collect samples by gently brushing a swab across the toad's skin before returning them to the toad hotels.
---
Project Backers
108

Backers

114%

Funded

$5,515

Total Donations

$51.06

Average Donation