Budget
This budget will be critical in my ongoing small grant. The goal of this small grant is to diagnoses aspergillosis through the culture of respiratory fluid. Although culture is still the goal standard, it is not sensitive to respiratory fluid and cannot differentiate between colonisation of the respiratory tract and active infection.
Using Aspergillus antibodies K-set, the diagnosis will give a better picture of the prevalence of chronic pulmonary aspergillosis, which is still neglected and treated as multidrug-resistant tuberculosis in Cameroon.
Endorsed by
This is a very important study - aspergillosis and mycology in general is hugely neglected due to lack of access to diagnostics. This study will lay the groundwork for establishing the presence of aspergillosis in the context of a high prevalence of TB. The researchers are dynamic and skilled and will deliver this project, which I am delighted to endorse.
Project Timeline
We expect in less than one year to have enough data to confirm and advocate the Aspergillus antibodies K-set as a rapid and reliable diagnostic tool for CPA.
Sep 29, 2021
Project Launched
Nov 01, 2021
Ethical clearance and sites administrative authorisations
Nov 15, 2021
Diagnostic kits and consumables purchased
Jun 01, 2022
Sample collection and analysis
Jul 01, 2022
Data analysis and reporting
Meet the Team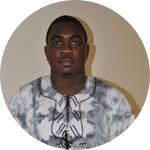 KUATE NGOUANOM Marius Paulin
Medical Microbiologist
Affiliates
University of Buea, Cameroon
View Profile
MEZAJOU FODIEU Cybelle
Microbiologist
Affiliates
Military Health Research Centre (CRESAR);University of Douala
View Profile
KUATE NGOUANOM Marius Paulin
I am an early career scientist currently enrolled on a PhD programme in Microbiology at the University of Buea, Cameroon.
I have good knowledge and experience in medical laboratory sciences, as I am initially a Medical Laboratory scientist with previous jobs in hospital settings. I also have experience in the fungal diagnosis and in particular in assay evaluation. For my Master, I received a small grant from the MRC UK, to work on the diagnosis of histoplasmosis and the work has been published recently under the title "Screening for acute disseminated histoplasmosis in HIV disease using urinary antigen detection enzyme immunoassay: A pilot study in Cameroon" in the Journal of Microbiological Methods.
I am also the first author of a review article entitled "Histoplasmosis overlapping with HIV and tuberculosis in sub-Saharan Africa: challenges and research priorities" in Therapeutic Advances in Infectious Diseases. In 2020, I received a small grant from the Fungal Infection Trust to work on a rapid diagnostic assay for histoplasmosis and aspergillosis (data under publication).
MEZAJOU FODIEU Cybelle
MEZAJOU FODIEU Cybelle is a motivated researcher at the Military Health Research Centre (CRESAR) and NAMRU-3 Study Field Coordinator for the Yaounde Military Hospital Site.
Passionate about Molecular Biology, she has experience in molecular laboratory techniques: Nucleic Acids Extraction, cDNA Synthesis, PCR and some of its variants, Agarose Gel Electrophoresis, PCR Products Purification just to name a few. These techniques were acquired through academic training, internships and participation in several projects such as Emerging Pandemic Threats PREDICT-2 and Sexual Network Study. In addition, She acted as a trainer to Master and PhD students from diverse universities of Cameroon on Molecular diagnosis of Viral Hemorrhagic Fevers in 2019 and has assisted in the supervision of numerous master and PhD research projects. Futhermore, the concerned has laboratory management skills shown via the stock, financial, human ressources, time and data management of the COVID-19 testing at CRESAR and presently in Malaria NAMRU-3 Project.
Holder of a Master's degree in Health Sciences, Option Bacteriology and Virology in 2019 from the Catholic University of Central Africa, she is currently offering a Master's degree in Siences, Option Cellular and Molecular Biology at the University of Douala.
---
Project Backers
5

Backers

4%

Funded

$157

Total Donations

$31.40

Average Donation