About This Project
Soil health determines the capacity of a landscape to absorb and hold moisture, particularly rainfall. Globally, drought and soil degradation threaten agricultural production, yet simple interventions, e.g. managed grazing and compost, can restore soil carbon and organic matter. Using comprehensive soil monitoring, our work will quantify the impacts of these methods in the restoration of a historic dry farmed almond orchard, providing guidelines for other drought-affected sites around the world.
Ask the Scientists
Join The Discussion
What is the context of this research?
With annual rainfall of less than 5" in the last two years, southwestern California is the epicenter of a continued exceptional drought. Over 41 million people in this state alone are affected; yet around the world, many millions more are impacted by worsening drought and desertification each year.
Our techniques, including composts and intensive grazing management with livestock, have been developed and used successfully in dry regions of Africa, the Middle East, North American southwest, and Mediterranean. Documenting these methods with systematic, quantitative research will encourage, support and guide their use in other regions where there is a need for effective dryland restoration techniques.
What is the significance of this project?
Few restoration efforts are quantified accurately right from the beginning. This not only makes it difficult to accurately follow their progress, but also reduces the likelihood that results can be applied elsewhere.
By restoring the capacity of soils to both sequester carbon and retain highly seasonal rainfall, our research will help to understand the role of dryland agricultural systems in both mitigating climate change, and recovering agricultural productivity without irrigation.

The knowledge generated by this project will apply to the 41% of the Earth's surface covered by dryland environments, and will support the growing number of regenerative agriculturists, dryland farmers and ranchers working to restore the ecological integrity of agriculture.
What are the goals of the project?
To answer the primary question of how carbon and other nutrients might be most effectively restored in agricultural dryland soils, we will focus on the effects of compost application and intensively managed livestock grazing.
Our soil samples will be taken from 24 points around the 100-acre property. There are three primary treatment systems, each with 6 replicates - compost alone, compost with grazing, grazing alone, and control. From these, we will evaluate the effect of each on soil carbon, nitrogen, water-holding capacity, and physical structure.
In addition, we will analyze vegetation community structure, nutrient composition, and biomass to determine the trajectory of vegetation change with soil changes under each treatment.
Budget
The data collected at the start of an experiment are critical to any research project. Collecting baseline soil data allows us to track the process of restoration, knowing where we start in terms of soil and plant health. In a dryland context, this means we need samples before the rainy season begins - which may be just a few weeks away! With the funds to collect, process and analyze samples, we can get these necessary measurements at the right point in time.
Our soil monitoring lab has generously offered soil biology analyses at cost, and deep discounts on lab fees for carbon, nitrogen and physical analyses. The funds we raise through this campaign will directly cover these minimal, but substantial, costs.
Funds above our goal will go towards future analyses, grazing, and compost application.
By carefully documenting and quantifying soil health right from the start, we can show more clearly the potential for carbon sequestration and restoration in drought-impacted farmlands.
Endorsed by
Food security in a rapidly changing world is a global challenge. I am pleased to endorse this project, which will apply a rigorous experimental approach to testing the effects of compost application and livestock grazing on the restoration of soil in an old orchard. The researchers both hold MSc degrees, in complementary fields (SC: ecology & evolution; AS: soil chemistry), ensuring that data collection and analysis methods will be appropriate and sound. Looking forward to seeing the results!
I am thrilled that Susan and her team are taking on this project with this level of thoughtful enthusiasm. With 66 million dead trees in California's forests due to not only the drought but a lack of active management as well, there has never been a better time to investigate the potential of carbon capture in some of California's most degraded and resource-limited landscapes. This project is a cost-effective investment in building our community's collective skill set to design effective, transformative and regenerative land management.
I am pleased to endorse this project. All life requires water. That means that without water in the soil, there can be no life above the surface. This project along with many others in different environments should help us to better understand how we can use all the techniques and approaches possible in order to enhance the process of making water move into the soil and thereby actively participate in the dance of life.
Meet the Team
Team Bio
The core team met in June 2016 at a dry farming seminar in San Luis Obispo, CA. It was soon evident that this was serendipitous meeting of minds ripe for collaboration. Moreover, we all agreed that for irrigation-free, regenerative agriculture, the potential of dry-farmed almonds was something very special - and in grave danger of losing out to land development, the growing wine industry, and suburban encroachment. Since then, both interest in and support for the project has grown rapidly.
Susan Cousineau, MSc.
I grew up in the Inland Temperate Rainforest of BC on a 300-acre family farm and woodland. My early years were steeped in discussions, often heated, between organic gardeners, environmentalists, conventional farmers, and loggers. Driven to learn more of both perspectives, I completed a B.Sc. in ecology and M.Sc. in ecology and evolution. This provided research experience in Amazonian Peru, Kenya, the B.C. west coast and islands, and the Alberta Rockies. Looking to unite human habitat, food security, and natural ecology led to a Permaculture Design Certificate in Jordan (fall 2012) with Geoff and Nadia Lawton.
Since graduating in 2012, I've worked on a number of farms (pastured pigs and poultry; organic fruit and berries); collaborating, teaching and working on installations and in the regenerative economy; and working in nature-based youth education. After completing the REX/Regrarians training with Darren Doherty (Orella Ranch, Gaviota CA 2016) I am tying into a solid foundation of research science with the hands-on and experimental work that a growing number of farmers, ranchers and agrarians are undertaking.
Today I focus on supporting both the regenerative agriculture movement and a more nuanced view of biodiversity conservation. I value first-hand evidence, and seek out opportunities to connect with practicing regenerative agroecologists that have grounded their theoretical knowledge in the field. Overall, my primary interests centre on using holistic frameworks and scientific research to address challenges of regenerative agriculture, conservation, food security and watershed management.
Amanda Smith, MSc
My life has been spent receiving exposure to multiple sides of the same picture. After early years surrounded by the smog and asphalt of Southern California, my family moved to Madison, WI where there was snow, green things and wonderful cultural and ethnic diversity. Visits to my grandparents' Iowa farm during those years instilled an interest in agriculture and the land. However, I didn't realize that their conventional, monoculture corn and soy bean farming was actually degrading soil, yet growing no food for people. Eventually we moved back to Corona, CA, where I arrived with a greater sense of the diversity of this planet, and wanting to learn more.
I first fell in love with soil during my B.Sc. studies in Environmental Science at UC Riverside, and went on to earn an M.Sc. in soil chemistry. Years followed of unfulfilling environmental laboratory analyses for pesticides and petroleum on food and in the environment. Disillusioned, I changed my life and became a massage therapist. After a decade, trying to find balance, I returned to science and opened my own soil and water lab in 2007, monitoring environmental issues - but without providing real solutions to pollution, soil degradation, lack of water, and dead, compacted soil profiles.
Since 2012, seeking solutions to these problems has led me through 3 Permaculture Design courses, Soil Food Web training with Elaine Ingham, a Regrarian Workshop with Darren Doherty and Watershed Restoration with Craig Sponholtz. Now I focus on restoring health and balance to the soil by reviving its life with compost, mulch, and diverse plantings. These simple steps sequester carbon and create the physical soil properties that increase water holding capacity and biological diversity, and reduce the need for pesticides and herbicides. Through Soil Harmonics, I get to contribute to transformation of the Earth back to health, while encouraging people to be part of the land and its stewardship.
Additional Information
We are hoping to pursue additional questions using stable isotope tracking through soils, vegetation and livestock; parasite burdens and livestock health with blood, tissue and microbiome sampling; and field trainings for others interested in getting involved. If you're a researcher or a citizen interested in helping us reach these lofty goals, please contact us!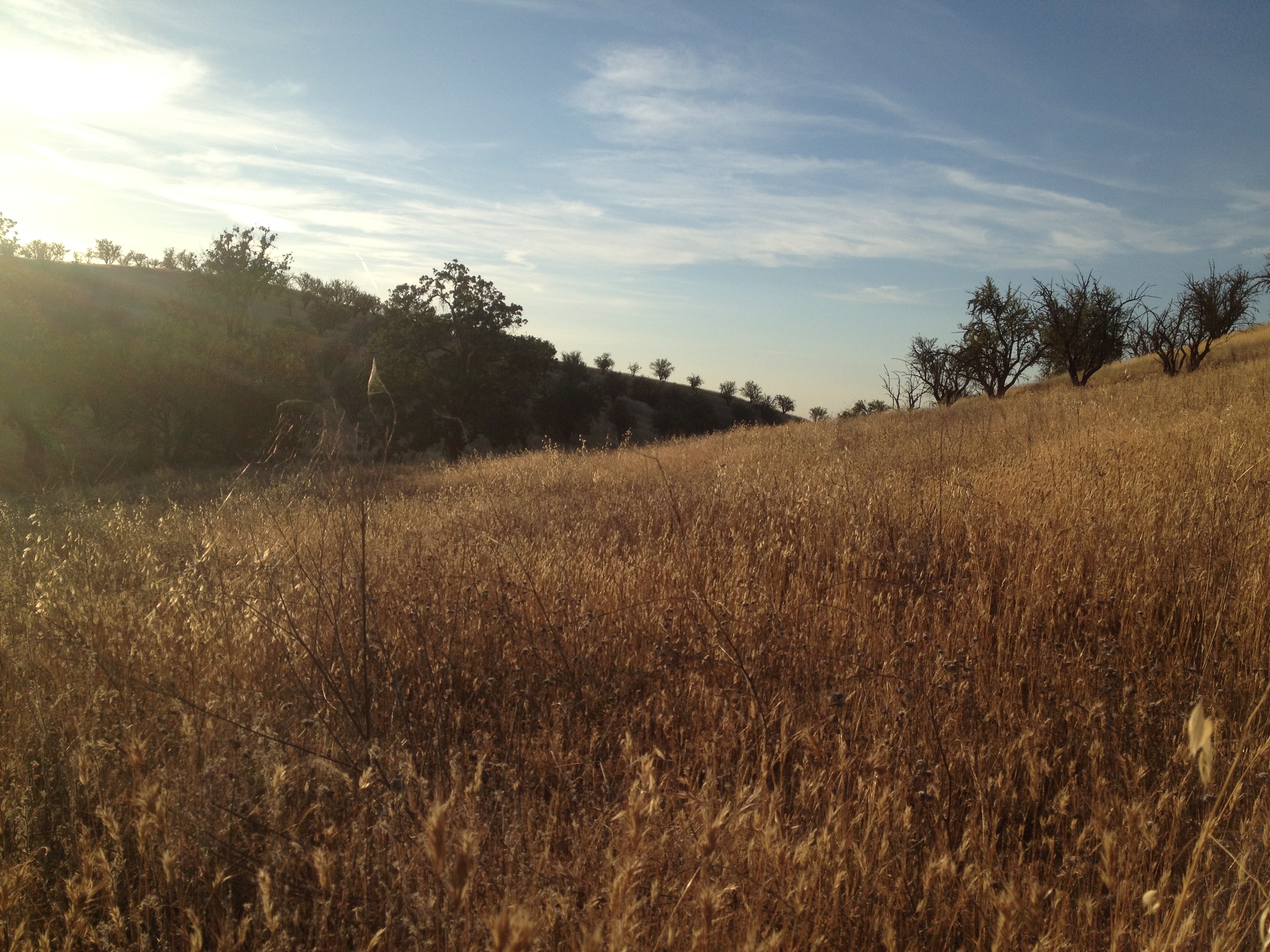 A sunset view of the 100-year old dry-farmed almond orchard where our first research site will take place.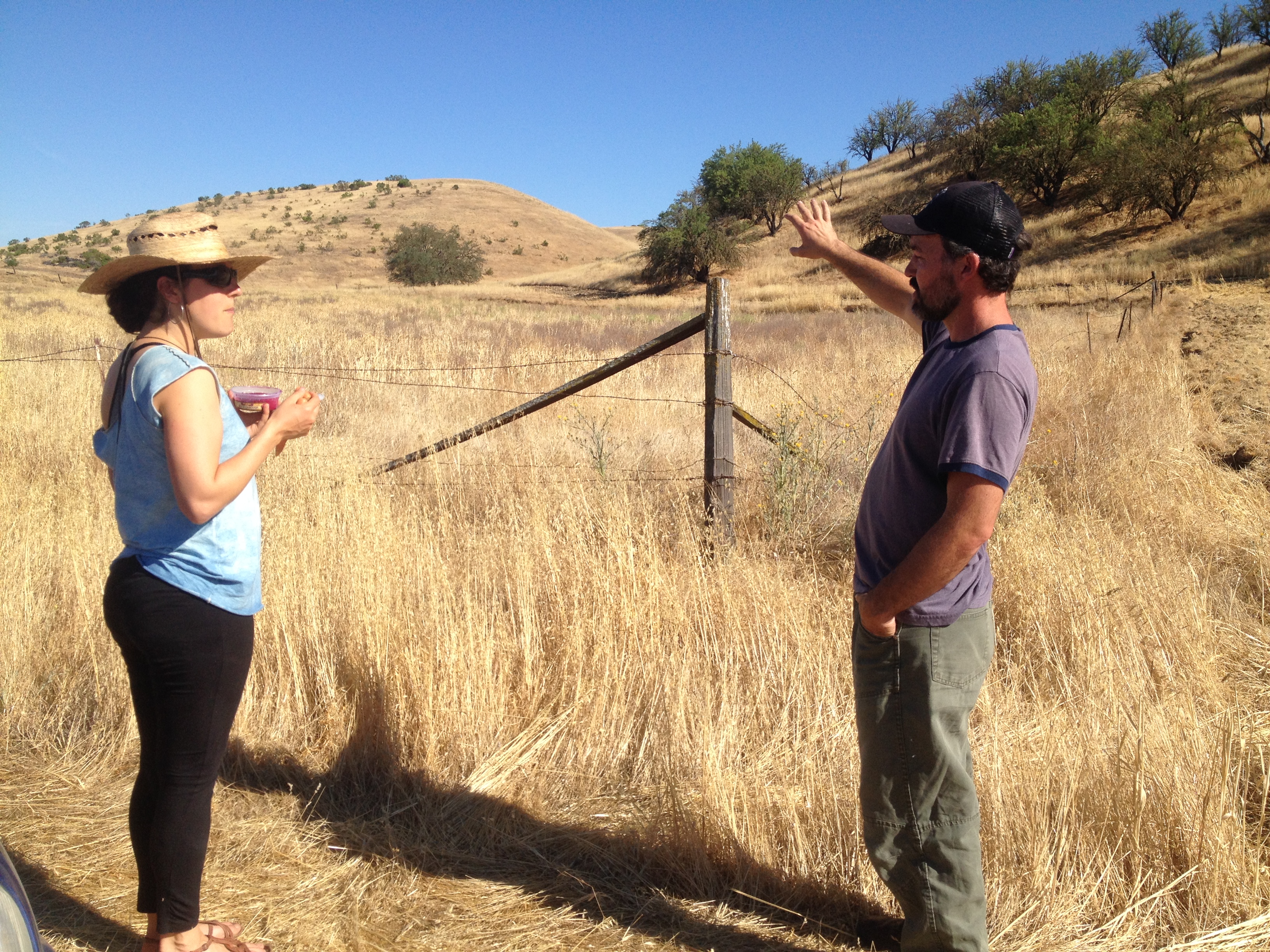 Two of our partners, Nate and Erin, discuss plans for the orchard and dry-farmed grains on the property.
For more information, check out the following links:
Holistic Management International
Farming systems in the Middle East and Africa
W. Richard Teague's work on adaptive management and holistic grazing at U Texas A & M
More information to come soon.
---
Project Backers
10

Backers

14%

Funded

$439

Total Donations

$43.90

Average Donation