About This Project
Women who are sex trafficked often have tattoos such as bar codes, a dollar sign or the name of their trafficker that symbolize the control and dominance of their trafficker. We will interview 10 tattoo artist to better understand their awareness of this practice. The information will help us tailor educational information to better meet their needs so they can provide support for women survivors of sex trafficking whom they might encounter in their work.
Ask the Scientists
Join The Discussion
What is the context of this research?
Women who are sex trafficked often have tattoos such as bar codes, a dollar sign or the name of the trafficker – the person who is selling them for sex. This is a way by which some traffickers maintain control and dominance over women and girls. Hence, tattoo artists may routinely encounter a sex trafficked victim while she is being trafficked. This provides a critical opportunity for timely detection of victims. However, there is no research on tattoo artists as frontline providers and the role they can play in the prevention of human trafficking. We will gather information from tattoo artists to better understand their awareness of human trafficking, and their preferred method to receive information on the topic so they can help prevent trafficking in the community.
What is the significance of this project?
The lack of awareness and training among people who routinely come in contact with victims such as tattoo artists, healthcare providers, social service providers, teachers and other school personnel ensures that these crimes remain undetected and unaddressed. Training and building core capabilities among "frontline providers" such as tattoo artists will help in the prevention and early identification/detection of survivors, and response to these crimes. It is critical that tattoo artists be knowledgeable about sex trafficking so they can respond and provide help in a timely manner. The first step is to determine their needs – their level of awareness of this issue and their perspectives on the best method to receive educational information on sex trafficking.
What are the goals of the project?
The funds will be used to provide a $20 remuneration to 10 tattoo artists as a token of appreciation for their participation in this study. We will conduct one-on-one interviews with ten tattoo artists in two urban areas of Omaha and Lincoln in Nebraska. We will gather information on their level of awareness of the issue of human trafficking, and the best method to deliver educational information on sex trafficking. This data will help us tailor education educational information on sex trafficking to better meet the needs of tattoo artists. We will start the project 2 months after we are able to raise the funds which will allow us time to get approval from the research ethics board for the conduct of the study.
Budget
The budget will help provide remuneration to the participants as an appreciation for their participation in the study. These funds are needed to gather information from tattoo artists. Information gleaned from this project will help in tailoring educational information for tattoo artists so can be key front-line responders in preventing sex trafficking.
Endorsed by
I am encouraged by this new approach, as an intervention to an enormous problem for both society and women. I applaud the research team for their innovation.
Meet the Team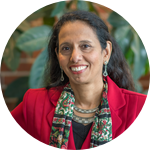 Shireen S. Rajaram
Associate Professor, Health Promotion, Public Health
Affiliates
University of Nebraska Medical Center
View Profile
Shireen S. Rajaram
I am a public health researcher, and I am an Associate Professor in the Department of Health Promotion at the University of Nebraska Medical Center. I am a medical sociologist and have a doctorate in medical sociology and a certificate in medical behavioral science from the University of Kentucky. My research interests include health disparities pertaining to sex trafficking, domestic violence, cancer and healthy aging. I am a mixed-methods researcher (qualitative and quantitative), but very much like qualitative research (e.g., one-on-one in-depth interviews. Like many researchers, I got interested in the field of sex trafficking while working in the field of domestic violence. We realized that some women were sex trafficked by their spouse/partner. This year (2016), my research partner (Ms. Sriyani Tidball) and I completed a project, interviewing 22 sex trafficking survivors in Nebraska. Our report was widely disseminated and helped inform current statewide planning efforts to combat trafficking. One of things that stood out in our study was the need to adopt non-traditional methods to prevent sex trafficking. We believe that reaching out to and partnering with tattoo artists will help prevent sex trafficking through the early detection and identification of survivors so that survivors can get timely assistance and support. We have the necessary skill-set and experience needed to successfully complete this project and have a positive impact on the lives of survivors.
Sriyani Tidball
I am an Assistant Professor of Practice in the College of Mass Communication and Journalism at the University of Nebraska at Lincoln. I teach strategy, advertising, social justice, human rights and the media, at UNL and am a subject matter specialist on human trafficking. I am an advocate and an activist in the anti-trafficking of women and children in Nebraska, the U.S. and internationally. In 2015, I received a Fulbright Award and investigated the labor exploitation of vulnerable Sri Lankan women in the Middle-East. In 2013, I testified in support of an anti-sex trafficking bill put forth by former Nebraska Senator Amanda McGill. In 2012 I received a grant from Microsoft to conduct a qualitative study of buyers of sex and published the result in a peer-reviewed journal. From 2009 to 2016 I have been the faculty adviser for the student group -- NUSAMS (Nebraska University Students Against Modern-day Slavery). Since 2009, I have been a member of the UNL Annual International Human Trafficking Research Conference Team.
This year (2016), in collaboration with my research partner, Dr. Shireen Rajaram, I completed a qualitative study of 22 survivors of sex trafficking in Nebraska. The report has been very well received across the state and will help in drafting policies and programs to combat trafficking across the state of Nebraska. As underscored by the women in our study, we need to reach out to non-traditional venues such as tattoo parlors to successfully combat sex trafficking.
I have lived in Nebraska for over 25 years and Dr. Rajaram and I have the necessary contacts and skills to partner with tattoo artist in this project. We strongly believe that the outcomes of this study will help combat sex trafficking in Nebraska.
---
Project Backers
9

Backers

120%

Funded

$266

Total Donations

$29.56

Average Donation