About This Project
It is predicted that extreme weather events due to climate change will result in higher than average streamflow. This study will examine the effects of increased streamflow on the burrowing behavior of the giant mayfly, Hexagenia limbata, in the lab. An array of thin-spaced-chambers will be used to observe the effects of flow rate on the nymphs' U-shaped burrow structure. This undergraduate aquatic entomology research will provide new information about an otherwise well-known species.
Ask the Scientists
Join The Discussion
What is the context of this research?
The Giant Mayfly is one of the best-known mayflies in North America. A great deal of research has been conducted on its nymphs (immature stage), including work on taxonomy, distribution, ecology, mass rearing, use in sediment bioassays, importance of gills, effects of temperature, oxygen levels, salinity, food quantity, density, and photoperiod, However, burrow construction by the nymph has been mostly ignored, the most authors say on the subjects it that it's "U-shaped". Burrows offer nymphs protection and are important for respiration, feeding, and possibly temperature control. This project represents an important step towards understanding the structure and function of Giant Mayfly burrows, fundamental attributes that help us understand the biology of this important species.
What is the significance of this project?
Increased streamflow is one of many predicted outcomes of climate change for some regions of North America. Research has been conducted on the purposes of burrows made by Giant Mayflies in streams, but these rarely investigate the structure itself and none discuss the effects that higher streamflow will have on mayflies or their burrows. This novel research will produce new information on how well the Giant Mayfly can cope with an important aspect of climate change, and will lead to a better understanding of the species' biology and ecology.
What are the goals of the project?
The goals of the project are to investigate the impacts higher streamflow rates have on Giant Mayfly burrow shape and construction. I will use established techniques to observe nymphs in specialized thin-spaced-chambers with clear glass sides, which will allow for me to observe the behavior of each nymph as it constructs and feeds in its burrow and the often-complex structure of the resulting burrow under different flow regimes. Photographs and videos will allow me to record and compare complex behavior and make multiple measurements of finished burrows that can be subjected to statistical analysis.
Budget
Unfortunately, there are very few avenues for funding undergraduate research projects, which is why I'm asking y'all! In order to successfully conduct this research we need field equipment (temperature data logger, flow meter, grab sampler, transportation containers for water, sediment, and specimens), lab equipment (aquariums, building supplies to create the thin-spaced chambers, aquarium fans, circulation pumps, air pump, airline and divider, and temperature data loggers).
Endorsed by
Burrow shape and construction in the Giant Mayfly is a very interesting (and basically unstudied) topic. I'm very excited to see Nick's results. Undergraduate research is incredibly important for young professionals and I know Nick will do a phenomenal job.
Meet the Team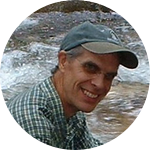 John C. Morse
Professor Emeritus
Affiliates
Department of Plant & Environmental Sciences, Clemson University
View Profile
Nick Addison
I am a Senior at Clemson University in Environmental and Natural Resources Management (B.S.) with a minor in Biological Sciences. Ecology and predator-prey relationships fascinate me. My curiosity drives me to discover how organisms interact with each other and their respective environments.
John C. Morse
Besides courses in insect systematics, insect larvae, and a variety of other topics, I have taught courses related to aquatic insects at Clemson, at Highlands Biological Station in North Carolina, in several other states, and in 9 countries so far in East Asia for more than 40 years. My research specialty is the identification, biology, and historical development of caddisflies, which I have studied in many streams of the world since 1967. My students and I also investigate the identification, biology, and distribution of other aquatic insects, of stream ecology and conservation, and of the use of insect communities to monitor water pollution.
---
Project Backers
13

Backers

100%

Funded

$1,905

Total Donations

$146.54

Average Donation