About This Project
There are over 1 million internally displaced refugees of war in Ukraine and over 150,000 soldiers actively defending the border of Ukraine. Trauma associated with war and displacement can impact the victims and their communities for years or even generations if the effects of trauma remain untreated. This project will study the effectiveness of somatic mind-body practices on victims of the war.
Ask the Scientists
Join The Discussion
What is the context of this research?
The war in Eastern Ukraine began in March 2014 and has lasted two years. Its victims are experiencing effects of trauma and displacement. Local hospitals are not prepared to treat these victims and can only accommodate for the most severe and urgent of medical cases. Consequently, the most accessible form of treatment is 'self medication' in the form of alcohol.
A healthier, more effective, and accessible alternative is needed.
Somatic mind-body practices, which integrate physical practice with deep reflection to generate self awareness, could be a solution. Trauma impacts the nervous system in ways both physical and psychological. The integrated mind body approach may have unique benefits for victims of trauma.
What is the significance of this project?
The war in Ukraine has caused a rise in violent conflict and refugee crisis. Somatic mind-body practices applied in a group or individual settings are simple and can be modified to accommodate different circumstances and cultural contexts. The instructions are simple and can be added to existing local health care and community centers.
If we find that somatic mind-body practices can have a positive effect on treating trauma in war victims, this could be used to support victims of war.
Please note: This research was reviewed and approved by the Wesleyan University Institutional Review Board (IRB).

What are the goals of the project?
The goal of this project is to study the impact of somatic mind-body practice on the treatment of victims of trauma in Ukraine, including refugees, soldiers and veterans.
We will work on-site in Ukraine. Our experimental groups will consists of 90 people receiving the somatic mind-body practice during treatment. Our control group will consist of 90 people not receiving somatic practice during treatment.
From our results we will analyze the effectiveness of somatic mind-body practice on establishing trust, relieving anxiety, and acquiring skills to overcome anxiety.
If successful this research will inform the development of rehabilitation centers in Ukraine. The long-term goal of this project is to develop a simple model and guidelines for applying body-mind practice to other contexts.
Budget
I will travel to Ukraine to conduct seminars in somatic mind-body practices for psychotherapists volunteering their time to the war relief effort. This grant will cover costs associated with securing facilities for somatic work and travel cost for volunteers traveling to the training from across Ukraine. The purpose of the research is to assess and disseminate techniques for aiding victims of trauma. Assessment will require documentation. I am collaborating with the Development Foundation, a Ukrainian organization based in Lviv, that will coordinate the seminars and supply documentation support. Dissemination will require translation of an assessment tool and research results into Ukrainian and/or into English.
Meet the Team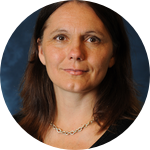 Katja Kolcio
Associate Professor, Wesleyan University, Department of Dance and College of the Environment
Affiliates
Wesleyan University
View Profile
Katja Kolcio
I am Associate Professor in the Department of Dance and College of the Environment at Wesleyan University in Connecticut. I've worked with somatic practices and social somatic theory for over 20 years since earning a Ph.D. in Somatics and an MA in Political Science. I have published articles and a book on the significance and impact of physical and creative methods in education.

My family origins are in Ukraine, but my work in somatics has taken place exclusively in the United States. With the recent Revolution of Dignity in the Winter of 2013-2014, and the subsequent war on the border with Russia I saw the possibility of applying my expertise in a new context. I found myself well positioned with the experience, cultural familiarity and language skills to help in the war relief effort. I travelled to Ukraine in the Summer and Fall of 2015 to offer seminars in somatics to groups of psychotherapists and social workers who were volunteering their time to work with refugees and soldiers. These volunteers were seeking new effective methods to help meet the acute and overwhelming needs of the war-ridden context. I was initially hosted by three organizations that had emerged to help organize trainings and relief efforts in response to the surge of interest in Ukraine in civic engagement and volunteerism. The somatics seminars were met with enthusiasm and I have been invited back and asked to provide seminars geared more specifically to various populations including refugees, children, volunteers, soldiers, and officers. Together we are assessing the most effective ways to apply somatic education to alleviate the crisis caused by the war.
Additional Information
Somatic education has a secondary benefit. In addition to fostering physical health and well-being it cultivates community building and social engagement. Somatic practices combine physical practices of self awareness, breath-work and movement with creative partner and group activities illustrating that individual and community wellbeing are interdependent processes. Ukraine is undergoing a social transformation. The current crisis began as a peaceful demonstration protesting top-down government leadership and ties with Russia. The protest advocated dramatic social reform and civic rights. The subsequent war in Eastern Ukraine was instigated by reactionary Ukrainian and Russian forces in an effort to resist the proposed changes. However, the majority population in Ukraine continues to engage in social reform efforts, government reform and civic engagement. Volunteerism has surged. Somatic education builds on this movement, while addressing the immediate health and wellbeing of traumatized individuals.
The biggest asset any community or state has is its human capital – its residents and citizens. One of the core elements of a healthy community is creativity. Somatics explicitly integrates physical and creative approaches to foster a context in which recreating oneself and ones community are an integrated and symbiotic process.
---
Project Backers
6

Backers

21%

Funded

$760

Total Donations

$126.67

Average Donation