About This Project
Ornithodoros ticks occur in the Mojave desert and frequently parasitize desert tortoises. These ticks carry the pathogen Borrelia, which is responsible for tick-borne relapsing fever. We aim to determine pathogen prevalence and species of ticks collected from tortoises to further understand infection kinetics of Borrelia in tortoises. Borrelia may cause disease in tortoises, but it's also possible there is an enzyme in tortoise blood that kills Borrelia.
Ask the Scientists
Join The Discussion
What is the context of this research?
An enzyme found in lizard blood reportedly kills Borrelia once a tick ingests it (Lane and Quistad 1998). This enzyme makes the tick incapable of transmitting disease, but there is no research of this borreliacidal enzyme in tortoises. We have tested a sub-sample of 170 ticks collected from tortoises for Borrelia, all tested negative for the pathogen. These ticks were collected from habitats where a known human infection occurred. Thus, we hypothesize there is a factor in tortoise blood interacting with Borrelia in the tick similar to the enzyme found in lizards. Even the species of these ticks are debated, as they are difficult to I.D. (Jacobson 1994). This research will support tortoise conservation and improve public health.

What is the significance of this project?
Mojave desert tortoises are listed as threatened by the U.S. Fish and Wildlife Service and vulnerable by the IUCN. Tortoises are parasitized by ticks that carry Borrelia which causes tick-borne relapsing fever. TBRF is endemic in the western U.S. and reported in tortoise habitat. Although tortoise population decline is partially credited to disease, disease and parasitism are not often linked despite extensive parasitism by ticks. This is why we will create a model of tick distribution and tick-borne disease prevalence throughout the Mojave desert which will be used to understand zoonotic disease dynamics of tick-borne vectors in tortoises in the Mojave desert, hopefully improving public health and encourage conservation of the desert tortoise.
What are the goals of the project?
The goals of this project are threefold: 1) Identify ticks found in Mojave Desert tortoise habitat, 2) Model tick species distribution and pathogen prevalence across desert tortoise habitats, 3) Determine borreliacidal (Borrelia killing) effects in desert tortoise blood. These aims will identify ticks and tick-borne pathogen prevalence in desert tortoise habitats and test hypotheses regarding mechanisms involved in borreliacidal components of tortoise blood. We aim to sample 1000 ticks collected throughout tortoise habitats and conduct in vitro Borrelia killing experiments on desert tortoise blood sampled from captive tortoises. This data will help us understand the tortoise's role in its relationship between ticks and tick-borne disease throughout the Mojave ecosystem.
Budget
This budget will cover the expenses of field and laboratory equipment, sequencing and travel to and from field sites.
Endorsed by
Molly is a very capable young scientist working on a very interesting project with important implications not only for conservation of the threatened desert tortoise but also for issues related to human health. If borreliacidal agents can be isolated from reptile blood it is possible that they can be used to fight important human diseases including Lyme Disease. Molly is also a very articulate communicator of our research and I have no doubt she will disseminate her findings effectively.
I am a member of Molly's dissertation committee at Northern Arizona University. Molly is an outstanding young scientist who is poised to answer important questions that will improve conservation efforts and health of the Mojave desert tortoise. She will model distribution of a bacterial pathogen, Borrelia, in Mojave desert tortoises that are parasitized by ticks and test whether tortoises have anti-borrelia enzymes, similar to lizards. Her hypotheses are provocative and have potential to improve both Mojave desert ecosystem and human health.
Molly's research aims to provide a better understanding of how ticks influence the health of Mojave desert tortoises as well as understand and effectively manage zoonotic tick-borne diseases in the southwest, USA. Molly has worked with tortoises for several years, and I'm happy she teamed with Dr. Nieto and others to lead this research. Ticks are routinely found on tortoises, and we need to know what impact ticks have on tortoise physiology and their potential to spread pathogenic microbes and disease. I am pleased to endorse this project.
Project Timeline
Work examining ticks collected from desert tortoise habitat for disease prevalence and species identification has already begun and will continue through fall of 2019. Experiments analyzing Borrelia spirochete survival in tortoise blood will begin after disease prevalence data from ticks collected off of desert tortoises is finished, which is estimated for fall 2019.
Aug 21, 2018
Project Launched
Sep 01, 2019
Finish species identification and disease prevalence analysis of ticks
Mar 01, 2020
Model tick species distribution and disease prevalence
Mar 01, 2020
Begin spirochete survival analyses of tortoise blood
Sep 01, 2020
Finish spirochete survival analyses
Meet the Team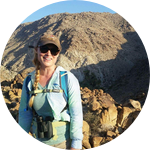 Molly June Bechtel
Graduate Research Assistant
Affiliates
Northern Arizona University
View Profile
Nathan Nieto
Associate Professor
Affiliates
Northern Arizona University
View Profile
Team Bio
Our team includes leading experts in desert tortoise ecology, molecular analyses, immunology and disease ecology with emphasis in tick-borne vectors. Some team members have been actively involved in their field more than twenty years and are widely noted for their expertise in desert ecology, disease ecology and evoloution, and species distribution modeling.
Molly June Bechtel
Molly Bechtel graduated from the University of Nevada, Reno (UNR) with a B.Sc. and M.Sc. in Animal Science. While working on her master's at UNR Ms. Bechtel published work on parasite abundance and diversity in woodrats which further piqued her interest in disease ecology and how it applies to wildlife ecology. Soon after Ms. Bechtel completed her master's degree she started work in the herpetology lab at UNR helping collect tissue samples of desert tortoises to assess disease. Eventually she was hired at the USGS as a desert tortoise biologist. Here she worked on several research projects, including a project focused on disease and health of tortoise populations. This inspired her to continue her education as a PhD student at Northern Arizona University. Currently, she is studying tick-borne disease in desert tortoises and how ticks and disease interact with the Mojave Desert burrow ecosystem and possibly, public health. In her free time she founded and volunteers with the Northern Arizona Association for Women in STEM, which advocates for equal representation of women in the sciences.
Nathan Nieto
Dr. Nieto is an Associate Professor in the Department of Biological Sciences at Northern Arizona University. He has led multiple research projects involving the identification, experimentation and evaluation of infectious disease dynamics in reservoir hosts and commonly uses techniques in statistical modeling and animal models of pathogenesis. This has spanned many systems including bacterial/rickettsial, fungal, and most recently viral pathogens. Dr. Nieto has worked with dangerous pathogens in the laboratory and wildlife settings that include BSL and ABSL-3 level biosafety conditions. He has extensive experience working on animal models of infectious disease, as well as reservoir and vector competence experimentation. He has published 43 manuscripts thus far that include a large diversity of reservoir host systems from frogs and snakes to mammals, and especially tick-borne diseases. Experimental studies included experimental infection and molecular diagnostics to identify laboratory infection kinetics that are then used in sylvatic systems to describe the maintenance of pathogens in wild systems. Dr. Nieto is committed to using basic scientific research in a translational way in hopes of improving public health capacity.
---
Project Backers
20

Backers

107%

Funded

$6,106

Total Donations

$305.30

Average Donation