About This Project
The number of Zika cases in South and Central America and the Caribbean is projected to be over 2 million by the end of 2016.
What if we had safe drugs that people could take to prevent Zika virus infections?
My lab has developed a yeast based screening platform to identify drugs that block virus growth. It has been successfully used for Influenza , SARS and Chikungunya. Given the significant public burden of Zika, identifying safe effective treatments is critical to curtailing the outbreak.
Ask the Scientists
Join The Discussion
What is the context of this research?
The Zika virus is a mosquito-borne flavivirus currently spreading across South America. Zika virus has been linked to microcephaly and other associated birth defects and containment of the Zika virus has been proclaimed to be of great public health importance by the WHO and CDC. There is little known about the molecular virology and pathogenesis of Zika virus and there are currently no approved vaccines, drugs or other therapeutics for treatment of infected individuals.
I work on pathogenesis and therapeutic development for the SARS and MERS Coronavirus. However one platform we use to identify drugs that combat these viruses is a yeast based drug screening platform. We propose to use the same scheme to rapidly identify anti-Zika virus drugs.
What is the significance of this project?
There are currently no therapeutics against Zika virus. Normally, infection with Zika virus causes only a rash and mild symptoms. But in pregnant women, there is a link to brain defects, microcephaly (causing small brains and skull development), and other brain growth defects. If we can provide a drug to protect women from being infected in the first place, then we can reduce the birth defects in their babies.
By using yeast genetic techniques, proven drug screening platforms and virus challenge experiments, we will be able to rapidly identify drugs that block Zika virus protein function in yeast and then test those drugs against live virus in my lab.
What are the goals of the project?
My lab has developed a screening platform using yeast that allows us to identify drugs that inhibit virus growth in a safe model organism.
The screen is based on our finding that S. cerevisiae grows slower when certain viral proteins are expressed. Then we perform the drug screen on those yeast to identify drugs that reverse that phenotype. Then those drugs are tested against live Zika virus in our lab to see if they slow virus growth.
Funding this project will:

1. Clone all genes of the Zika virus into yeast vectors.
2. Test yeast growth in media to identify genes that inhibit yeast.
3. Screen drug libraries against these slow growing Zika protein expressing yeast to find drugs that reverse the slow growth phenotype of the yeast.
4. Test drug hits against Zika virus in culture.
Budget
The funds for this project will support the initial cloning and testing of Zika virus genes in yeast, the cost of screening the drug library and testing the drug library hits in cells against live virus and then support of the publication of this work.
NIH grant take time to work through the review process, require preliminary data to get funding and NIH only funds about 10% of all submission. The current Zika outbreak does not care about grant deadlines or funding rates. The support we get here will allow for initial screening and testing of potential drugs against Zika virus.
Endorsed by
A simple, safe screening process for drugs to inhibit specific Zika virus proteins will be invaluable as a first step in finding drugs to inhibit the virus itself. Matt Frieman, with PhD experience studying yeast and extensive postdoc and faculty experience on emerging viruses, has merged his two areas of expertise for this unique screening idea. I recently became Matt's colleague at the University of Maryland and am looking forward to following along as this project moves forward.
The idea to use yeast to identify Zika antivirals is a good one. I like the notion of finding Zika genes that are toxic in yeast, then compounds that reverse the lethality. This is a novel approach that should be informative. Frieman runs a strong lab and will see this work through, and of course Zika virus is a research priority.
The world desperately needs drugs that block or prevent Zika virus infection. The Frieman Lab has proposed an ingeniously simple and fast drug screening platform using yeast "infected" with Zika virus and known bioactive compounds or FDA approved drugs.
Zika virus is a major public health concern for large areas of South, Central, and North America. To date, no drugs or vaccines are available to treat patients infected with Zika virus. This project proposes to use a previously developed method for identifying effective drug compounds using yeast as a model organism. Given the lack of treatment options available, this project has the potential to make major contributions to the way we treat Zika virus in humans.
Meet the Team
Matt Frieman
After growing up in the Baltimore suburb of Owings Mills, I completed my undergraduate studies at Washington University in St. Louis with a major in Biology. During my time there I worked in the lab of Dr. Craig Pikaard investigating chromatin silencing and gene expression. I then received my PhD from The Johns Hopkins University where I was mentored by Dr. Brendan Cormack in the Department of Molecular Biology and Genetics. There I studied the yeast cell wall and how cell wall proteins affect pathogenesis of Candida glabrata.
My post-doctoral training was at The University of North Carolina at Chapel Hill in the laboratory of Dr. Ralph Baric where I studied the Innate Immune Response to the SARS Coronavirus. After my post-doctoral fellowship I joined the faculty in The Department of Microbiology and Immunology at The University of Maryland School of Medicine where I began my own lab in July of 2009. My lab studies the Pathogenesis and Host Response of viruses with a focus on the SARS and MERS Coronavirus.
Additional Information
Who am I?
Matthew Frieman, PhD (@newprof1)
My PhD is in Yeast Genetics and Cell Biology from The Johns Hopkins University. All of my training since then has been in viral pathogenesis and immune responses, but I have always continued to love the use of yeast in biology. You may have heard me talking about viruses on This Week In Virology as well!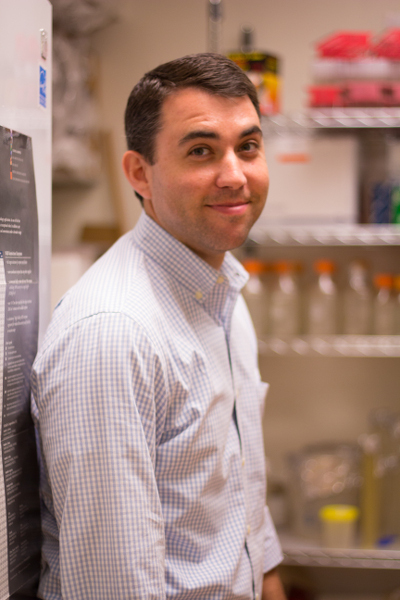 Using THE AWESOME POWER OF YEAST GENETICS, we have a real and feasible way to rapidly identify drugs that could help in the Zika virus outbreak. We will focus on currently FDA approved drugs that are readily available and able to be bought at your local pharmacy. This allows for immediate off-label use of these drugs if we identify ones that are able to block Zika virus in cells and in animals. Because approved drugs have known dosing and safety records, THIS SAVES YEARS AND HUNDREDS OF MILLIONS OF DOLLARS IN DRUG DEVELOPMENT COSTS.

The drug screen
The screen is based on our finding that S. cerevisiae grows slower when certain viral proteins are expressed. No prior knowledge of viral protein properties, enzymatic function or structure is needed; the viral genes are cloned into an inducible yeast expression vector and screened for a growth defect in liquid and solid media. Once genes exhibiting yeast growth defects are identified (either slow or fast growth), the clones are then screened using FDA approved drug libraries and larger chemical diversity libraries to identify compounds that reverse the growth phenotype in yeast. The beauty of the system is in its simplicity.
We have identified Influenza virus, SARS coronavirus, Chikungunya virus and MERS coronavirus proteins that induce a slow growth phenotype using this assay and have identified drugs that both reverse the slow growth and also inhibit live virus replication for influenza virus, SARS-CoV and Chikungunya virus. We propose to use our yeast anti-viral screening for Zika virus to identify potential therapeutics that can be further tested against virus in the lab and in mice (in the future).
-------------------------------------------------------------------------------------------------------------------------
Initial Lab Notebook

3/21/16
Zika virus gene cloning in progress
-PCR was successful for Zika gene cloning. All genes are in the process of ligating into yeast vectors. Stay tuned for cloning and sequencing results!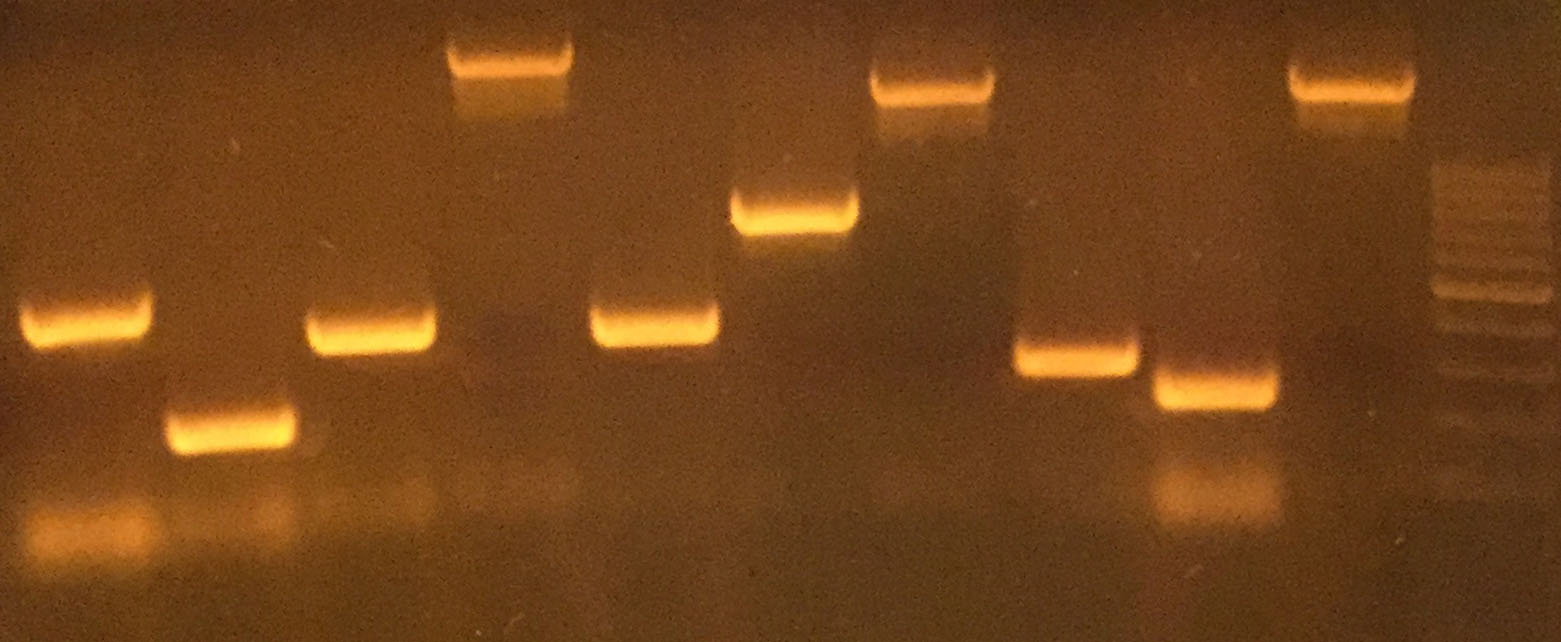 ---
Project Backers
29

Backers

32%

Funded

$1,677

Total Donations

$57.83

Average Donation