About This Project
This research focuses on determining the functioning of human movement.
Studying body movements and external interacting forces that take place during walking and other movements is essential to understanding human locomotion.
This can help us take more accurate decisions when designing mobility devices to help in therapy and personal mobility.

For people with mobility disorders or walking disabilities, such research is essential.
Ask the Scientists
Join The Discussion
What is the context of this research?
Walking is very important in our daily life. From easy simple tasks to social interaction. Therefore helping people with walking disorders, spinal cord injuries and elderly people by assisting their movement during walking is fundamental. Some of these problems are being helped through the use of exoskeleton devices for rehabilitation and daily use purposes.
However there is still a lack of scientific knowledge regarding the best approach on how to recover or assist motion during walking. Current devices and therapies that are still far from being capable of restoring the capabilities of a healthy subject.
What is the significance of this project?
This gap is keeping technology and applicable knowledge away from people with mobility disorders and walking disabilities that could be helped through reliable and comprehensive studies in order to determine more accurate medical decisions as well as designing mobility devices to help.
By obtaining experimental data we can have a better understand of human locomotion. Providing important data for the determinacy of the body mechanics contribution during locomotion movements.
For instance how do we keep walking when the floor is uneven, steep or slippery?
What are the movements and speed that our legs perform and the forces that create that motion?
These data will provide important feedback for the design of more efficient mobility devices.
What are the goals of the project?
Obtaining the full body movements and external interacting forces (foot contact) during walking and other movements providing the information needed to know the required forces, position and speed on each part of the lower limb joints.
Making it possible to obtain this experimental data in outdoors and more complex situations (e.g: uneven, slippery or steep terrain).
Build a lab prototype equipment to obtain the experimental data explained above.
The prototype consists of a mechanical structure called exoskeleton which is attached to the subject lower limbs and it is equipped with sensors that allow for measuring the required experimental data.
The prototype is adaptable to any subject size and age and is able to be manufactured from lower cost 3D printers.
Budget
The budget is covering the whole design, manufacture and testing of the equipment for the experimental validations
Endorsed by
The outcomes of this project will provide a novel approach to the design and control of wearable robots that can be used for persons with lower-limb disabilities with broader affordability. With innovative methods of data acquisition, low-cost 3-D printed hardware design, and hybrid inverse dynamics, the research will also advance the state of the art. This research will be a significant component of the Ph.D. dissertation for Inigo Sanz-Pena, who is highly qualified to perform this project with extensive track record of system designs.
Project Timeline
The project is expected to be finished by december 2017
Oct 16, 2017
Project Launched
Oct 20, 2017
manufacturing of the structure
Oct 27, 2017
integration of the sensors
Nov 03, 2017
Hardware assembly and wiring
Nov 17, 2017
Calibration and mechanical adjustments
Meet the Team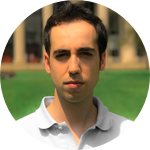 Inigo Sanz Pena
PhD candidate - ME Industrial Engineering / BE Mechanical Engineering
Affiliates
New York University - Universidad de La Rioja
View Profile
Team Bio
I am a PhD Candidate in Mechanical Engineering in Universidad de La Rioja, Spain. In collaboration with NYU Tandon School of Engineering.
From a passion in engineering, futurism and appreciation of nature combined with the concern about people's freedom to move the focus of my PhD is born.

My research line turns around answering questions that might solve some of the existing needs in the exoskeleton field.
http://faculty.poly.edu/~jhkim/

Inigo Sanz Pena
https://www.linkedin.com/in/in...
---
Project Backers
6

Backers

15%

Funded

$291

Total Donations

$48.50

Average Donation