About This Project
The Missouri Institute of Natural Science [501 (c)(3)] is in the beginning phase of preparing and mounting a Triceratops. As part of the restoration process the lab team will be looking for any clues specific to Henry's life and death in what is now Eastern Wyoming. When complete, Henry will be the centerpiece of the museum's expansion and the first mounted dinosaur of fossilized bone in the state of Missouri. But, to make this happen we need the materials. That's where we need your support.
Ask the Scientists
Join The Discussion
What is the context of this research?
The MINS was founded to support a recently unsealed Pleistocene (Ice Age) cave discovered in 2001. In 2009 a museum opened on location to showcase the cave's discoveries and a collection of fossils spanning the geological time scale. Then, and now, MINS has been staffed entirely by volunteers, including the director.
MINS volunteer staff excavated Henry from the Lance Creek Formation of eastern Wyoming in June of 2013 and again in June of 2014. The Lance formation is of Late Cretaceous age (69-66 Ma) at a time in Earth history when a shallow sea split the United States into two separate bodies, Laramidia in the west and Appalachia in the east. The Lance Formation was laid down by streams spilling into this sea from Laramidia's eastern shore creating a rich subtroptropical environment.
What is the significance of this project?
We will be paying close attention to Henry's dimensions. He may prove to be the largest fossilized remains of a Triceratops currently known.
We also want to provide museum visitors a mounted dinosaur with a complete story, so we will be looking for pathologies, taphonomic processes (the process of decay, burial and fossilization) and evidence of contemporary flora as well.
Our intent is to off-set Hollywood science with facts and offer quality science to Missourians. Bringing a dinosaur into an informational setting would allow people of all ages to consider a scientific approach to understanding the nature of life's development on earth. We can bring them a real fossilized dinosaur. The first and only in the state. But, this can't be done without the needed materials.
What are the goals of the project?
Ultimately, we want to do the best science possible and make the most of resources available to us, with the intent to add to the growing body of knowledge about horned dinosaurs. We want to add directly to the scientific world.
We also want to add indirectly. The Missouri Institute of Natural Science wants to open minds and educate people in a region of the US where there is less understanding of science as a discipline, and science is under-appreciated as a means to make sense of the world we live in.
Budget
Fossilized bone does not come out of the ground perfectly preserved as portrayed in popular media. Museums put an extensive amount of time, energy and resources into restoring a dinosaur to presentable form. The MINS preparation lab team has the first two covered with plenty of enthusiasm to spare. What we don't have is the materials to do the job.
I. Cyanoacrylate is the main ingredient in household super glue and used as a stabilizing material that holds ancient bone together. It comes in different viscosities depending on the job.
II. On average only half of specimen is all that remains when a dinosaur is excavated. The rest is scavenged after death or deteriorated. Filler/sculpting material will help fill in gaps, or complete what is missing of bone.
III. When the prep process is complete in the lab then Henry will need to be mounted. To do this a framework of steel piping will be constructed to support the bones and give him a form.

Meet the Team
Team Bio
Matt Forir is the founder of the Missouri Institute of Natural Science. He is also owner/operator of Forir Geo Exploration, geologist for Greene County and teaches speleology at Drury University in Springfield, Mo.
Brett Houser was born in southwest Missouri. His family has deep ties to the area, and he grew up with an appreciation of the natural beauty as well as a native curiosity concerning how it all came to be. He is an English instructor at Missouri State University and Ozarks Technical College. He also self-published several novels, more for fun than profit, but he spends as much time as he can at the Missouri Institute of Natural Science working at satisfying one of his earliest interests.
Chris Side is a Captain for the Battlefield Fire Dept. and been with MINS since 2012 when he and his crew responded to a call to contain a fire on property grounds. He immediately had a deep appreciation with the museum and became an important member of the team. He feels privileged to be apart of MINS and it is his strong desire to share it with others.
Jayme Swisher is a courier for FedEx Ground. He joined MINS in 2013 and has enjoyed every moment since.

Additional Information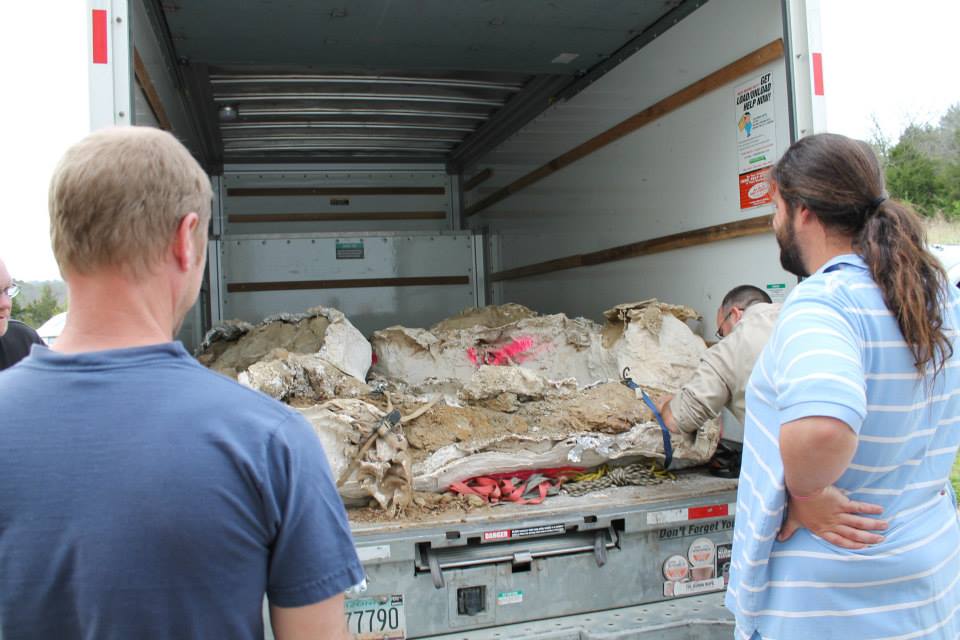 Henry arrives at MINS April 2014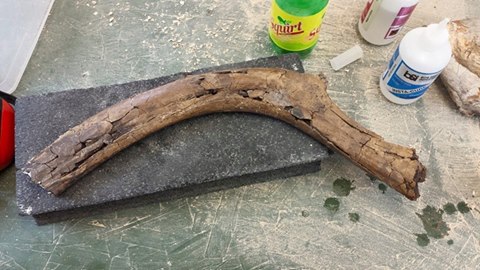 Recent work on a rib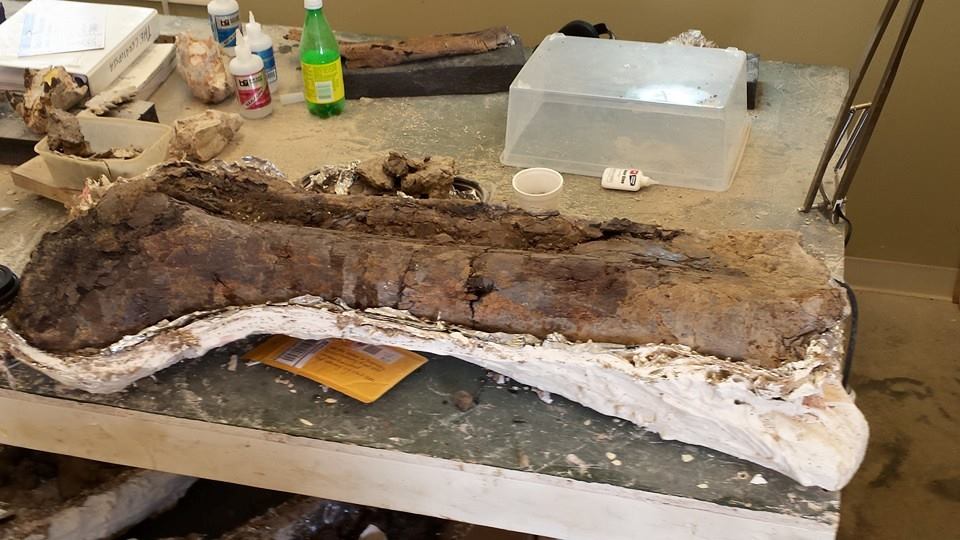 Henry's femur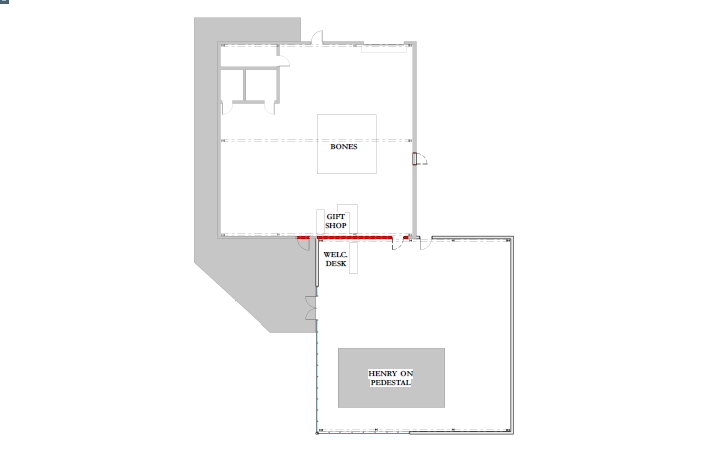 Floor plan of museum with new addition. Henry will be mounted on the pedestal in the lower left corner.
CONTRIBUTOR PERK ALERT:
In the event that MINS meets our goal, each donation of $100 will earn the contributor a personalized brick that will go into the construction of Henry's pedestal.
Each brick is limited to three lines, 11 characters per line.

Exterior view of addition

---
Project Backers
9

Backers

7%

Funded

$256

Total Donations

$28.44

Average Donation