About This Project
Depression is common among young adults and is a risk factor for suicide. Do young adults recognize the signs and symptoms of depression, and know what to do about it? What are the barriers? This online dissertation study focuses on young adults (ages 18-24) in San Francisco, and their opinions about getting help when it comes to mental health, especially depression. I hope my findings will contribute to future mental health programs and policies.
Ask the Scientists
Join The Discussion
What is the context of this research?
Mental health literacy is the knowledge and beliefs about mental disorders, and the application of that knowledge to benefit the individual's mental health. Oftentimes, teenager and young adults are unaware of the signs and symptoms of depression, which delays or avoids help-seeking for mental health treatment. Non-students (young adults who are not attending any school or college) represent a group that has been understudied in mental health due to their inaccessibility compared to those in the typical college stetting. In order to address the lack of studies done on this group of young people, non-students and young adults who are in college will be recruited for this study.
What is the significance of this project?
Before designing mental health programs and policies for young adults, there is a need to assess what young adults know about mental health literacy and help-seeking intention. There are few studies in the United States on this topic. It is important for young adults who are experiencing depression and suicidal thoughts to recognize that their symptoms are treatable and can be resolved with effective treatment, which may encourage them to seek professional help. Mental health literacy is a variable found to be important in assessing recognition and help-seeking for depression and other mental health issues. This project may lay the groundwork for future mental health interventions for young adults.
What are the goals of the project?
The online survey study is a cross-sectional design of young adults (ages 18-24) who live, work, and/or attend school in San Francisco. The purpose of the study is to examine the association between the mental health literacy scale for depression with suicidality and factors e.g., gender, and to test the theory of planned behavior in help-seeking intention for depression with suicidality. My study started on 9/12/2016 and my goal is to have a minimum of 600 surveys completed. Thus far I have 41 surveys done without paid advertisement. My study ends on 12/31/2016. The funding request I've made will assist me with raising greater awareness of the study, and potentially, interest in taking the online survey. I plan to publish my research findings in two peer-reviewed journals.
Budget
Since the study is online, a lot of the funding will involve advertisement costs and outreach. Both print advertisement and social media tools will be utilized. Print advertisement in English, Spanish, and Chinese will be used to do community outreach (e.g., street events, parks, libraries, laundromats, coffee shops, college campuses, youth serving agencies, etc). The social media advertisement is to reach a larger, unknown audience of 18-24 year olds in San Francisco. A social media intern has designed the website, social media tools, and flyers for the study, and will be co-assisting me with managing the social media sites (e.g., Facebook, Instagram, Twitter, etc). The youth helpers will be co-assisting me with distributing postcards and flyers when doing community outreach in different neighborhoods in San Francisco. I have a $1000 dissertation grant from Loma Linda University that covers other costs (e.g., SPSS, consultants, incentives for survey takers, study website).
Endorsed by
This is such an important research endeavor. I want to share a quote that I often keep in mind in my role as a project director and mental health advocate: "Americans are inundated with messages about success—in school, in a profession, in parenting, in relationships—without appreciating that successful performance rests on a foundation of mental health." - United States Surgeon General's Report on Mental Health, 1999
Good mental health provides a basis for other health-supporting behaviors, including those related to sexual health. The transitional period of late adolescence, ages 17-24, brings with it numerous mental health challenges that we need to better understand. I have worked with Ms. Zorrilla for many years and have great respect for her compassion, intellectual rigor, and skills as a health educator. I am confident that her research will be conducted ethically, and will make an important contribution to the public health literature.
Marcia and I became acquainted in 2011 when she began pursuing her Doctoral Program in Health Education, at Loma Linda University. As her academic advisor and chair of her dissertation, I can attest that she is an outstanding student and health educator, and a high achiever who displays promise as a future researcher. Her dissertation topic is very important to her, as she recognizes the need to educate and assist youth in the community and lower their risk of suicide. This is an area that she is very passionate about, and she has my support.
Marcia is a creative, innovative researcher and I am looking forward to being a part of her latest project. She is working to apply novel approaches to survey collection and recruitment, with an aim toward bringing in hard-to-reach participants.
Meet the Team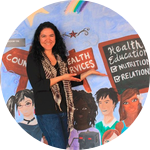 Marcia Zorrilla
DrPH Graduate Student
Affiliates
Loma Linda University School of Public Health
View Profile
Marcia Zorrilla
I graduated with a BS in animal science from Cornell University and a MPH in community health education from New York University. I've been a health educator in a teen clinic for nearly two decades. Working with adolescents, I've learned that unless mental health issues are addressed, it is very difficult to concentrate on life. Mental health issues impact a person's relationships, the ability to learn in school or hold a job. I currently work with a group of high school youth and have collaborated with them on community-based theatre presentations focusing on mental health issues from stress, anxiety, and depression to unhealthy relationships. I have published a chapter on youth engagement and I have made numerous presentations at conferences over the years on health education, mental health, and youth engagement. I have many years of experience with program planning, including starting new programs from the ground up. In 2011, I started the doctoral program in health education at the Loma Linda University, School of Public Health. I'm currently completing my DrPH in health education with a cognate in psychology. In 2014, I was honored to receive the Ruth White Doctoral Scholarship. Through my work and educational experiences, my passion for mental health education has grown. During my grad school journey at Loma Linda University, I've embraced the body and mind connection even more. We are "whole" beings and we cannot separate the body and the mind; we need to take care of whole person. Please see my LinkedIn for more information about my background.
---
Project Backers
37

Backers

100%

Funded

$3,300

Total Donations

$89.19

Average Donation