About This Project
Lignin Biocoating (LBC) is a petroleum-free, natural, functional coating that imparts water resistance to paper and board as used in corrugated boxes or anything that needs a barrier to water. This is significant as an alternative to single use plastic. Our Liquid Water Barrier properties are excellent, but it is unknown what impact exposure to ethanol will have. By creating solvents at various concentration and replacing water during the Cobb test, this can be determined.
Ask the Scientists
Join The Discussion
What is the context of this research?
While a researcher at Queensland University of Technology (QUT) I co-discovered how to make lignin into a water proof coating, LBC - and in efforts to continue working on this existence friendly coating - I have chosen to try and self fund and support.

For this investigation, I would like to explore chemical resistant properties of LBC when exposed to ethanol. This will determine whether it can used to package other materials, such as alcoholic beverages.

I have already established that LBC repels water, and this test is the first step in exploring what else it can repel.
What is the significance of this project?
LBC is a fully sustainable, renewable, recyclable, repulpable, compostibable, biodegradable, bio-based, non-toxic and non- hazardous water resistant coating that can be used as an alternative to petroleum wax and polyethylene as used in cardboard vegetable boxes.
It is unknown if a chemical resistance to ethanol exists, i.e. if the impressive water resistant properties are retained, and discovering this will expand the potential applications to this environmental technology.
What are the goals of the project?
First goal is to coat linerboard, as used in creation of corrugated boxes, with LBCv3.0 from a previous at scale (tonnes) production trial. This is achieved by way of automated rod coating, that is then activated (made water resistant) and trimmed to generate lab based samples for exposure to various concentrations of ethanol.
The ethanol exposure will occur during typical Liquid Water Barrier testing (Cobb 30 minutes), with normal water swapped for the ethanol loading. This data will then be used to evaluate against both uncoated and typical water controls to determine if any potential exists for holding alcoholic beverages in a LBC coated construct. A good outcome is a response of less than 40 g/m2 over 30 minutes.
Budget
Help me understand what impact ethanol has on LBC. Will it increase the water resistance of this natural functional coating? Maybe decrease? If so at what at what percentage does this occur?
I have self funded a modest analytical coating laboratory (TietzLab) to support the Lignin Biocoating (LBC) technology, and have most coating equipment, ovens, and required testing equipment already on hand. Industry has also supported me with substrates (starting paper) so I don't need help with that.
The budget for this investigation is for both generic lab supplies (gloves, paper toweling, sample vessels) ($200), investigation specific supplies (solvents) ($200) generic lab running ($100) and access ($100).
I have included a stipend (min wage $20/hr - 100 hrs over 3-4 weeks) to continue doing this full time - from when I wake until sleep most days - I am 100% LBC.
Every dollar helps keep the ovens on. Thank you.
Endorsed by
Lignin is currently a byproduct of many industries and finding a use for this waste, as well as reducing our reliance on plastic, is really exciting for me as a material person. Albert is a very passionate and thorough researcher, who is selflessly pursuing LBC for people and planet. Please support Albert and LBC!
Project Timeline
Generally 3-4 weeks are required from when all required materials are on hand (solvents) to prepare the substrates, condition, coat, post condition, trim, label and test. The data will then tabulated to write a summary report.

The testing itself is a 30 minute exposure test, but with replicates and series conditions, a full day of testing (sunup to sundown ) is typically required for a given investigation.
Feb 05, 2020
Project Launched
Feb 13, 2020
Prepare substrates (reduce industry to lab size paper, coat, activate and trim to size ready for testing). Prepare testing solutions (0-Max% EtOH).
Feb 20, 2020
Post condition samples (48hrs) and test for Liquid Water Barrier Properties (Cobb 30 min) using prepared solutions instead of water
Feb 27, 2020
Tabulate data and create summary report of data. - DRAFT
Mar 05, 2020
Final presentation of investigation results.
Meet the Team
Albert Tietz
Hi and thanks for showing interest in natural solutions to industrial commercial problems.
From the time a wave washed over me with trash and single use plastic in a otherwise pristine paradise, I knew first hand we were in trouble, and that I wanted, no needed, to do something about it. I just was not sure how.
Fast forward a few degrees (Bach App. Sci - Forensics, Bach I.T - Intelligent systems), a stint in QC of pharmaceuticals and 7 years at a local university progressing from research assistant to Technical Manager - Research and Development, I found, along with my research partner Les Edye, a world of sustainable functional properties ready to be valorised with a widely available by product - Lignin - and created LBC (Lignin Barrier Coating, leafCOAT and Lignin Biocoating are all names for LBC).
While the foundation IP is patented to QUT, of which I am a inventor, I am still only scratching the surface of what LBC is capable of, or what limits exists. The project has 'finished' and is no longer funded - but in my mind the work has only just begun.
To that end I have self funded TietzScience as a way to continue further the technology and support as able. I have replicated my university capabilities and built a modest independent analytical coating laboratory that is ready, willing and importantly able to deliver real sustainable, alternatives to industry. Let's explore, experiment and enhance just a little more.

Additional Information
(LBC Background) - Lignin Barrier Coating was first created at Queensland University of Technology and supported from 2012 to 2016 over three successful proof of concept projects and a get to market - Accelerating Commercialisation grant (2016/17) that lead to the technology being licenced for select territories (Au, NZ, Malaysia, Europe and the Americas) (2017/18). While this is the purpose of technology, it also led to the internal funding to end at this time. Unable to stand idle, one of the inventors - Albert Tietz aka Sir Science - created TietzScience in efforts to continue developments.
As of today (December 2019) the external licence has now expired for most territories, and in spite of having almost no direct funding for 12 mths, the work has only just begun. I have been working for free and giving all I have the last 7 years, but I am empty, and need a little help. Funding these specific investigations to explore additional aspects of LBC will really make a dramatic impact in providing that help.
I have gone from 1 L to 12 tonne of LBC, I have gone from coating A4 sheets to 8 km rolls - more than 22 km total to date, but obviously as you are not touching LBC right now - I have not been successful. Regardless I don't think we should give up. Each of these investigations that are funded for me - help me to dedicate specific time to continue working on this research and expand our understanding of what is possible. I sincerely thank you for any and all assistance. Solutions to our plastic addiction are possible. Regards - Sir Science.

Below is a example of LBC after water exposure - in a Cobb testing unit - demonstrating hydrophobicity. - as a teaser. Isn't it beautiful (no - being a natural product - it does not come in white, just this elegant earthy chocolate).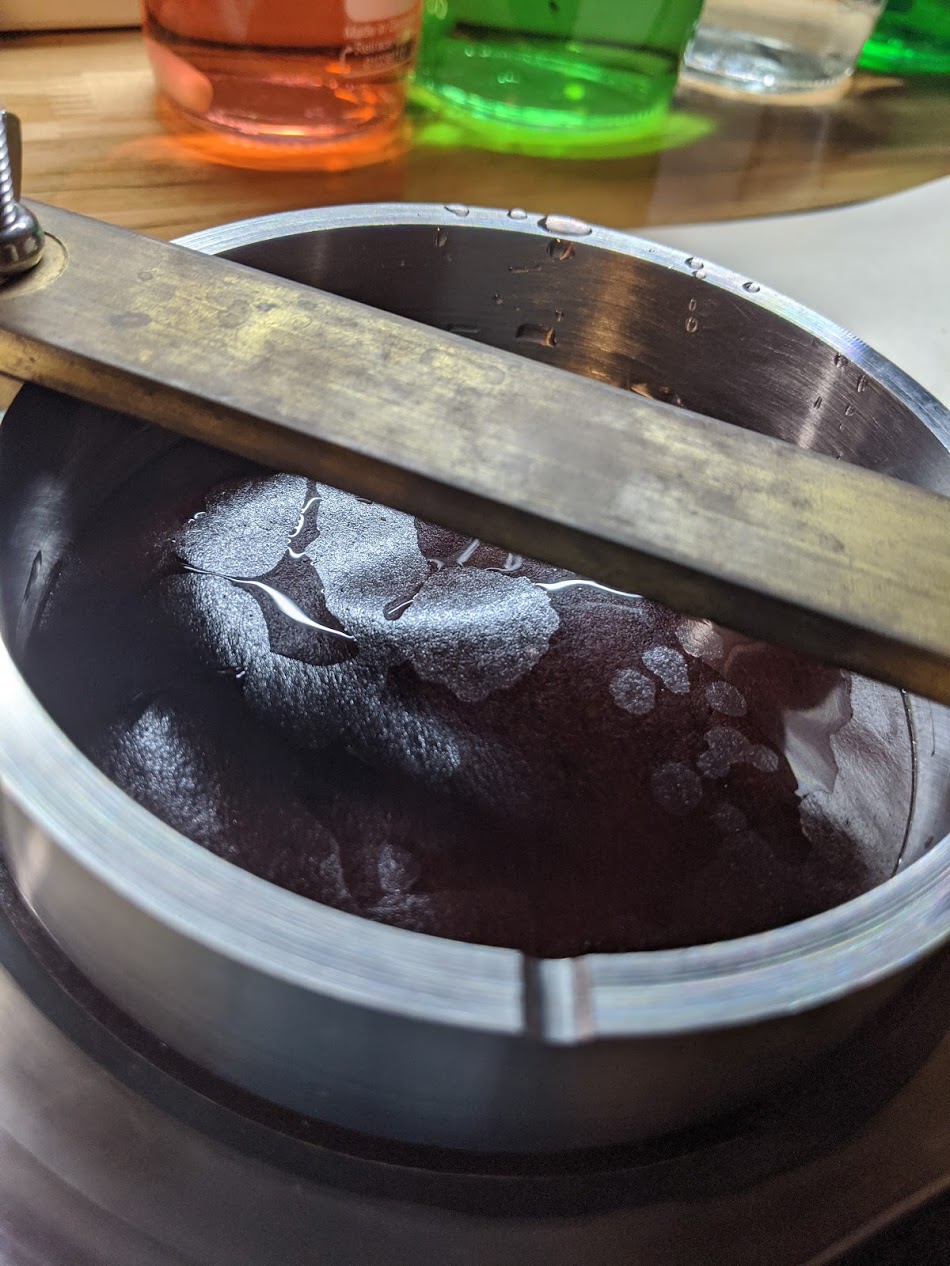 ---
Project Backers
17

Backers

36%

Funded

$915

Total Donations

$53.82

Average Donation