Project Results
SPATT results from 2013-2017 indicated widespread occurrence of the cyanotoxins microcystin and anatoxin-a in the Eel River watershed, but the levels of anatoxin-a were an order of magnitude higher. Anatoxin-a is a swift acting neurotoxin that kills through paralysis. The organism thought to be responsible for most of the anatoxin-a production in the Eel River watershed is Anabaena, a type of cyanobacteria that thrives in warm water, particularly in slow flowing water at channel margins. The years of our study period span a wide range of hydrologic conditions, with summer flows being highest in 2017 and generally lowest in 2014 and 2015. The quantity of anatoxin-a that accumulated on the SPATTs was far higher in dry years and peaked in 2015, which we attribute in part to very low flows and high air temperatures during the spring. Wet years like 2016 and 2017 showed very low levels of cyanotoxins.
Anatoxin-a accumulations and detection frequencies were generally higher in lower and middle reaches of the South Fork Eel River watershed. An exception was in 2015, when levels were high all over the Eel River basin. Peak anatoxin-a accumulations occurred during the warmest part of the year, but sites with the hottest peak summer temperatures (Middle Fork Eel and middle mainstem Eel River) generally did not have high accumulations of anatoxin-a. This suggests that other factors in addition to water temperature are contributing to the South Fork Eel River's susceptibility to Anabaena blooms. We speculate that may be due in part to current and past land use in the watershed, including Cannabis farms, timber harvest, and roads, which collectively generate nutrient pollution, sediment, and reduce summer base flows. A warming climate is also increasing water temperatures.
Phormidium is another anatoxin-a producing cyanobacteria that is present in the Eel river watershed and it can tolerate cold water and prefers fast-moving water and riffles. In 2016, a canine mortality in the upper Eel River reach within the Potter Valley Hydroelectric Project proximate to lush growth of Phormidium implicated the species as a potential source of lethal levels cyanotoxins. This requires further study. The Eel River Recovery Project will be continuing to use volunteers to monitor cyanotoxins throughout the watershed with assistance from the Kudela Laboratory at UC Santa Cruz.
About This Project
The Eel River, California's third largest river, is famous for its salmon and steelhead runs. Since about 2001, toxic cyanobacteria have been present in the river. The University of California helped the Eel River Recovery Project collect hundreds of cyanotoxin samples throughout the watershed from 2013-2016. This project would enable us to analyze patterns of cyanotoxin occurrence and trends, and to produce a report that we will share with government agencies and the public.
Ask the Scientists
Join The Discussion
What is the context of this research?
Eel River residents are alarmed that toxic blue-green algae capable of killing dogs and people is present in the river and may be proliferating. In 2011, volunteers began collecting algae samples.
We found that 98 out of 177 samples from 2013 and 2014 contained at least low levels of the most deadly of the toxins, Anatoxin-A. See report. Dr. Mary Power advanced the hypothesis that reduced flow was a causal mechanism.
Now, we plan to examine all the data to answer some basic questions. Why do some sections of the river produce toxic algae while others do not? Is toxic algae more abundant during droughts and periods of low flow? What is the effect of water temperature? Can water flow and temperature be used to predict when and where toxic algae blooms will occur?
What is the significance of this project?
The people of the Eel River, the Indian tribes in the watershed, and government agencies need to have as much data on cyanobacteria as possible, so we can begin to address the problem.

The communities of Garberville and Redway drink water from the South Fork Eel River, where the problem is most acute. Many people swim in the river and are at risk of ingesting toxic algae. Children and dogs are especially vulnerable; several dogs have already died.

The information we gain from this project will help us to know when it is safe or unsafe to use the Eel River for recreation and what watershed residents can do to reduce cyanotoxin proliferation. Crowd funding leverages hundreds of volunteer hours and major support from UCB and UCSC. Our community needs this!
What are the goals of the project?
The 2016 field season has just ended. ERRP volunteers collected the resin devices used for monitoring cyanotoxins and sent them to UC Santa Cruz where they were tested for the presence of toxins.
We will acquire the raw data from UCSC, organize them into a database, perform quality assurance and quality control, perform analysis, and produce a draft report of our findings.
The draft report will be peer reviewed by scientists at UC Berkeley and UC Santa Cruz. We will post the final report on our website and share it with the community, government agencies, and the California-wide network ResearchGate.

Report findings and recommendations will guide future ERRP studies.
Budget
The Eel River Recovery Project (ERRP) is a grassroots group that assists citizen scientists in the Eel River watershed. We've been monitoring cyanobacteria since 2012 with the assistance of University of California Berkeley doctoral candidate Keith Bouma-Gregson, the UCB Department of Integrative Biology, and UC Santa Cruz.
Volunteers spent many hours placing and maintaining Solid Phase Adsorption Toxin Tracking (SPATT) monitoring devices in the river. We now have hundreds of samples from 2013 to 2016.
We set the amount of $5000 to be sure we would reach our goal. Our actual cost is anticipated to be $10,000. Also, we do not have a budget for collection of new data and analysis in 2017. Funds raised in excess of $10,000 will pay for work in the 2017 season.
Endorsed by
I am very grateful that Patrick, Eli, and Diane will carry out this study, which is critically important to the future of humans and nature along the Eel River. Their energy, their deep sense and love of place, and their impressive organizational skills have driven many other successful projects on behalf of North Coast watersheds and committed citizens. In this project, they are investigating the causes and consequences for one of the more critical challenges facing the Eel and other rivers in the region over the coming decades.
The Humboldt County Department of Health & Human Services-Division of Environmental Health (DEH) has been aware of toxic cyanobacteria in the Eel River since 2001. Monitoring efforts of Eel River cyanotoxins by the Eel River Recovery Project and UC Berkeley has helped DEH better understand the timing and extent of blooms- which help minimize public health risk. This project will help us learn more about inter-annual and geographic toxic bloom variability over a period with extended drought, outbreak onset, and duration of the annual toxicity.
Across the US and worldwide, it has been demonstrated that meaningful watershed stewardship requires the involvement of passionate citizens dedicated to science based management and equitable solutions. Thankfully the Eel River has such a group, the Eel River Recovery Project. The ERRP and its volunteer citizen scientists have been teaming up with researchers and agencies so that otherwise unobtainable data for Eel River science investigations can be achieved. ERRP then meaningfully communicates these results to everyone in the community.
Meet the Team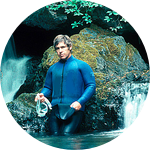 Patrick Higgins
ERRP Managing Director
Affiliates
Grad HSU 1975 BA Biology, 1985-88 Fisheries Graduate Studies HSU, lifetime member American Fisheries Society
View Profile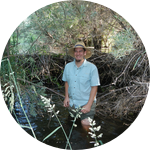 Eli Asarian
Aquatic ecologist
Affiliates
Riverbend Sciences
View Profile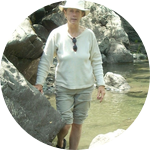 Diane Higgins
Website Designer
Affiliates
Eel River Recovery Project
View Profile
Team Bio
Eli Asarian, Pat Higgins and Diane Higgins have worked together for years on the KRIS Project, for the Klamath Tribal Water Quality Consortium and more recently on the Eel River Citizen Monitoring and Outreach grant completed in May 2016 ). Their long-standing working relationship ensures cost-effective performance, high quality results, and effective outreach.
Patrick Higgins
Patrick Higgins has been a consulting fisheries biologist and watershed scientist with an office in Arcata, CA since 1989. He published Stocks at Risk in Northwestern California for the American Fisheries Society in 1992. Pat has contributed to restoration plans for the Klamath and and South Fork Trinity rivers. He began studying the Eel River in 2010 and published findings that native fall Chinook escapement had risen into the tens of thousands similar to population levels in the 1950's. Pat helped form the Eel River Recovery Project, coordinated volunteers in cyanotoxin surveys, and has volunteered hundreds of hours in helping collect data from 2013-2016. His curiosity is a motive force for his involvement in Eel River studies as well as his desire to help the community and restore the Eel River ecosystem.
Eli Asarian
Eli Asarian is an aquatic scientist and principal at Riverbend Sciences in Eureka, California. He studies rivers and streams primarily in northwest California and specializes in the analysis of large, complex datasets. He has authored or co-authored over twenty technical analyses on Klamath River water quality, nutrient dynamics, periphyton, phytoplankton, and hydrology. His Eel River projects include analyses of long-term trends in streamflow and a comprehensive compilation of stream temperature data. More information is available on Riverbend Sciences' website.

Diane Higgins
Diane Higgins is an educator and website designer. She holds a BA in Physical Science from U.C. Berkeley, a MA in Education from Humboldt State University, and two California teaching credentials. Diane has developed several educational programs for grades K-12 and has created numerous web sites, including the Eel River Recovery Project site.
---
Project Backers
45

Backers

101%

Funded

$5,057

Total Donations

$112.38

Average Donation