About This Project
In the midst of the Covid-19 pandemic, roughly 50% of the American population is fully vaccinated. Several factors influence people's willingness or reluctance to be vaccinated, and this will be investigated from a behavioral science perspective. Understanding people's opinions towards public-health policies could augment scientific knowledge in human behavior; furthermore, it may help predict future vaccination rate trends.
Ask the Scientists
Join The Discussion
What is the context of this research?
The development of different Covid-19 vaccines is a milestone in controlling the pandemic. According to different studies, vaccination is an efficient method to prevent the spread of the disease by favoring the production of antibodies. In the United States, vaccines are free of charge and are relatively easy to obtain; however, only 46% are fully vaccinated. Some scientists and people are against the idea of getting vaccinated, despite its potential benefits. Reasons include the potential side effects, the lack of trust in vaccines or in the institutions that manufacture them. It seems that people are polarized regarding their opinions about the vaccine. How and why is this happening? What are some factors that contribute to people's decisions?
What is the significance of this project?
Using behavioral science methods will provide insights into human cognition. It may answer whether heuristics have an influence on the decision-making process and to what extent. Moreover, it may predict whether participants are more likely to get vaccinated depending on their cognitive biases, political inclinations, or socioeconomic backgrounds. This could result in further studies and applications such as brain activity when experiencing cognitive biases. Furthermore, the experiment could be replicated across the country for generalization. Public health officials will have a better understanding of the way people react to current policies; moreover, they may be able to hypothesize people's reactions to future public programs.
What are the goals of the project?
The main goal is to understand the factors involved in the decision-making process of taking the Covid-19 vaccine. An important factor that will be considered is cognitive biases. It is of interest to determine whether participants show omission, confirmation, optimism, or negative bias when reasoning whether to vaccinate. Thus, the study will try to determine if there is a correlation between these biases and vaccination decisions, and hence provide possible explanations for people's behavior. In addition, it will consider political inclinations and their effect on the decision-making process. Lastly, this project will consider the socio-economic background of participants and how this may affect their decisions towards getting vaccinated or not.
Budget
The research project proposed herein involves a coordinated and efficient effort for the collection and analysis of data. It is anticipated that more than 100 participants will be part of the study; these will include college students from Northwest Missouri State University and adults from the Maryville, Missouri, area. Contacting individuals requires advertising strategies and monetary incentives to foster participation in the study. Furthermore, collection and analysis of data require the use of advanced technological software such as SONA Systems and SPSS; the use of these platforms requires the payment of a monthly subscription.
Endorsed by
This timely study has the potential to contribute to the discipline of psychology and related areas. It may also inform additional research with practical applications. I look forward to seeing the findings.
Project Timeline
This investigation will start by conducting a literature review on factors that influence decision-making. It will consider the effects of political inclinations, socioeconomic background, and cognitive biases. Subsequently, participants for the study will be recruited in Maryville, Missouri. After more than 100 participants are surveyed and data is collected, an analysis will be performed. Results will be presented on a poster and an article.
Jul 10, 2021
Literature review
Jul 22, 2021
Project Launched
Jul 31, 2021
Data Collection
Aug 11, 2021
Data analysis
Meet the Team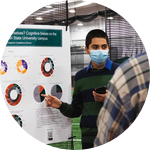 Camilo Castelblanco
Affiliates
Northwest Missouri State University
View Profile
Team Bio
Coming from a Native American and African background, Camilo and Collins have worked their way in scientific research. Their main goal is to seek novel and useful methods to improve the quality and well-being of others. To do so, both approach challenges from a holistic approach using behavioral science, chemistry, biology, and more.
Camilo Castelblanco
Camilo is an undergraduate student in Biopsychology minoring in biochemistry. He has worked in Dr. McCain's Cogntive Psychology Lab understanding cognitive biases and self-regulated learning in college students. Results of his research have been presented at The Great Plains Psychology convention and have been recognized in his school. Furthermore, he has been part of Dr. Meziani's lab of nanochemistry synthesizing nanoparticles for health-related purposes. Results have been shared at the Missouri Academi of Science. Camilo is fascinated by human behavior and the neural substrates behind it. He intends to pursue a Ph.D. in neuroscience, integrating the biological and psychological components.
Collins Nwanonenyi
Collins is a Biomedical Scientist. He has experience working in nanochemistry labs, having developed novel methods for the exfoliation of boron nitride. He has an interest in human anatomy and physiology and is always looking for the well-being of others (certified as NREMT). Collins also enjoys learning about human behavior excelling in disciplines like developmental psychology. He has experience with people from the clinic perspective (as an NREMT and Emergency Room assistant), and as a volunteer (for example, serving food for people in need in Philadelphia).
---
Project Backers
1

Backers

4%

Funded

$50

Total Donations

$50.00

Average Donation