About This Project
While doing chemical analysis of tooth enamel to reconstruct ancient environments, paleontologists have become over-reliant on the mammalian third molar (M3 or wisdom tooth). The problem with this is that the third-molar is rarely found in younger mammals' jaws, whereas young animals constitute much of the fossil record. Here, we seek to test the viability of using incisors (which are much more common) instead of the M3 as a new, more abundant resource to reconstruct the Earth's past.
Ask the Scientists
Join The Discussion
What is the context of this research?
The widespread dependence on third-molars (or "wisdom teeth," abbreviated M3) in environmental studies, is a limitation that we find concerning. M3s are ideal because they are generally large enough for multiple analyses and also form after milk-weaning (see Bryant et al., 1996 and Hoppe et al, 2004 and 2005). The assumption that the other tooth positions may contain a "milk signal" is largely untested, and there is some evidence that it is relatively minor (see Wang et al., 2008). We believe that the narrow focus on M3s as the sole means to understanding ancient environment is unnecessarily limiting. With this project, we will explore viable alternatives to study of M3, improving the likelihood of making meaningful environmental interpretations with a broader range of potential samples.

What is the significance of this project?
Third molars are only found in mammals aged well past adolescence and into sexual maturity. Many mammals die and fossilize before the third molar even begins to form. We believe that other tooth positions, especially incisors, may yield equally accurate findings as would a third molar, making available a much broader suite of fossils for study. Materially, this will drive down the costs of having to find and analyze jaws (as one won't need to worry about finding jaws with very specific teeth), as well as save time for those researchers. This will also make it possible to conduct research with specimens in lower demand for other types of paleontological research. In short, using teeth other than the M3 will result in more research with less risk.

What are the goals of the project?
The goal of this project is to explore the viability of teeth that are not third molars for conducting chemical analysis to better understand past environments
We will solicit and crowdsource our fossilized jaws from connections in the field as well as strangers. We plan on obtaining fossils in throughout the United States, and hopefully as far away as Australia where we can study the implications of tooth position in not just the jaws of placental mammals, but those of marsupials as well. Recent studies show that teeth in the jaws of rodents are particularly sensitive to environmental changes.
Through analysis of multiple teeth from a single jaw, we can confidently show whether other tooth positions provide equivalent interpretations as the most commonly used third molar.

Budget
We will focus our study mainly within the United States and will utilize laboratory facilities in the Rochester, NY area. We will study jaws of a diverse suite of mammals, of different sizes and dietary preferences, and from different environments.
Because we need a wide variety of jaws, it is imperative that it is easy to solicit samples from people that they can send to us. These will be comprised of jaws and teeth that people find by happenstance while outdoors. We estimate it will cost about $10 per jaw for shipping. We will be mindful of legal and ethical limitations of shipping of bones.

For each jaw, multiple powdered enamel samples must be collected and chemically treated prior to analysis. We estimate the total cost of this will be about $10 per jaw.
Samples will be sent to a third party laboratory for analysis. Typical costs are $15-$20 per analysis. We ask here for $20 per sample, with any excess used to defray the cost of shipping prepared samples to the laboratory.

Endorsed by
This is a much needed query in the field of isotope geochemistry. It will allow flexibility when choosing specimens to sample, something that is desperately needed in Vertebrate Paleontology. Dr. Higgins is certainly the best qualified person to do this work!
Project Timeline
August 1 - Launch Crowdsourcing Campaign
August 8 - Identify laboratory for analysis
August 17 - Complete sampling from jaws in our personal collections
August 31 - Ship first set of samples to laboratory for analysis
September 28 - Summarize results

Aug 17, 2020
Project Launched
Aug 31, 2020
Send first set of samples to contract lab
Mar 31, 2021
Submit abstract to Society of Vertebrate Paleontology annual meeting to present results.
Meet the Team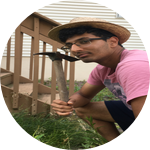 Rohat Chari
Assistant Researcher
Affiliates
Penny Higgins
View Profile
Team Bio
As a liberal arts major, Rohat provides a uniquely youthful, "outsider" perspective to the field of paleontology. Penny, on the other hand, has decades of experience in the field and, as an aspiring entrepreneur on the side, has always been driven to test and break long-held assumptions. This project addresses deeply-rooted beliefs in the study of paleoecology and suits both Rohat and Penny perfectly.
Rohat Chari
I am a rising sophomore at the University of Rochester, majoring in International Relations and Financial Economics. You may ask, what is a 19 year old liberal arts major doing in the field of paleontology? I've grown up around animals and nature throughout my life. My interest in paleontology, stemming from children's books and digging holes in my front yard, evidently wasn't "just a phase, mom"; rather, it was something I never got to fully explore until I entered college. I think a lot of kids my age suffer from this idea that paleontology is an exclusive field populated by uninteresting adults, which is entirely not true as I've found. I have a lot to learn in this field, but I am more than ready to take the dive and I think this project is the perfect springboard to delve into deeper, even more far-reaching projects in the future. I can't wait to get started and I hope you're as excited about the results as we are!
Penny Higgins
I am a vertebrate paleontologist specializing in studying the chemistry of fossil teeth to better understand past environments and the behavior of animals in those environments. Until recently, I was a researcher at the University of Rochester, but now I'm doing research independently whilst running a nature and pet photography business.
This project has been on my mind for many years as it addresses a fundamental assumption (and limitation) with the study of fossil teeth.

Additional Information
Given that we are crowdsourcing so much of our project, from the funding to the actual jaws being analyzed, we recognize that this is an important and unique experiment undertaken in the paleontology community. It is critical that as many interested parties as possible are involved in this experiment. The results of this experiment may seem basic, but that's the point. Sometimes basic research is overlooked for more sensational projects. We are challenging fundamental protocols by which research has been conducted in the past and your help in gathering materials and raising money could change how ancient environments are studied from now on.
---
Project Backers
6

Backers

3%

Funded

$115

Total Donations

$19.17

Average Donation