About This Project
A multidisciplinary team of researchers will assess the health of Guadalupe fur seal pups and adults by studying the wild population on Guadalupe Island off Baja California, Mexico. The goal is to gather information about several aspects of the physiology, ecology and behavior for this threatened species.
Please view this video for a quick look into life on Guadalupe Island, credit to OceansAloft LLC. Footage of marine mammals around 3:55 minutes.
Ask the Scientists
Join The Discussion
What is the context of this research?
Guadalupe fur seals have recently experienced large numbers of strandings in California so understanding the dynamics of the wild population is incredibly timely and important. Recently, researchers from Centro Interdisciplinario de Ciencias Marinas (CICIMAR) in Baja California, Mexico have attempted to understand the causes of mortality and exposure to disease in wild fur seal pups and the foraging habits of adults while at sea. We plan to assist with this research and also perform anesthesia on adult animals to study their physiology in response to acute stressors in the environment.

What is the significance of this project?
Our goal is to understand how stressors can contribute to harmful changes in the physiology of fur seals in order to prevent these interactions in the future. Guadalupe fur seals are an important animal to study because they live and breed on a small isolated area in the Pacific Ocean and associate with areas of high marine productivity. They can be a sentinel species if there are disruptions to lower trophic levels or changes in ocean patterns, such as the current El Niño event that can affect prey abundance near their breeding grounds.
Establishing broader assessment of wild Guadalupe fur seals will provide critical information about the conservation and health of individual animals that can be applied to the management and conservation of marine species everywhere.
What are the goals of the project?
One way to measure stress and immune response in seals is via hormones and antibodies found in the blood. These hormones are prevalent in animals that have difficulties with adapting to current conditions or undergoing chronic stress in the environment. We plan to quantify these stress and immune markers and relate them to health functions and life history of the current population of fur seals.
Our team, which includes researchers from Sonoma State, marine mammal rehabilitation centers, and CICIMAR in Baja, will travel to Guadalupe Island in March 2016 to perform anesthesia and sample wild fur seals. Blood samples will be collected to analyze hematology and physiology, which will tell a story about exposure to infectious disease or amount of stress they are undergoing.

Budget
Understanding fur seal physiology will rely heavily on your generous donations. The field season will begin in March 2016 and travel to the field site is the most expensive aspect of completing the research.
Sampling is crucial to understanding the health and ecology of this species. The items we will purchase with your donations will go towards instruments that will be involved directly with handling the seals, such as anesthesia equipment and medical supplies for blood and sample collection.

How you can help!!
If you donate at least $50 dollars:

We will send you a individualized 8"x10" print of a wild fur seal taken by a scientist in the field. (Limited to U.S. shipping addresses)

It will also include a short description with data for this specific animal and natural history facts for Guadalupe fur seals. This is a rare opportunity to receive a photo of this species which lives in remote conditions that very few people travel to.
Endorsed by
I enthusiastically support this project that will provide knowledge about the understudied Guadalupe fur seal. I have had the opportunity to work with both Geno and Lorraine in the field, and they are both dedicated to the conservation of marine mammals. I have also worked with the researchers Fernando Elloriaga and Casandra Galvez in Baja California, and I know together they will succeed with this collaborative project and provide important information for assessing the impacts on individual health and populations of fur seals.
Meet the Team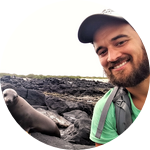 Geno DeRango
Post-Doctoral Researcher
Affiliates
University of California Santa Cruz Bielefeld University
View Profile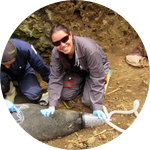 Lorraine Barbosa, DVM, MPVM
Veterinarian
Affiliates
California Wildlife Center
View Profile
Casandra Gálvez
PhD student
Affiliates
Interdisciplinary Center of Marine Sciences-National Polytechnic Institute (CICIMAR-IPN)
View Profile
Geno DeRango
I am currently a postdoctoral researcher studying the behavior of elephant seals through the University of California Santa Cruz. I recently completed my PhD through Bielefeld University, where our group, in collaboration with the Galapagos National Park, studied individual Galapagos sea lions. This work involved intensive long-term studies where we followed local populations of sea lions to quantify birth rates, behavior, and the success of individuals. On a personal level, I'm a transplant from the Midwest United States who left the big cities and cornfields to work with wild marine mammals as part of the stranding networks in both Alaska and California. My fortunate experiences have allowed me to work with a number of talented and dedicated marine biologists and veterinarians. I've become hooked on the ocean and vertebrates that live within it. My interests involve pinniped ecology and conservation, with focus on how stressors can impact their physiology and health. Sea lions are personal favorites as they typically live in remote areas that can be exciting to travel to. Although I enjoy working with individual animals, my goal is to provide physiological data that can help manage conservation efforts for whole species and marine ecosystems.

Lorraine Barbosa, DVM, MPVM
I have been working with marine mammals for several years, including previously as a veterinarian at The Marine Mammal Center, and currently as a veterinarian at California Wildlife Center. My interests include pinniped medicine and conservation, and working to enhance our understanding of and improve wildlife health.
Casandra Gálvez
I am a veterinarian and currently a PhD student in Mexico. I have always been interested in wildlife health, because it reflects a global scenario of our ecosystems reality. For some years I worked with Guadalupe fur seal health, applying different indicators (hematological, pathological, microbiological, and morphometrical) through interdisciplinary collaborations from Mexico, New Zealand, and EE.UU.
For me, morphometric analysis (body condition) acts as a health indicator over time due to their sensibility to natural and anthropogenic factors, such as global warming food availability, habitat disturbance and diseases. Vulnerable populations like Guadalupe fur seal, can be more sensitive to some alterations due to their restricted distribution and abundance. Although it`s an isolated population, it is evident that warmer oceanic condition could significantly impact the entire population. The impact of warm conditions on neonatal fur seal body mass was assessed during three consecutive breeding seasons (2014 to 2016) in Guadalupe Island, B.C., finding a negafive effect on individuals body mass. Due to the fact that San Benito archipelago is under recolonization by Guadalupe fur seal young individuals, their age could make them more sensitive to environmental changes, affecting their feeding habits, body weight, survival, and hence the population recovery.
Additional Information
Photos of an adult male and female Guadalupe fur seal (above) and a young pup (below) taken in 2015 by Casandra Galvez, a researcher at CICIMAR in Baja California. Casandra studies causes of mortality in young pups.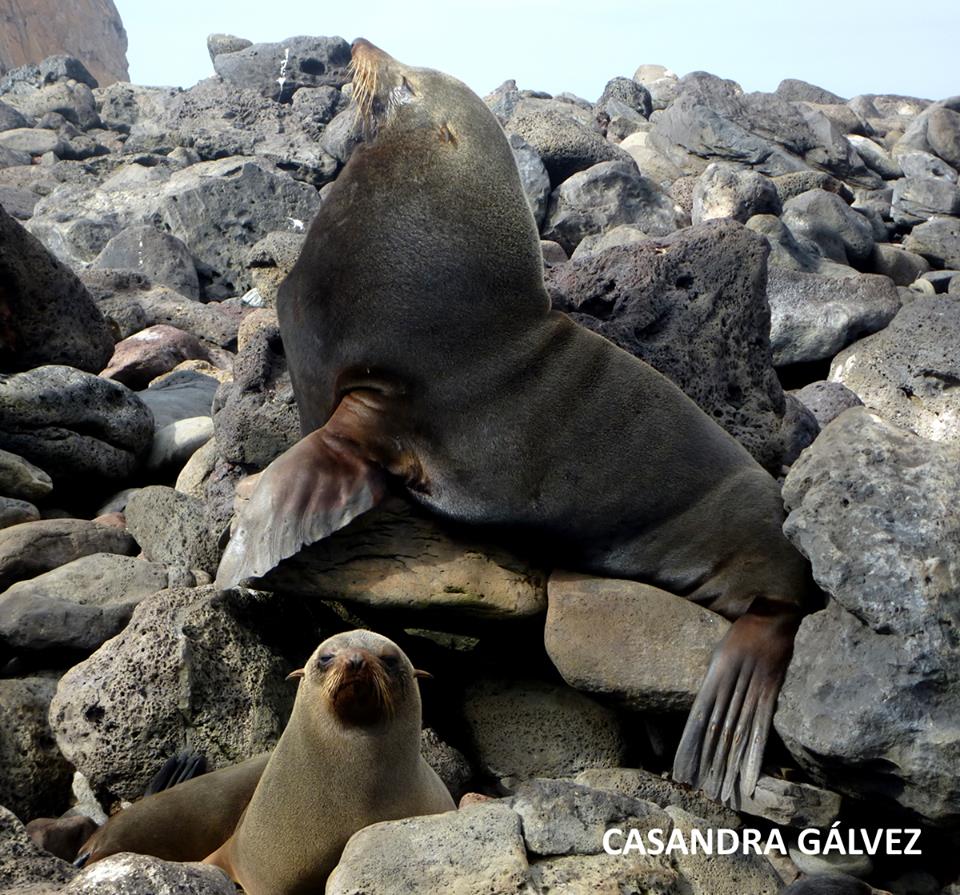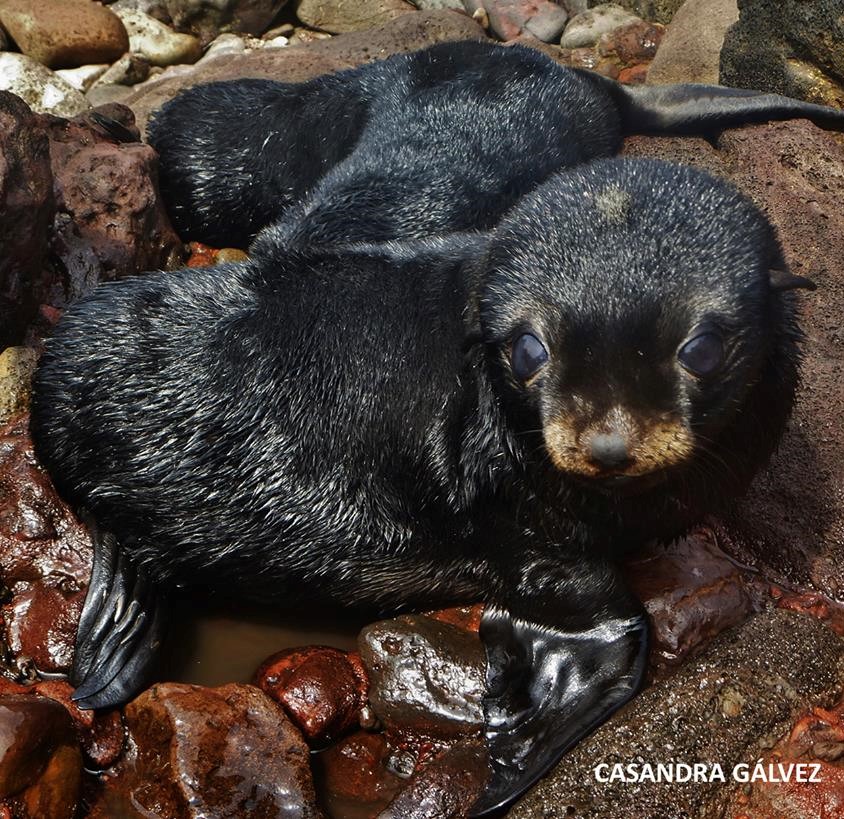 ---
Project Backers
182

Backers

125%

Funded

$5,017

Total Donations

$27.57

Average Donation