About This Project
Birds of prey, or raptors, are composed of three unrelated lineages of birds which converged on very similar body plans. Characteristic to all raptors are patterns in the shortening of specific bones in the foot which indicate several complex trends. We will decipher the mechanical driving forces that prey type and ecological niche has on foot morphology, tracking predatory behavior through the evolution of birds. This study also has notable implications for raptorial behavior in some dinosaurs.
Ask the Scientists
Join The Discussion
What is the context of this research?
The birds of prey have historically been an understudied group. Scientists have long noted that raptors (unified by their carnivorous niches) appear to be very similar in form, but they have noted equally as long that the group is polyphyletic (a conglomeration of several unrelated groups, not a true group). Confusion was abound with which groups were true groups and what their closest relatives were, which led most ornithologists to only halfheartedly tackle the convergent evolution of birds of prey. In the last four years, genetic research (Jetz 2012, Prum 2015) has confidently resolved the avian family tree. We can now finally analyze the evolution of raptors and interpret the bio-mechanical, ecological, and dietary stresses which developed the raptorial characteristics we see today.
What is the significance of this project?
Of all of the features which unite raptors, their feet are one of the most telling. Raptors have derived the behavior of manipulating their environment via their feet, not their mouths (as is primitive): understanding the morphology of their feet is vital to understanding functional stresses. We can therefore interpret the biology and diet of fossil raptors and better interpret past ecosystems. We aim to relate this study to dinosaur biomechanics in two future studies. Some Oviraptor feet possess abbreviation which is very similar to the raptorial foot pattern, suggesting a raptor-like footing behavior for capturing prey as suggested by Fowler 2011. Also, the hands of dromaeosaurs (like Velociraptor) show a similar pattern- can the biomechanics of bird feet be applied to dinosaur hands?
What are the goals of the project?
This project will boil down to four topics.
What shortening, or abbreviation, patterns are a prerequisite for all raptors?
What abbreviation patterns are unique to each group of raptor? The three groups evolved independently and might have had their take on abbreviation patterns.
What abbreviation patterns are common to dietary/ecological niches? This is the most promising question. Across clades, raptor foot morphology seem to shift the most with respect to ecological niches: how does fishing vs hunting large mammals vs the aerial catching other birds affect abbreviation via mechanical stresses?
When and in what order did the morphologies we see today originate? We will be using fossilized birds to help form a timeline sequencing the occurrence of abbreviated elements.
Budget
My primary source for data collection is the Field Museum of Natural History in Illinois and the ornithology collections at Cornell University in New York: visiting these collections will be the bulk of my financial need. I will also need to purchase advanced measuring tools and phlyogentic software programs. The initial phases of this research will focus largely on birds of prey, but in advancing into the field of dinosaur functional mechanics, I will need contacts. Therefore in October of 2016, I plan on attending the Society of Vertebrate Paleontology conference and giving a presentation about my research- this will give me input from professionals in my field for the next step of this research. Under guidance of the paleontology collections curator at Montana State University, I will be personally processing specimens which I cannot otherwise get access to, which require supplies and chemicals. Publication costs are also figured here, which I will be paying for personally.
Meet the Team
Mikayla Struble
I am an undergraduate student at Montana State University. I grew up in Columbus, Ohio and began an earnest interest in biology when I was young. I love biological illustration and draw as often as I can in my free time. I have collected bones, skeletons, and skulls as a hobby since I was about 7 but have advanced that interest to academic research as I have begun my college career. I began research my freshman year, focusing on the study of paleogenomics which is more or less the change in genome size in large clades through time. This research has resulted in three publications (the last one awaiting approval). I presented a talk at the Society of Vertebrate Paleontology in 2015 on that topic. I am moving on from that topic to study foot morphology in birds of prey. I will be applying for grad school next year to begin attending another university for my PhD in 2018, hopefully focusing on predator/prey relations among mammals in the Eocene, focusing on Creodont ecological niches.
Additional Information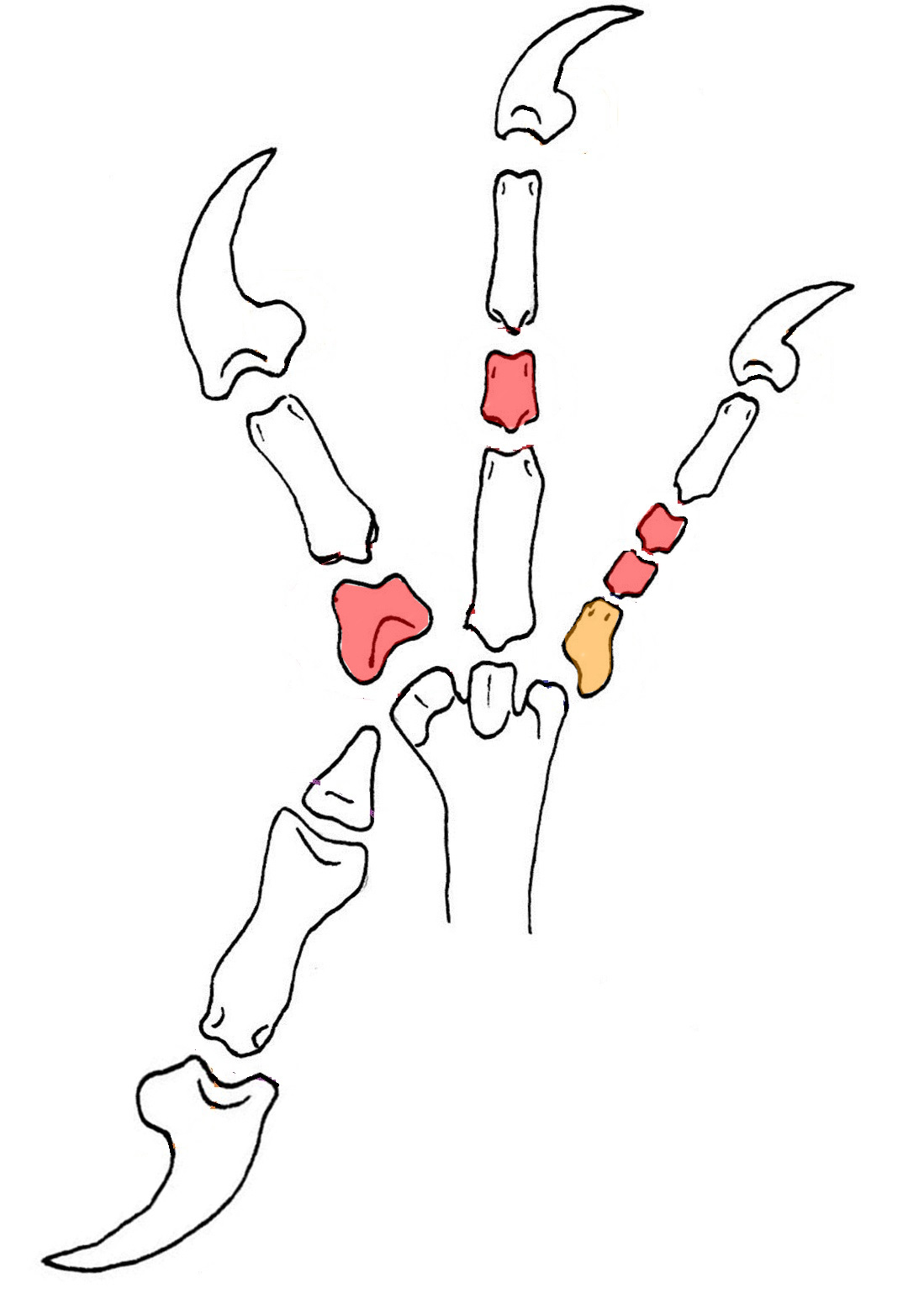 The pattern of foot abbreviation in Aquila chrysaetos, the golden eagle. Red phalanges (toe bones) indicates a strong abbreviation, while orange indicates moderately abbreviation.
---
Project Backers
13

Backers

20%

Funded

$794

Total Donations

$61.08

Average Donation