About This Project
Scientists are generating data at unprecedented rates, but our data management methods have yet to evolve accordingly. As a result, a significant amount of data is lost or unverifiable in academic labs. We propose that new data management tools are needed to reduce data loss. Here, we will test whether Nebulab's data management platform improves our ability to search and verify past data in translational research labs compared to data management methods currently used.
Ask the Scientists
Join The Discussion
What is the context of this research?
Today, academic labs store data across a mix of lab notebooks, university servers, personal computers, email threads, and flash drives. Many labs have also resorted to apps like Dropbox, Google Drive, Evernote, and OneNote, although these are not always optimal for scientific workflows. Electronic lab notebooks (ELNs) exist, but they are largely unpopular due to poor design, fear of data lock-in, or risk of obsolescence. Our current lack of data management standards makes searching for and verifying past data difficult. The Reproducibility Initiative, for example, recently faced significant delays trying to collect original data from authors. We need better data management solutions tailored to scientists.

What is the significance of this project?
The need for better data management tools is pressing. Irreproducible research costs the U.S. an estimated $28 billion per year, and although reproducibility requires a multifaceted approach, one seldom addressed is our need for better data management solutions. In a recent survey on reproducibility by the American Society of Cell Biology, scientists cited poor record keeping and incomplete detail specification as major culprits. Improving data management is also critical for the preservation of knowledge. One study looking at biological data found that data disappeared at a rate of 17% per year. We're taking an open, collaborative, and scientific approach to testing Nebulab's platform in order to work together towards building better data management tools for science.
What are the goals of the project?
Two distinct labs, represented by Hugo, Anna, Emily, and Travis, will conduct a new experiment. Each will store the data as they normally would, but also using Nebulab in parallel. An exhaustive checklist of materials, data, and information needed to recreate each experiment will be created. Researchers familiar with but not involved with each lab's experiment will then be asked to compare the ability to find and understand this information using current methods vs. Nebulab. The goal of this experiment is not to reproduce an experiment, but to compare abilities to find and access the information necessary to reproduce an experiment with confidence. All our methods, observations, and results will be shared openly in order to help all interested in improving data management.
Budget
All funds will go to the purchase of experimental materials. Hugo, Anna, and Emily will be running new experiments that test the invasive potential of brain tumor initiating cells (BTICs) under different conditions. Travis will be investigating whether differences exist in the regenerative potential between stem cells extracted from bone marrow vs. fat tissue. The stem cells will come from surgical waste tissue extracted from the same donor during knee replacement surgery.
These experiments and their corresponding data will be used to compare Nebulab's data management platform vs current data management methods.
The funds raised will be used for brain cancer and stem cell research, while giving us the opportunity to test and improve our data management methods and tools.
Endorsed by
I am really excited to see Nebulab and team take an open, collaborative approach towards improving our data management methods. Through my work with Science Exchange and the Reproducibility Initiative, I know how necessary tools like Nebulab are today, and I believe that the scientific community has much to gain from the results of this type of experiment.
I'm a big fan of what the Nebulab team has built as I've experienced first-hand many of the issues they're addressing. I'm especially excited to see this team putting itself to the test and collaborating with top-notch researchers as they work to improve our data management solutions. This will be a win for science!
Improving reproducibility in basic science is absolutely critical, and I'm excited to see this team taking a scientific approach towards improving reproducibility through data management. This is an excellent opportunity for all of us to participate in the creation of better data management solutions, and I believe the results of this experiment will be valuable to anyone interested in making science more efficient and transparent.
Meet the Team
Guillermo Vela
I am the CEO and co-founder of Nebulab, a tech company comprised of scientists and software developers passionate about helping science be more efficient and transparent. Previously, I worked as a brain cancer and stem cell researcher for the Department of Neurosurgery and Oncology at the Johns Hopkins University School of Medicine under the mentorship of Dr. Alfredo Quiñones-Hinojosa.


Hugo Guerrero-Cazares
I am an Assistant Professor at the Johns Hopkins University Institute of NanoBiotechnology, where my laboratory studies brain tumor initiating cells (BTICs) and their role in glioblastomas (GB) — the most common and aggressive form of brain cancer in adults. Even with maximum surgical resection, radiation and chemotherapy, glioblastomas are considered largely incurable with a median patient survival of 14.6 months.
Our goal is to identify and ultimately target the molecular mechanisms responsible for the highly invasive nature of glioblastomas. Specifically, our research focuses on the effects of Slit proteins on the migration of BTICs. To more accurately depict and study the migration of human brain cancer cells on human tissue, our lab has developed novel research models using intra-operative tissue to study cell migration.
I received my M.D. and my Ph.D. from the University of Guadalajara in Mexico. In 2007, I moved to Baltimore, MD with my family to join the Johns Hopkins University School of Medicine Brain Tumor Stem Cell Laboratory before being promoted to Assistant Professor in 2015.
Travis Jackson Block
I am a biomedical engineering PhD student in the joint program between the University of Texas San Antonio and the University of Texas Health Science Center at San Antonio. My research focuses on finding, isolating, and expanding healthy adult stem cells from elderly populations. My goal is to find ways to rejuvenate stem cells taken from elderly people so that we may one day treat age-related degenerative diseases using patients' own stem cells. I currently serve as President of the Graduate Student Association at the UT Health Science Center and as President of San Antonio Science, Inc, where our goal is to promote scientific awareness among the community.
I received my B.S. in biomedical engineering from the University of Rochester in 2012. While there, I also founded MonoMano, Inc. in order to design and manufacture adaptive cycling equipment.
Anna Christina Clements
I am third year undergraduate from Fairfax, Virginia majoring in Neuroscience and Spanish at Johns Hopkins University. Since January 2015, I have been working with Dr. Hugo Guerrero-Cázares and Emily Lavell investigating the effect of Slit and Robo proteins on the migration of brain tumor stem cells. I am also a member of the Hopkins Track and Field team, and in my free time, I enjoy volunteering on campus and playing the piano.
Emily Lavell
I am a Research Technician working with Dr. Guerrero-Cazares on his project researching the role of brain tumor initiating cells in glioblastomas. Prior to working in the lab I earned a Bachelor of Arts studying Neuroscience at Johns Hopkins University.
Additional Information
A brief intro to Nebulab's data management platform: 4 things to know.
1. Nebulab is designed to give a richer visual experience for easier data management.

Example: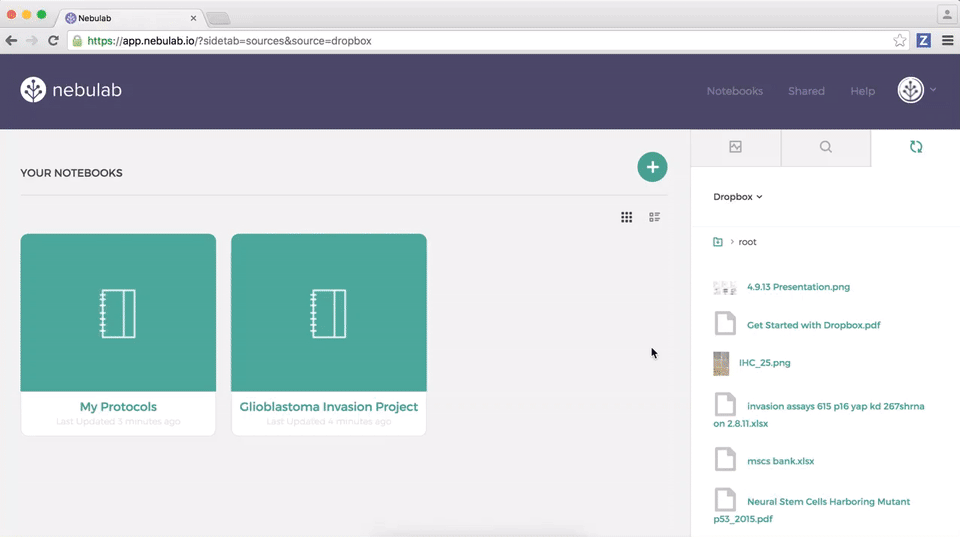 Example: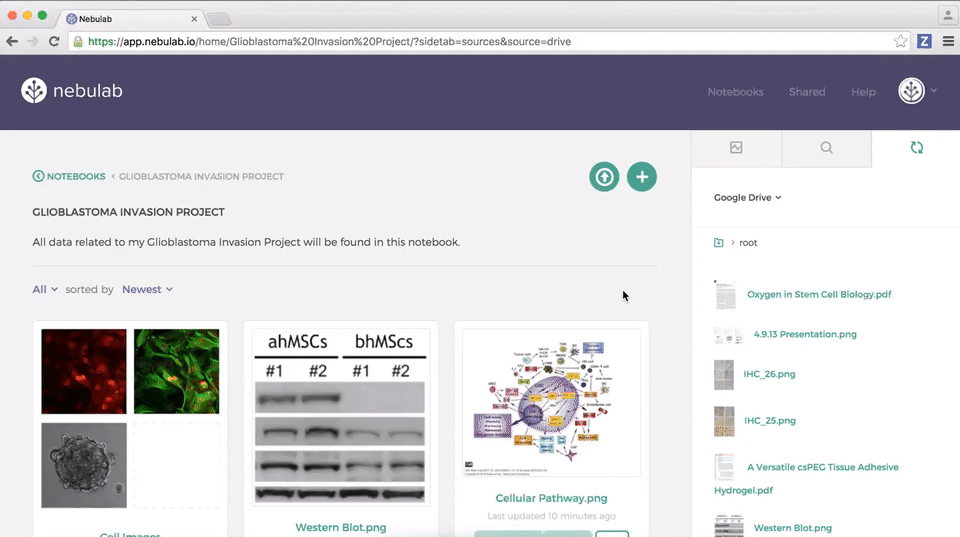 2. Nebulab does not store or keep any data files. We believe researchers should keep complete ownership of their files, so we purposefully designed Nebulab to layer over researchers' preferred storage solutions.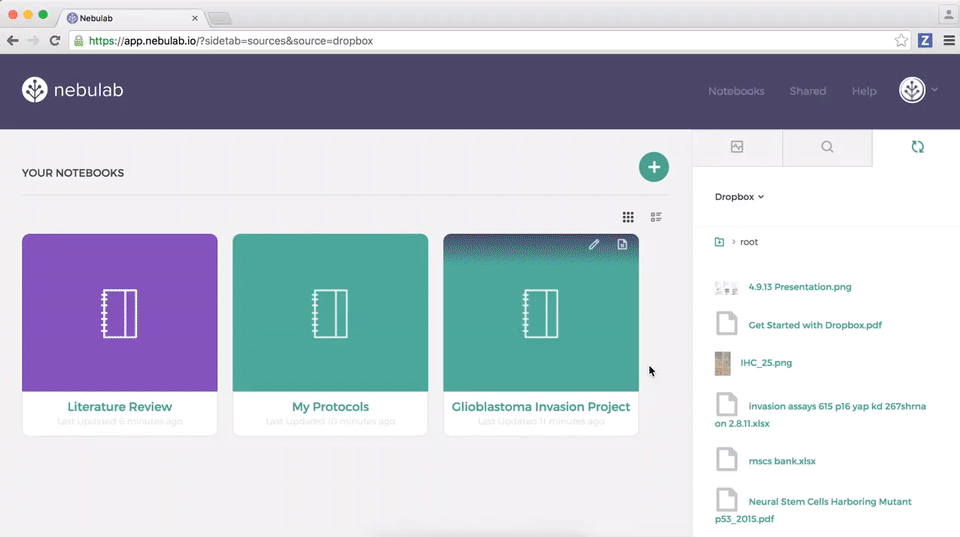 3. Nebulab allows researchers to tag, comment, link, or add attachments to their cloud files. This makes it easier to validate past data while providing a more powerful search experience.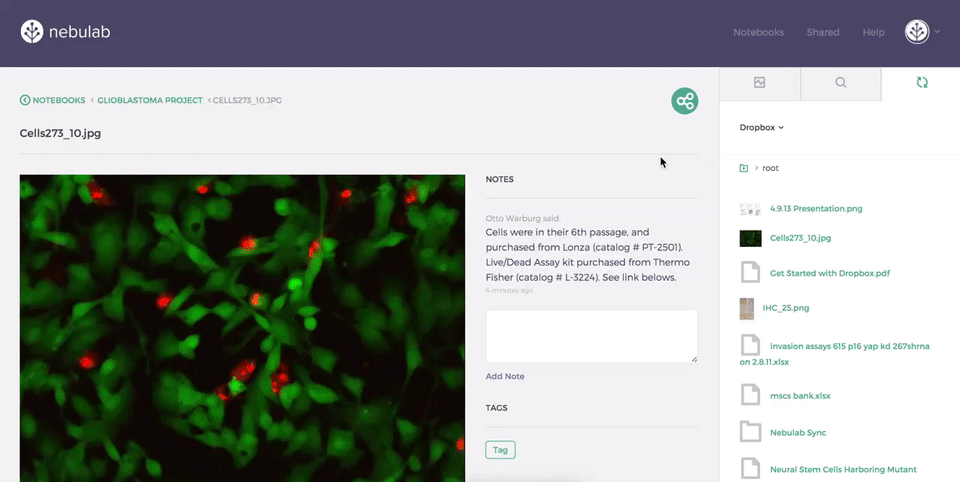 4. Nebulab keeps the file sharing process simple.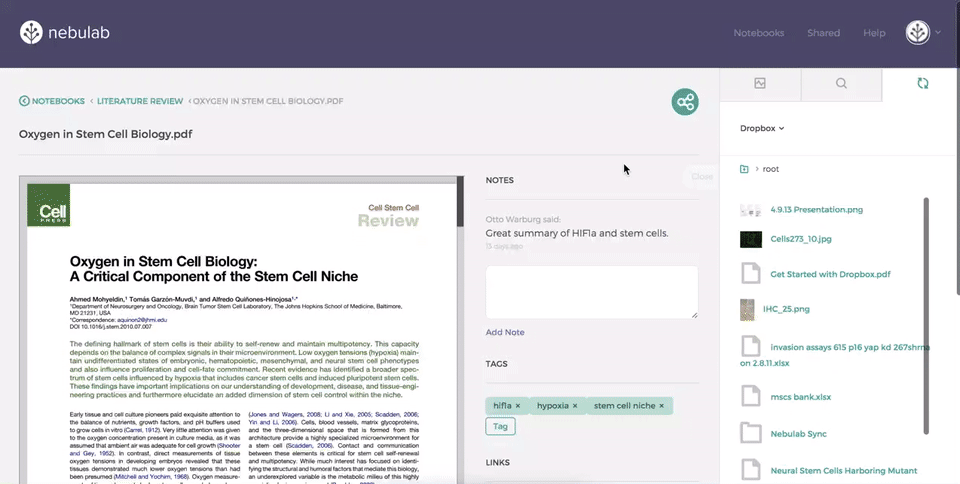 By putting this version of Nebulab's data management platform to the test, we hope we and all others interested in data management can learn how to build better processes for scientists.
---
Project Backers
42

Backers

100%

Funded

$1,640

Total Donations

$39.05

Average Donation