About This Project
Toxic sewage sludge disposed in forests generally kills most fungi. However, some toxin-tolerant fungi appear to use sludge-originated toxins and their degradation products as substrate for the synthesis of new compounds that may function as antimicrobial agents. Our project seeks to identify specific toxins in sewage sludge that incite fungi to synthesize novel antimicrobial agents representing a new class of antibiotic products for the treatment of antibiotic-resistant infections.
Ask the Scientists
Join The Discussion
What is the context of this research?
In earlier projects, we observed that certain fungi survived exposure to toxic sewage sludge, while most died. We isolated three surviving fungi and identified them to species. Next, we developed in vitro culture methods so the fungi could be managed under laboratory conditions. Coincidently, we identified an array of flame retardants in sewage sludge that are land-disposed in forests and on farms and rangelands. We intend to expose the fungi to the flame retardants and evaluate the ability of the toxin-tolerant fungi to metabolize the flame retardants and their degradation products (Degradants) into new compounds, with an eye to discovering new antimicrobial agents of value in human healthcare.
What is the significance of this project?
In this post antibiotic era, antibiotic-resistant infections outpace the ability of science to develop new products that are safe and effective. The healthcare industry seeks new treatment opportunities, but there is reluctance to invest in new products. After fifty years of reasonable control over most infectious diseases, the period from 1970 to 2012 revealed a global resurgence of bacterial infectious diseases, led by an emergence of antibiotic-resistance. Bacterial strains resistant to all available antibacterial agents have been identified, and many species of Staphylococci now evade most antibiotics. Although there are several new therapeutic agents in development, it may be decades before any new, safe and effective therapeutic product become available to world markets.
What are the goals of the project?
We will identify flame retardants and their degradation products in sewage sludge, and evaluate their ability to incite toxin-tolerant fungi to synthesize novel chemicals, especially antimicrobial agents. Flame retardants are industrial chemicals encountered in nature only by the disposal of toxic wastes. We work with an academic laboratory expert in the detection and characterization of flame retardants, and with a private laboratory with expertise in microbiology. Flame retardants detected in toxic sewage sludge materials will be used singly in pure form and incorporated into culture media used to culture the isolated forest fungi. The resulting fungal culture filtrates will be evaluated for antimicrobial activity against a battery of selected antibiotic-resistant bacterial pathogens.
Budget
Analysis and characterization of flame retardants from the environment is difficult and requires costly laboratory capabilities. We have a working relationship with a university laboratory that is EPA-certified for the analysis of this class of chemicals. The costs for this work are high, but our willingness to provide toxic sewage sludge samples in exchange for analytical work helps support our project. Analytical chemistry studies the separation, identification and quantification of chemical components of natural and artificial materials. The analytical methods used scan for 22 universally toxic polyhalogenated flame retardants; their degradants are even more toxic. The work proposed herein will scan also for polychlorinated biphenyls and other toxins of environmental concern. Discovering the biological activity of novel, toxin-incited antimicrobial agents synthesized by forest fungi, and exploring their antimicrobial activity represents new science.
Endorsed by
I'm glad to financially support the novel approach being proposed to detoxify sewage. Aside from the benefits of treating the millions of tons of toxic sewage being disposed in our forests and farms, this approach could lead to discovering of new antibiotic products to treat resistant infections. It's great to see these kinds of projects both visible and available for community support.
I am very excited to endorse this project. It is a fascinatingly worthwhile research endeavor. It not only provides the much-needed fundamental insights into the compelling biochemistry that permits these organisms to thrive in such acutely toxic environments, but also holds the promise of identifying novel sludge-induced metabolites possessing potent antimicrobial properties that can be parlayed into efficacious therapies for treating antibiotic resistant infections. The project epitomizes the power of imaginative science to provide for humanity both fundamental knowledge and profoundly applied benefit. A win-win situation!
Anyone who plans to be alive in the next 30 or so years should strongly consider supporting Richard's efforts to develop novel antimicrobials. I am a PhD scientist actively involved in the field, and although I don't work with Richard, I applaud his efforts and am happy to have the opportunity to support his work financially.
Meet the Team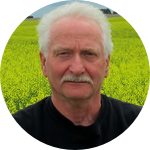 Richard Honour
Executive Director, The Precautionary Group
Affiliates
Patricia Martin, BS, Safe Food and Fertilizer, Quincy, WA and Jan Whitefoot, MS, Concerned Citizens of the Yakima Reservation, Harrah, WA
View Profile
Team Bio
Cross-disciplinary research in infectious diseases, clinical trials research, new drug development and environmental microbiology provides a basis of insight for the discovery of new biopharmaceutical products for the treatment of infectious diseases. The opportunity to combine hiking, mountain biking, mycology, entomology and environmental microbiology for the discovery and development of new products for the treatment of antibiotic-resistant infections makes this project a perfect fit for my broad interests and professional training. I have worked on similar projects throughout the world, so being able to address this project from my home affords opportunity to dedicate more time to the project and less to logistics. Of special benefit is the opportunity to engage my family and local associates in projects that combine environmental toxicology with public health and safety, as well as with human and environmental health. All matters of the environment are matters of human health, and these projects reduce this concept to practice. It remains unknown at present what new chemicals of pharmacologic value may be discovered by our novel approach to new drug discovery, but we are on the path, a path untrodden by anyone before. Thus far, this series of projects has been supported solely by citizens interested in the human condition.
Richard Honour
The Researcher's doctoral research explored mechanisms of sexual reproduction in the Oomycetous plant pathogen Phytophthora parasitica. The objective was to discover biological controls for this and other Oomycetous plant pathogens and diseases, rather than increasing the use of chemical agents. Note: Oomycetes, or water molds, are more closely related to algae and green plants than to fungi.
He was Field Research Microbiologist and Environmental Monitor in Antarctica for the US Antarctic Research Program, as sponsored by NASA/JPL and the National Science Foundation.
He was consultant to the US Department of Energy as field environmental monitor for energy exploration projects on Tribal lands in the Western US.
For ten years he was Executive Director of a national program of pediatric cancer clinical trials research at the University of Southern California, Comprehensive Cancer Center.
His specialty is the discovery and development of novel antimicrobial agents from sewage sludge and other harsh and toxic environments for use in the treatment of infections incited by antibiotic-resistant forms of Staphylococcus aureus and Mycobacterium tuberculosis.
He is dedicated to the prevention of chronic diseases by evaluating toxic chemicals in land-disposed sewage sludge in forests and on agricultural and rangelands, thereby eliminating land disposal and human exposure. Many forests and farms where toxic wastes are disposed are behind locked gates, so Richard gains access by mountain bike - research is not always done in the lab.
---
Project Backers
29

Backers

101%

Funded

$1,826

Total Donations

$62.97

Average Donation