Project Results
Exciting new published results (the first of many!) from this project: biochar effects on soil fertility (physical and chemical properties). Please find the abstract that follows:
A body of emerging research shows the promise of charcoal soil amendments ("biochars") in restoring fertility in degraded agricultural and forest soils. "Sustainable biochars" derived from locally produced waste biomass and produced near the application site are of particular interest. We tested the effects of surface applications of wood-derived biochars (applied at 7.5 t·ha−1) on soil physiochemical properties (N, P, K, pH, soil moisture content, organic matter content, and bulk density) in three land-use types: agriculture (Camellia sinensis monoculture), agroforestry (C. sinensis with shade trees), and secondary forest (Dipterocarpus dominated) assessed over seven months. We found significant positive effects of biochar on soil physiochemical properties in all land-use types, with the strongest responses in the most degraded tea monoculture sites. Although biochar had no significant effect on soil N and K, it improved soil P—the primary nutrient most commonly limiting in tropical soils. Biochar also enhanced soil moisture and organic matter content, reduced bulk density, and increased soil pH in monoculture sites. Our results support the general hypothesis that biochar can improve the fertility of degraded soils in agricultural and forest systems in Bangladesh and suggest that biochar additions may be of great benefit to the most degraded soils.
MR. Karim, Md.Abdul Halim, NV Gale, SC Thomas
About This Project
"Biochar", or charcoal used as a soil amendment, has been recently heralded in its ability to improve poor soil conditions such as leaching, acidification, and contamination, while directly mitigating climate change by increasing carbon sequestration. We plan to combat climate change using biochar in beautiful Bangladesh, a delta country vulnerable to climate change. We strive to increase productivity across land-use types: primary forests, secondary forests, agroforestry, and agriculture.
Ask the Scientists
Join The Discussion
What is the context of this research?
Significant plant responses to biochar have been observed in many agricultural studies, with typical biomass increases of 10 – 25%. However, the potential of biochar to enhance plant growth and productivity in the context of forestry and agroforestry is underexplored. A recently published review, and results from a nursery experiment in Bangladesh show larger growth responses for trees, with an average responses of around 40%.
We want to expand on these findings by setting up long-term field plots with biochar amendments across different land use types. We will measure physiological traits responsible for performance and resource use to help determine the mechanisms responsible for growth effects. We will also measure soil fluxes of methane and carbon dioxide, two potent greenhouse gases.
What is the significance of this project?
Combating climate change is everyone's responsibility. Many western nations are only beginning to notice small effects of climate change, whereas in Bangladesh the impacts are severe and daily: flooding, extreme heat and drought, powerful storms, and salinity intrusion. Biochar is a climate change mitigation technology with great promise, supported by hundreds of studies that document increased system productivity with an overall net negative carbon impact. This project represents the chance to fight climate change on the front lines.
This work will additionally fill the current knowledge gaps in our understanding of plant responses to biochar by describing plant physiological responses, and in our understanding of tropical soil greenhouse gas fluxes .
What are the goals of the project?
Set up 20 x 20 m plots across 4 important land-use types: primary forest, secondary forest, agroforestry, and agriculture, at Khadimnagar National Park in Sylhet, Bangladesh. Three replicate plots of control (no biochar) and biochar applied at 10 t / ha (locally, indigenously produced) will be used for each land-use type. (April - May)
Install soil nutrient resin- exchange root simulator probes.
Train students and assistants on instrumentation and scientific techniques.
Measure "early" plant growth and physiological responses, greenhouse gas fluxes, and soil nutrient availability. (May)
Give lectures and community workshops highlighting traditional and other low-tech methods to produce biochar from organic waste materials and explaining its potential benefits.
Budget
The funding requested covers a portion of the total projected project costs (> $5000) - we are also applying for several other grants, but these are not guaranteed, and these funds will be awarded later than needed. The amount requested is the very minimum necessary to initiate this project.
A critical component of this project is purchasing biochar made by the Khashia. This biochar is made through traditional "pit-and-mound" methods and is the same currently in use in the region.
Power in Bangladesh is unreliable, so a gas generator will be used to power equipment and charge batteries. We will need to purchase gasoline for the generator.
We plan to fly to Dhaka and initiate this project in April - May.
Stretch goals:
We would like to hire students from surrounding universities, and local inhabitants, to assist us in implementing these plots. We'll need to transport char and use GPS to map plots. We'd also like to add more plots which means purchasing more char!
Endorsed by
This is an important project. Bangladesh is truly on the front line of global change impacts, and its important to find workable strategies for combat impacts and also contribute to carbon sequestration. Biochar may not be a "magic bullet", but it's an important tool that could really have an impact on global processes and on peoples' livelihoods.
Nigel's dissertation research is some of the first to investigate plant physiological responses to biochar and soil charcoal. The proposed project is exciting, and is important to explore uses of biochar outside of agriculture as a means to mitigate climate change. Importantly, this work uses a robust method to measure soil greenhouse gas fluxes in the tropics.
The proposed project will be one of the first comparative studies to explore plant physiological responses to biochar across a range of tropical systems including agroforestry. Biochar as an amendment in agroforestry systems is an exciting approach to combat climate change and improve livelihoods for local communities. This is an enthusiastic research team and an ambitious project with great potential!
This project represents a strong partnership between the University of Toronto and the Shahjalal University of Science and Technology, working toward the common goal of climate change mitigation. We are excited about the using biochar as a means to increase productivity, and look forward to many fruitful research projects.
This is a highly viable project in the face of climate change mitigation in the protected areas of Bangladesh. Recent studies suggest that the rare and endangered tree species of Bangladesh will face extinction risk from climate change. Therefore, introducing biochar as a means for carbon sequestration strategy in the primary forests of Bangladesh would be very interesting in the conservation ecology field.
Meet the Team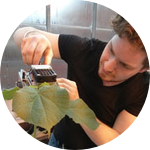 Nigel Gale
PhD Candidate
Affiliates
University of Toronto, Faculty of Forestry
View Profile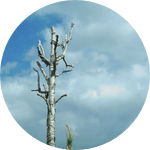 Md. Abdul Halim
Post-Doctoral Fellow
Affiliates
Institute of Forestry and Conservation, Daniels, University of Toronto, Canada
View Profile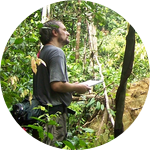 Sean Thomas
Professor
Affiliates
University of Toronto
View Profile
Nigel Gale
I'm currently pursuing a PhD with Sean Thomas at the University of Toronto, Faculty of Forestry investigating plant growth and physiological responses to biochar in temperate, boreal, and tropical systems.
Serious curiosity and inquiry on the nature of plants began very early in the garden. Much time was additionally spent in Ontario's temperate mixed-wood forests and woodlots. Silviculture was implemented as a means to heat the house, and the forest served as a brilliant recreational space.
As a "grown-up" I'd describe myself as a curious plant and forest ecologist. I'm pre-occupied with fighting climate change and restoring industrialised landscapes.
Md. Abdul Halim
Md Abdul Halim is a Smidth Science Fellow at the University of Toronto. Having obtained his Ph.D. in biometeorology from the same institution, Dr. Halim's research has been centred on the biogeophysical and biogeochemical aspects of managed ecosystems for their climate-smart management.
At present, Dr. Halim is concentrating on the integration of open-access remote sensing data and artificial intelligence for the precise identification of methane point sources in intricate urban environments. Besides his research pursuits, he is deeply passionate about teaching and mentoring, emphasizing a supportive and inclusive educational atmosphere. Dr. Halim is also committed to developing open-source teaching and research materials.
As a co-founder of CredoSense Inc., a company aimed at enhancing the accessibility of climate research in developing countries, Dr. Halim has played an integral role in creating cost-effective environmental sensor-logger systems. A dedicated researcher and entrepreneur, he is unwavering in his pursuit of a sustainable future for our planet.
Sean Thomas
Driven by a curiosity about ecosystems and concern for our planet, I have been an active researcher on forest carbon processes and the comparative biology of trees for some 25 years. Recently my lab has taken a turn to the "dark side" of forest ecology – namely the study of charcoal in forest soils, either added as an amendment ("biochar") or input through natural fires. My research group is particularly interested in char properties, distribution, their impacts on soil organisms, processes, and forest productivity, and the use of chars in forest restoration. I've worked extensively in developing countries ranging from SE Asia to Africa and Latin America.
Additional Information
The benefits of "backing"
everyone: post card from Bangladesh with a photo from the field with team members
$40: We love tea. We'll send you tea from the best plantations in the world, Sylhet, Bangladesh, conveniently located near our field sites. We'll include a steeper too.
$75: We'll name an experimental plot after you! Each plot will have a sign erected: imagine your name on one! That way everyone will know you are fighting climate change.
$100: We'll send you tea, name a plot after you, and also send you a hard-copy "experimental-log" of our research, findings, and adventures!
---
Project Backers
51

Backers

155%

Funded

$4,052

Total Donations

$79.45

Average Donation