About This Project
Aleutian terns are a rare and little studied seabird species that nests semi-colonially in remote areas of coastal Alaska and the Russian Far East; available evidence suggests that Alaskan populations are in a serious decline, but more research is needed. We propose to use "social attraction" - decoys and playback of calls - to get Aleutian terns to temporarily roost a short distance away from a colony, so that they can be captured for a variety of studies without disturbing them at their nests.
Ask the Scientists
Join The Discussion
What is the context of this research?
A recent study of Aleutian tern colony counts in Alaska indicate that the number of individuals nesting at known colonies has declined dramatically (93% over three generations; Renner et al. 2015). If the decline in colony counts represents a true population decline, that would qualify the species as "critically endangered" under IUCN criteria. Questions remain, however, such as could birds have moved to new and undiscovered nesting colonies? Several important studies are proposed, including tracking tern movements using satellite telemetry tags. One challenge is capturing terns without causing detrimental impacts to their colony. Capturing terns at their nests requires repeated entries into a breeding colony, each of which disturbs at least some if not all of the nesting birds.

What is the significance of this project?
The proposed method to enhance Aleutian tern capture opportunities away from nesting colonies would allow research methods to address critical conservation questions, which might otherwise be considered too invasive for this sensitive species. Experimental wildlife research often involves the capture and handling of individual animals. Because terns nest colonially, not only might the captured individual associate a stressful event with its breeding location, neighboring nesting terns would also be disturbed and might react negatively. These additional impacts are particularly a problem in species like Aleutian terns, which can be sensitive to disturbance. Tagging individual terns away from their colony is a reliable way to avoid such impacts.
What are the goals of the project?
Our project goal is to use social attraction to facilitate capture of individual Aleutian terns away from their colony. To achieve this goal we would acquire decoys and a sound system during the fall and winter 2016-2017 and use them to capture terns nearby one or more colony sites prior to or during the 2017 breeding season. The ultimate goal is to use satellite tracking to reveal whether Aleutian terns prospect at currently unknown colonies, testing the hypothesis that the observed decline is due to movement to unknown colonies. We plan to publish the results of this study and help managers in state and federal wildlife agencies understand just how at risk the Aleutian tern population may be.
Budget
We propose to purchase durable decoys made of either molded plastic, carved wood, or 3D-printed closed-cell plastic. The ultimate choice will depend on relative cost. A sound system will be assembled using off-the-shelf electronic components packaged in a rugged container to withstand Alaska weather. The shipping fees will cover the costs of transporting the decoys and sound system to our remote study site in Alaska.
Endorsed by
Aleutian terns are a species of greatest conservation need in Alaska's State Wildlife Action Plan. Lyons and Renner's research would be of great benefit by providing a way to capture and tag birds while minimizing disturbance to colonies, which is a win-win for Aleutian tern conservation.
Meet the Team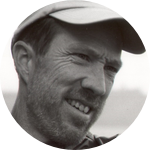 Don Lyons
Assistant Professor (Senior Research)
Affiliates
Oregon State University
View Profile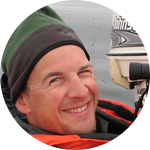 Don Lyons
I am a wildlife biologist with an affinity for birds, and for terns in particular. Terns as a group display an interesting diversity of breeding, foraging, and migration behaviors, providing a rich opportunity for ecological inquiry. While I am fueled by a basic curiosity about terns and other birds, I seek out research opportunities that feed directly or indirectly into species conservation and management. I typically work with state, federal, and tribal wildlife agencies, interested conservation organizations, and other constituencies to provide scientific information to help make conservation and management decisions.
Martin Renner
I'm a quantitative ecologist, working as a private consultant. Most of my work has focused on marine ecosystems, in particular how seabirds and other top predators interact with lower trophic levels and their environment.
Additional Information
In this project, we want to attract Aleutian terns to a location nearby a given colony where they could be captured without disturbing other nesting terns. The trapping location would be a nearby beach, or a small floating platform in the ocean or adjacent wetland. The site would be selected to be far enough from the colony to avoid disturbing any terns on nests while capture activities are conducted, but close enough that decoys are visible to terns commuting between the colony and foraging grounds. The use of decoys and sound systems ("social attraction") is a commonly-used conservation technique to attract species of terns and other seabirds to restored colony sites. We have also used this approach to lure other species of terns (e.g., Caspian terns) to a capture location, but this has not previously been attempted with Aleutian terns. With funds from this crowdsourcing effort, we will purchase realistic Aleutian tern decoys and a sound system, and use them to capture terns at one or more colonies in Alaska during the 2017 breeding season.
---
Project Backers
11

Backers

17%

Funded

$554

Total Donations

$50.36

Average Donation