About This Project
Will hummingbirds tolerate high temperatures due to climate change? Many studies look at heat tolerance during rest, but we study heat tolerance during hovering. Hummingbirds produce extra heat while hovering that must be dissipated to prevent overheating. Our previous work shows that in warm temperatures hovering hummingbirds cannot cool themselves. In this study we explore whether or not hummingbirds select perches in cool places between hovering bouts to facilitate heat loss.
Budget
We will rent a full-size pickup (e.g. Ford F150) to transport our equipment and supplies from Oregon to Arizona. In the long run we have found that transporting our equipment and supplies in this manner is safer and frankly cheaper than shipping due to the sensitivity of our electronics, and size, shape, and weight of all that we need to do the work. We also need a rugged vehicle for travel in the Chiricahua Mts between study locations so we kill two birds with one stone.
Endorsed by
This research is novel and worthwhile for improving our understanding of thermal balance and flight in birds. The hummingbird is an excellent model for this study. The results of the study will increase knowledge about heat ecology, including potential effects of climate change and the physiology of avian flight. Dr. Donald Powers is a preeminent avian physiologist and an excellent mentor to undergraduate students.
It is critical for us to gain knowledge about how animals respond to rapidly changing environmental conditions. It is unclear if evolutionary responses can keep pace with the changes currently occurring on our planet. Organisms that are sensitive to heat, like hummingbirds, are especially at risk, but may be able to rapidly respond through behavioral means. Prof. Powers has meticulously designed a experiment through which he and his students can unequivocally address this question. Prof. Powers is a conscientious scientist and a great mentor.
One of the biggest challenges in modern biology is to understand and predict organismal responses to climate change, which requires thorough investigations into the physiological and behavioral factors that constrain thermal balance. This project represents an important contribution to that effort, and adds to an expansive body of work by the Powers lab on hummingbird ecophysiology. And, as a former undergraduate researcher in the Powers lab myself, I am confident this experience will be be a pivotal one in the careers of the students involved.
Hummingbirds are tiny, and scientists think they might be very susceptible to the effects of climate change. But we don't know if that's true or how this might happen. Given the personality differences between the three species in this study, they might all have very different strategies of coping with the heat! Don and his lab have been addressing important questions about hummingbird management for over 30 years. His students are well-trained, diligent, and gain valuable field experience from projects like this one!
Climate change could alter mechanisms in nature that we need to understand! Species such as hummingbirds cope with this alteration, but little is known about their metabolic and behavioral responses to it. It is interesting to understand how climate can affect the physiological activity of these pollinators. Don and his laboratory have contributed valuable information on hummingbirds physiology. His group is very well prepared and have experience addressing these questions.
Project Timeline
This project involving two talented undergraduate researchers began this Spring with design of the protocol and review of the key literature supporting the project. Data collection and most analysis will occur between May-August 2019, and wrap up with project presentations at two meetings in Fall/Winter. Specific project milestones are listed below.
May 08, 2019
Project Launched
May 17, 2019
Complete construction and testing of all equipment used in the project.
Jun 05, 2019
Travel to the Southwestern Research Station in SE Arizona to collect data.
Jun 24, 2019
Return to George Fox University to begin data analysis.
Nov 08, 2019
Present project data at the Murdock Charitable Trust Collaborative Undergraduate Research Meeting (Vancouver, WA).
Meet the Team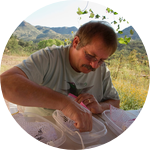 Donald R Powers
Professor of Biology
Affiliates
George Fox University
View Profile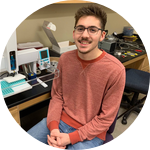 Elliot Shannon
Undergraduate Researcher
Affiliates
George Fox University
View Profile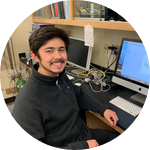 Nathaniel Shiiki
Undergraduate Researcher
Affiliates
George Fox University
View Profile
Donald R Powers
I am a Professor of Biology at George Fox University, and have studied various aspects of hummingbird physiology/ecology/biomechanics for nearly 40 years. My work on the energetics and biomechanics of hummingbird hovering, published in Nature in 2005, revealed important insights into the mechanics and evolution of this key hummingbird adaptation. In addition I have published numerous works that have added to our understanding of hummingbird energy management, flight metabolism, water regulation, evaporative water loss, and torpor. I am currently wrapping up a NASA-funded study of hummingbirds in both Arizona and Ecuador in which I explored how they will physiologically respond to increases in global temperature resulting from climate change. I received my B.S. degree in biology from Biola University, an M.S. in ecology from San Diego State University (advisor: Dr. George Cox), and a Ph.D. in physiological ecology from the University of California, Davis (Advisor: Dr. Wesley Weathers).
Elliot Shannon
I am an undergraduate student at George Fox University pursuing a BS degree in Biology with a minor in Mathematics. My previous research experience includes work in the Piovia-Scott lab at WSUV studying amphibian disease ecology in northern California. Currently, I am interested in behavioral adaptations of hummingbirds in response to increased environmental temperatures in the Powers Research Lab. The opportunity to conduct research in the Powers Research Lab is incredibly important for my development as a scientist, and I am excited for the hard work and rewarding experiences that are to come. In graduate school, I plan to pursue a PhD in a field such as computational biology or systems biology, which will apply my skills in mathematics to solve biological problems.
Nathaniel Shiiki
I am a Junior Biology major at George Fox University. This will be my first experience working full-time in research and I am excited for the opportunity. I will be studying the use of perching microclimates by hummingbirds in warm ambient temperatures at the Southwestern Research Station in the Chiricahua Mountains of southeastern Arizona. I am excited to be part of the Powers Lab because it will be a critical part of my preparation for graduate school. Once finished with my BS degree I plan to pursue a Ph.D. in ecology or related field, and oversee my own research program.
Additional Information
Mission of the Powers Lab
Since George Fox University has no graduate program in biology undergraduate students play a key role in lab productivity. Peer-reviewed publications resulting from work done by research teams in the lab often include undergraduate coauthors who make important contributions to both data collection and analysis. The mission in involving undergraduates in the lab research program is to provide a quality experience that prepares them to be competitive for and successful in top-level graduate or professional programs once they finish their degree. Students who take positions in the lab must take ownership for their entire projects rather than specific experiments assuring that they will gain valuable experience in all facets of basic research. This includes presentation of their work at the Society for Integrative and Comparative Biology (SICB) national meeting each January. Elliot and Nathaniel, the lead investigators on this proposed project, will gain invaluable experience in preparation for their post-graduate pursuits should this proposal for a portion of the required funding be successful. Below are some SICB presentations made by students funded via this platform the past two years. Poster presented by Isabelle Cisneros at the 2018 Society for Integrated and Comparative Biology Meeting in San Francisco, CA. This project was in part funded by an Experiment.com campaign.


Poster presented by Natalie Amodei at the 2019 Society for Integrative and Comparative Biology Meeting in Tampa, FL. This project was in part funded by an Experiment.com campaign.
Our Study Site
Most of our data will be collected at the Southwestern Research Station (SWRS) which is located on the east slope of the Chiricahua Mountains in the far southeastern corner of Arizona. SWRS is an ideal place for our work because it supports healthy populations of three hummingbird species (see below) that exhibit three distinct foraging strategies potentially offering potential variation in how body temperature is managed during hovering. Also, the environment around SWRS is thermally complex making it ideal for studies of microhabitat selection. Because SWRS has good laboratory facilities all our planned experiments can be supported.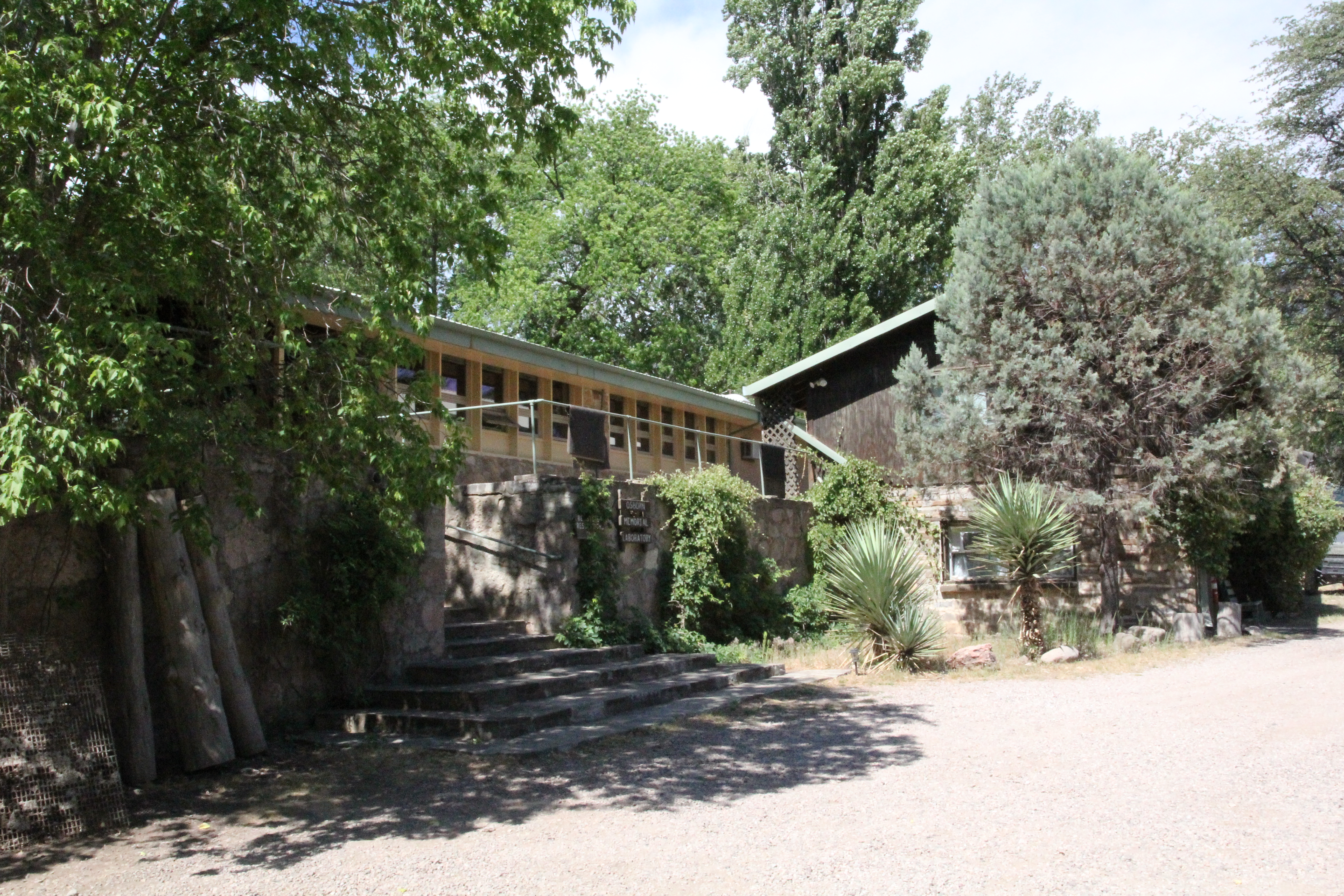 Laboratory facilities and typical vegetation surrounding SWRS.
Our Study Species
Are three study species will be the blue-throated hummingbird (Lampornis clemenciae, ~8.3 g), the Rivoli's hummingbird (Eugenes fulgens,~7.5 g), and the black-chinned hummingbird (Archilochus alexandri, ~3.6 g). The blue-throated hummingbird is a territorial species and is the most dominant hummingbird at SWRS.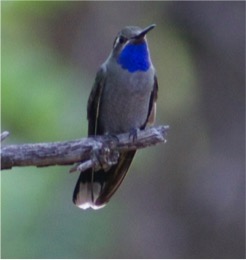 Blue-throated hummingbird
Rivoli's hummingbird is a trap-liner species that forages over a large area around the SWRS site.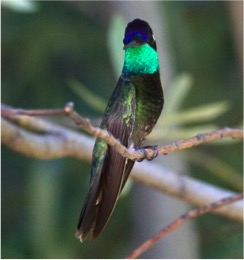 Rivoli's hummingbird
The black-chinned hummingbirds is the smallest of our study species and is subordinate to the blue-throated hummingbird. To forage the black-chinned hummingbird must intrude on flowers and feeders defended by blue-throated hummingbirds.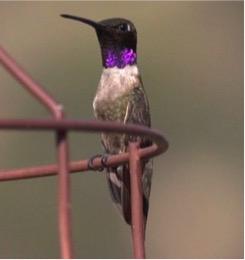 Black-chinned hummingbird
---
Project Backers
23

Backers

100%

Funded

$2,400

Total Donations

$104.35

Average Donation